NeoStrata HQ Skin Lightening Gel PHA – Overview
Many claim to be pioneers in the research discovery behind the industry-accepted use of alpha hydroxy acids for Skincare, but dermatopharmacologist Dr. Ruey Yu and dermatologist Dr. Eugene Scott may have the supporting documentation to support their claims as the team co-authored the first published scientific paper detailing the positive benefits of AHAs for skin not just in terms of dryness but in damaged and aging skin as well. In 1988 the Princeton, New Jersey-based NeoStrata Company emerged solely on the research of the two doctors. Being a developer as well as a marketer for advanced dermatological skincare products, NeoStrata has since advanced the field again with their exploration of the benefits of polyhydroxy and lactobionic acids-compounds that work like alpha hydroxy acids without the infamous irritation. With over 100 AHA-related patents and technologies and a surging licensing business, NeoStrata has its own product brands including NeoStrata, Exuviance, CoverBlend and NeoCeuticals.
In mint green, blue and white with three spheres featuring water-labeled USA, flasks-labeled Corporate and the planet-labeled international, Neostrata.com symbolizes the basis for its company philosophy. The home page also offers account based entry for physicians in order to access the NeoStrata MD Online Store. The spheres uniquely allow for navigation based on interest. The International sphere leads visitors to NeoStrata products, country based-products and the company's technologies. The USA sphere directs visitors to the online shopping, the NeoStrata company profile, the brand information pages and the retail and physician locator tools. Lastly the Corporate sphere provides links to the brands, the company information, clinical studies, the patents and licensing, the company founders, employment, the facility locations and its contact page.
NeoStrata HQ Skin Lightening Gel PHA – Product Description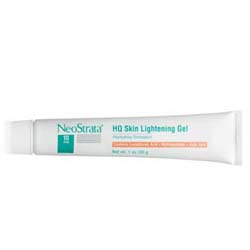 Within NeoStrata's NeoCeuticals brand, five categories are detailed to target specific skincare concerns, specifically acne, hyperpigmentation, hair & scalp, dry skin and nails and feet. While the brand website does host a PHA/AHA Skin Brightening Gel, it doesn't appear to be the same as the NeoStrata HQ Skin Lightening Gel PHA.
NeoStrata HQ Skin Lightening Gel PHA, labeled as out of stock on most third-party sites, is described as treatment for the lightening of discolored skin such as freckles, age and liver spots as well as hormonal-based uneven skin tones. At $38, NeoStrata HQ Skin Lightening Gel PHA is designed for sensitive skin due to the use of polyhydroxy rather than alpha hydroxy acids. The gel also uses 2% Hydroquinone.
Third-party reviews were highly supportive. Only one commenter indicated a strong reaction which was probably due to the 2% hydroquinone contained in the NeoStrata HQ Skin Lightening Gel PHA. It is highly possible that the skin brightener version indicated on the corporate site is a replacement for the lightening gel.
NeoStrata HQ Skin Lightening Gel PHA – Advantage
NeoStrata HQ Skin Lightening Gel PHA is designed as a skin lightening alternative for sensitive skin.
NeoStrata HQ Skin Lightening Gel PHA has received mostly positive reviews.
NeoStrata HQ Skin Lightening Gel PHA is based on 30 years of breakthrough alpha and poly hydroxy acid research.
NeoStrata HQ Skin Lightening Gel PHA – Drawbacks
Labeled as unavailable at third party retails and absent from the corporate page, the status of NeoStrata HQ Skin Lightening Gel PHA is uncertain.
Touted as safe for sensitive skin, due to the use of polyhydroxy instead of alpha hydroxy acid may still be too harsh for some because of the use of 2% Hydroquinone.
NeoStrata HQ Skin Lightening Gel PHA – The Bottom Line
The research-based emergence of NeoStrata lends plenty of credibility to NeoStrata HQ Skin Lightening Gel PHA, making it worth the exploration into its status and that of its potential reincarnations.
There are many promising skin brightening products available today that can be used to make skin appear brighter and more youthful. At the same time, it is important to carefully consider the promised benefits of any skin brightener in the light of that product's specific ingredients. A quality skin brightener should be formulated from compounds that show promise in lightening skin tone, a function that may also include reducing the prominence of freckles and other sun spots. Optimally, a skin brightener will also offer anti-wrinkle benefits to further promote the youthful appearance of facial skin. Of course, skin brighteners should also be able to help skin appear brighter and more radiant, just as their names suggests. To aid your search for the ideal skin brightening product, we've listed and evaluated each top skin brightener below on its ability to deliver these desired results.
Our Top Skin Lightening Choices
**This is a subjective assessment based on the strength of the available information and our estimation of efficacy.
*Results may vary. The information contained in this website is provided for general informational purposes only. No medical claims are implied in this content, and the information herein is not intended be used for self diagnosis or self treatment of any condition.
Disclosure of Material Connection: Some of the links in the post above are "associate sales links." This means if you click on the link and purchase an item, we will receive a commission. Regardless, we only recommend products or services which we use personally and/or believe will add value to our readers. We are disclosing this in accordance with the Federal Trade Commission's 16 CFR, Part 255: "Guides Concerning the Use of Endorsements and Testimonials."