Nip + Fab Cellulite Fix Review: Does It Really Work?
By
Nip + Fab Cellulite Fix
Nip + Fab Cellulite Fix Review with its pros and cons from our expert will really help you to choose wisely between Nip + Fab Cellulite Fix and others products.
Advertising Disclosure

?
Nip + Fab Cellulite Fix Introduction
Nip + Fab Cellulite Fix, US $25 for a 150 ml tube, is another cellulite-cream that claims to give your cellulite problems a quick fix to show improvements now and keep improving for later.
What Does Nip + Fab Cellulite Fix Claim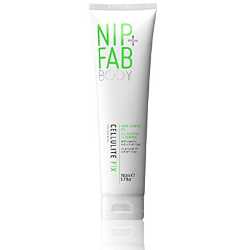 Based on claims made by the manufacturer, this product has been formulated to deliver for you the following cellulite reducing benefits:
Shape and improve the contour of your cellulite problem areas
Improve fat metabolism and fluid elimination to lessen the bumpiness and bulges of your cellulite-challenged skin
Tighten and promote tauter body parts
Improve your skin tone
With regular product use, make cellulites appear much less noticeable
Nip + Fab Cellulite Fix Manufacturer's Detail
From a brand born and headquartered in the UK, this anti-cellulite quick fix cream is formulated and distributed by NIP+FAB. The brand has a knack for using proprietary complexes developed by leading skin care laboratories in its growing range of products, primarily falling under the skin firming and toning categories. The company is branding itself as "accessible, affordable + effective".
Working of Nip + Fab Cellulite Fix
This product works by enhancing the metabolism and elimination of excess fats and fluids from your cellulite-challenged areas to reduce inflamed appearance of your skin and make the dimpling and bumpiness subside.
Nip + Fab Cellulite Fix Ingredients
Caffeine: Enhances micro circulation, it improves fat metabolism and helps clear fluid leaks, in effect, relieving your skin of excess fats and bulges, as well as eliminate waste fluids. eventually making cellulites appear more even when viewed from the surface of your skin
Indian Forskolin: It has natural anti-inflammatory properties that relieves the appearance of swelling to calm your skin, it improves skin elasticity, and it also has fluid and fat elimination functions that help you lose excess fats in your problem areas to make your skin appear smoother and your cellulites to become less noticeable
Cyclopentasiloxane: Leaves the surface of your skin silky smooth, it makes your cellulite-challenged body part appear less bumpy, fuller, and more supple
Nip + Fab Cellulite Fix Pros
This product appears to have a wide availability in key territories, and may be accessed online or, in physical stores.
The manufacturer specializes in skin toning and body firming creams.
Nip + Fab Cellulite Fix Cons
The formula lists mostly emollients and skin conditioners at the top of the full ingredients list, with the product preservative, Diazolidinyl Urea and fragrance listed as the 12th and 13th ingredients in a long list product components.
This product is heavy on synthetics which you will not be certainly pleased to learn if you are trying to "clean" your beauty stash.
Nip + Fab Cellulite Fix Side Effects
Based on this product's composition, the following side effects may be experienced:
Skin irritation and allergic reactions due to several ingredients, including Denatured Alcohol, silicones, Diazolidinyl Urea, and fragrance ingredients
Increased risk for developing various forms of cancers due to Diazolidinyl Urea, a product preservative that releases formaldehyde, a confirmed carcinogen
Increased risk for diseases associated with the reproductive organs due to EDTA
Directions
Nip + Fab Cellulite Fix must be applied at least twice daily to enjoy improvements. Manufacturer recommends dry brushing skin before applying the product.
Customer Reviews
Nip + Fab Cellulite Fix reviews read:
"Short Term Results: As mentioned earlier, directly after applying Nip and Fab Cellulite Fix my skin felt silky and soft. It leaves a little protective film look on the skin right after it is applied. Once it fully absorbs, the skin feels incredibly soft. Long Term Results: Longer term, we did notice how moisturized and healthy our skin felt after using Nip and Fab Cellulite Fix. My skin felt ridiculously smooth and soft! Unfortunately, I did not notice much of a different in the appearance of my cellulite. The website does say that the gel may not work on all skin types. Perhaps it will work better on. However, because of the reasonable price with such a great price, it may be worth giving a shot. — Product review on cellulite.com
"These are hands down products I have not tried any other product which works on cellulite so well like nip&fab did on me I love the product I have seen visible results and will repeat it once it's over" — Flavi D. on Influenster
Final Verdict
Nip + Fab Cellulite Fix, like most, if not all, other cellulite creams, will not address the root cause of your cellulite problems. This one may bring temporary improvements, simply judging from the list of ingredients.
Cellulite refers to fat deposits under the surface of the skin giving it a dimpled, irregular appearance. The vast majority of women have cellulite, some estimates are as high as 90 percent. Cellulite is routinely found in the thighs, hips, buttocks, and stomach. Unfortunately, maintaining an optimal body weight, eating healthy, staying active, and even regular exercise may not be enough to combat cellulite. 
Below you'll find some of the most effective cellulite cream formulations on the market today, in our opinion.
Our Top Cellulite Creams Product