Vichy Normaderm Night Detox Review: Does It Heal The Damaged Skin?
By
Normaderm Night Detox
Normaderm Night Detox Reviews say that it reduces the look of pores. Is Vichy Normaderm Night Detox really suitable for oily skin and sensitive skin type?
Advertising Disclosure

?
Product Description
Vichy Normaderm Night Detox, US $29.95 for 40 ml, prepares your oily or acne-prone skin overnight for a clearer brighter complexion the morning after. More specifically, this product is intended to bring your skin the following benefits:
Purify and detoxify your skin to rid it of excess oil, dirt, product residues and other impurities while you sleep
Protect your pores from getting clogged to prevent starting an infection and, worse, a breakout
Regulate oil production and normalize the frequency of skin shedding to avoid clogging your pores
Bring back your skin's healthy moisture levels by making your skin better able to hold and store more fat
Vichy is a brand founder in France, with a beauty philosophy founded on the Vichy Thermal Water Spa as the base ingredient for all of its products.
Vichy Normaderm Night Detox Ingredients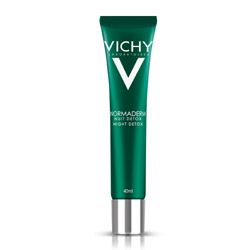 Vichy Mineralizing Thermal Water: Contains 15 known minerals that bring practical benefits necessary to restore skin health.
Eperuline: A chemical complex designed to improve skin structure, thereby preventing inflammation and skin sagginess, and, overall, contributing to your skin's health and youthful appearance
LHA (Lipophilic hydroxy acid): Serves as an exfoliant and, because this acid has a naturally high affinity for fat, it enhances your skin's moisture content, plumping and firming it up
HEPES (Hydroxyethylpiperazine Ethane Sulfonic Acid): Brings down the pH level of the solution to just the right level to strongly deliver exfoliating benefits of this product deep into your skin
Salicylic Acid: Regulates the population of infection-causing bacteria present in your pores, eliminates the impurities, controls oil production, and normalizes the cycle of skin shedding
Perlite and Absorbing Powders: Absorbs the excess oil produced by your skin, leaving your complexion with a noticeably mattefied finish
Directions
Use Vichy Normaderm Night Detox to periodically give your skin a more intense and deeper cleanse. Apply product only on freshly cleansed and toned skin.
Vichy Normaderm Night Detox Advantages
This product is specially formulated for oily and acne-prone skin types.
It is formulated with salicylic acid, one of the most highly regarded ingredients for purifying skin.
Normaderm Night Detox reviews show satisfied customers praising the positive results noticeable overnight.
Vichy Normaderm Night Detox Disadvantages
This product contains HEPES, a chemical used in this product as a way to balance the pH of a solution, which initial studies have indicated can cause free radical damage when it reacts with oxygen, thereby suffering your skin and speeds up skin aging.
It contains highly irritating ingredients, including perfume and denatured alcohol, which makes this product generally not recommended for people with sensitive and problematic skin.
Normaderm Night Detox reviews are limited and may not provide the best reference for evaluating the effectiveness of this product.
Conclusion
Vichy Normaderm Night Detox has all the makings of a great at-home exfoliant and is praiseworthy in that aspect. However, the toxicity of ingredients in the formula may not be exactly complementary to the detoxifying objectives that this product commits to deliver. There are cleaner products out there.
Below you'll find some of the most effective Neck Creams formulations on the market in our opinion:
Our Top Night Creams