O&B Cosmetics Reviews – Should You Trust This Product?
Advertising Disclosure

?
O&B Cosmetics Advanced Eye Overview:
O&B Cosmetics Advanced Eye, US $23.95 for a 1 0z. opaque bottle, is a topical eye treatment solution that addresses eye bags, dark circles, wrinkles, and other visible signs of skin aging that persist on the delicate skin around your eye area.
About O&B Cosmetics Advanced Eye — Does It Really Work?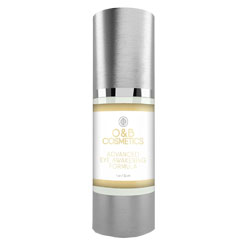 This product is brought to you by O&B Cosmetics, a skin care company based in California, USA. The product is sold on major reseller sites which comes with a satisfaction guarantee and an option to file for full refund if you are not happy with your purchase. Other than that, there is no information available online that will help establish this company's successful track record when it comes to formulating and distributing anti-aging skin care.
Based on claims made by the manufacturer, this product has been formulated to deliver for you the following benefits:
Enhance skin strength and resilience to damage and aging by promoting better skin synthesis.
Boost your skin's protection from factors that age and damage your skin.
Promote improved skin elasticity, density and firmness to make your skin appear fuller and younger.
Lighten dark circles and other hyper pigmentation issues manifesting around your eye area, and promote brighter eye skin complexion.
With regular product use, fade visible signs of skin aging and make your skin appear youthful and more radiant.
What Are The Ingredients In O&B Cosmetics Advanced Eye?
Gatuline In-Tense : A proprietary complex that promotes multiple eye skin benefits, including enhanced skin radiance, improved skin regeneration, and faster skin cell turnover.
Glucare S: Simultaneously delivers enhanced skin regeneration and turnover, as well as improved skin protection against internal and external factors that damage and age your eye skin.
Trylagen PCB: A proprietary complex that delivers peptides and amino acids that help enhance skin synthesis, protect collagen fibers from breaking down too soon, and promote faster rates of skin regeneration and renewal.
STAY-C 50: A proprietary form of stable Vitamin C that functions to provide your skin with amped up levels of antioxidant protection, and which also revives your skin cells' optimal level of energy, as well as promote fairer and more radiant skin tone.
Directions To Use:
Use O&B Cosmetics Advanced Eye product for up to two times daily. Note that there is a possibility that some of its ingredients may cause your skin to become more photosensitive so you should make it a point to reduce your sun time and religiously wear your sunscreen throughout the day.
Benefits:
Based on clinical trials, this product delivers visibly improved skin structure and texture in just 28 days of regular product application.
Based on studies, this product delivers enhanced collagen synthesis and production.
Disadvantages:
This product lists phenoxyethanol on the first third of a long list of ingredients which indicates that everything else listed after it are present in the formula in very low concentrations that are likely to be not potent enough to deliver any form of benefit to your aging skin.
O&B Cosmetics Advanced Eye reviews are severely limited, providing very little firsthand user information about how this product performs relative to product claims made by the manufacturer.
This product's maker does not appear to have a previous experience formulating and distributing anti-aging skin care products.
Does O&B Cosmetics Advanced Eye Have Any Side Effects?
Based on the ingredients and reviews, the following side effects may be experienced when using O&B Cosmetics Advanced Eye:
Skin irritation and allergic reactions due to several ingredients, including retinol and triethanolamine, both of which can permanently thin and damage your skin.
Increased risk for skin infections due to mineral oils.
Increased risk for developing photosensitivity due to retinol.
Increased risk for nerve damage and brain-related dysfunctions due to phenoxyethanol.
Increased risk for developing diseases associated with the reproductive organs due to EDTA.
Final Verdict:
O&B Cosmetics Advanced Eye, just like any other skin care product, may work well or not to improve your skin health and appearance. In any case, it's always best to compare and contrast with other similar products before deciding to buy.
The most common eye area issues are puffiness, dark circles, wrinkles and crow's feet, and loss of hydration. There are countless eye creams available on the market today, making it seem nearly impossible to find the "right one" that meets our specific under eye needs. It is imperative to find a product that has been formulated to address a variety of complex eye area problems.
Below you'll find some of the most effective eye cream formulations on the market today, in our opinion.
Our Top Eye Creams
Also Remember These Dermatologist Recommended Important Tips:
Age has nothing to do with the lines that appear on the corners of your eyes... it's a combination of heredity and careless abuse of the area.
Skin is skin... it all needs to be cared for in one way or another. For my younger readers, this means not pulling on the skin when removing eye makeup.
The eye area is prone to fine lines and wrinkles, so it is really important not over-work the area, squint, and stay away from smokey rooms. Your eyes won't like that either.
One of the best ways to protect this area of your face is to put on a pair of sunglasses every single time you go outside spring, summer, fall and winter.
There are very few oil glands in the eye area, so it can dry out very quickly, especially if you spend a great deal of time out of doors.
When you chose an eye cream, be sure to choose one that is especially formulated for this delicate skin. Don't use a day cream that could be full of ingredients that will irritate this area. Too rich a cream can cause as many problems as ignoring the area.
**This is a subjective assessment based on the strength of the available information and our estimation of efficacy.
*Results may vary. The information contained in this website is provided for general informational purposes only. No medical claims are implied in this content, and the information herein is not intended be used for self diagnosis or self trealment of any condition.
Disclosure of Material Connection: Some of the links in the post above are "associate sales links." This means if you click on the link and purchase an item, we will receive a commission Regardless, we only recommend products or services which we use personally and/or believe will add value to our readers. We are disclosing this in accordance with the Federal Trade Commission's 16 CFR, Part 255: "Guides Concerning the Use of Endorsements and Testimonials."