Oceane Eye Cream Review : Ingredients, Side Effects, Detailed Review And More
By
Advertising Disclosure

?
Oceane Eye Cream Description:
Oceane Eye Cream fights fine lines, wrinkles, and other signs of aging around the eyes. It moisturizes the skin around the eyes to improve elasticity, firmness, and enhances the skin's natural beauty. The eye cream is manufactured by Oceane Beauty and is sold at a cost of $375.
However there are many other well known brands in the market with similar effects and ingredients and they come in a affordable range.
What Are The Ingredients In Oceane Eye Cream?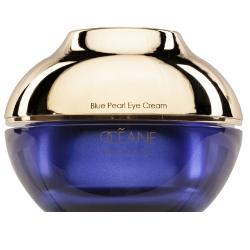 Coconut Oil: Contains saturated fats. Potent moisturizer that fights against flakiness in the skin. Can block up to 20% of UV rays that harm the skin and restores the skin's natural oils.
Dimethicone: Protects and conditions the skin. It is a potent humectant, can possibly treat contact dermatitis (redness) in the skin, forms a protective barrier on the skin, contains anti-inflammatory properties, and can prevent skin infections. However can actually increase skin irritation.
Sodium Hyaluronate: Hyaluronic acid in salt form. It can fill in wrinkles in the skin creating plumper look, and works along with collagen and elastin to promote firmness. It can easily penetrate the skin for increased moisture. However it may cause itching or skin irritation.Caprylic/Capric Triglyceride: From glycerin and coconut oil. Repairs the skin and acts as an emollient.
Mother of Pearl: Used by women in China and Latin America. Can contain seashells, pearls, or oyster shells. It exfoliates, brightens, and moisturizes the skin.
Beta-Carotene: One of the elements that forms vitamin A. Gives carrots and other fruits and vegetables their color. Decreases flaking in skin.
How To Apply Oceane Eye Cream
As guided by manufacture:
Apply gently to the skin around the eyes. Use 2-3 per week for best results.
For external use only.
Avoid getting into the eyes and keep away from children.

Benefits Of Oceane Eye Cream

The list of ingredients is provided.
Leaves skin feeling moisturized and replenished. Although many user reviews say it isn't very effective.
Created especially for the delicate skin around the eyes.
Disadvantages Of Oceane Eye Cream
The product's official website does not state the amount of the cream.
At $375, the cost of Oceane Eye Cream is far above many eye creams on the market.
Conclusive data that verifies the claims made about the product is not mentioned online.
Products can only be returned unused and unopened.
Final Verdict : Oceane Eye Cream
Oceane Eye Cream is formulated for the fragile skin around the eyes. The manufacturer claims the cream can decrease the look of wrinkles, fine lines, and under-eye circles that make the eyes look older. However, Oceane Eye Cream is sold for $375 per container, which is far above the cost of other eye creams in the market. Data that corroborates statements made about the cream's working process is not mentioned. What's more, returns can only be made if the product is unopened and in sellable condition. Little information is available about the manufacturer, and amounts of ingredients are not included. Many available eye creams charge far less and provide comparable anti-aging benefits while also allowing customers to return products even if they have been opened. These may be more suitable options.
The most common eye area issues are puffiness, dark circles, wrinkles and crow's feet, and loss of hydration. There are countless eye creams available on the market today, making it seem nearly impossible to find the "right one" that meets our specific under eye needs. It is imperative to find a product that has been formulated to address a variety of complex eye area problems.
Below you'll find some of the most effective eye cream formulations on the market today, in our opinion.
Our Top Eye Creams
Also Remember These Dermatologist Recommended Important Tips:
Age has nothing to do with the lines that appear on the corners of your eyes... it's a combination of heredity and careless abuse of the area.
Skin is skin... it all needs to be cared for in one way or another. For my younger readers, this means not pulling on the skin when removing eye makeup.
The eye area is prone to fine lines and wrinkles, so it is really important not over-work the area, squint, and stay away from smokey rooms. Your eyes won't like that either.
One of the best ways to protect this area of your face is to put on a pair of sunglasses every single time you go outside spring, summer, fall and winter.
There are very few oil glands in the eye area, so it can dry out very quickly, especially if you spend a great deal of time out of doors.
When you chose an eye cream, be sure to choose one that is especially formulated for this delicate skin. Don't use a day cream that could be full of ingredients that will irritate this area. Too rich a cream can cause as many problems as ignoring the area.
**This is a subjective assessment based on the strength of the available information and our estimation of efficacy.
*Results may vary. The information contained in this website is provided for general informational purposes only. No medical claims are implied in this content, and the information herein is not intended be used for self diagnosis or self trealment of any condition.
Disclosure of Material Connection: Some of the links in the post above are "associate sales links." This means if you click on the link and purchase an item, we will receive a commission Regardless, we only recommend products or services which we use personally and/or believe will add value to our readers. We are disclosing this in accordance with the Federal Trade Commission's 16 CFR, Part 255: "Guides Concerning the Use of Endorsements and Testimonials."