Odacite Green Ceremony Reviews – Should You Trust This Product?
Advertising Disclosure

?
Odacite Green Ceremony Cleanser Introduction
Odacite Green Ceremony Cleanser , US $55, is a powder-to-foam cleanser that cleanses, clears, purifies and detoxifies your skin with every wash, and, unlike most other cleansers, contains non-toxic ingredients in delivering on these commitments to healthier, more beautiful skin. Each purchase includes the Green Ceremony Cleanser, 1 measuring scoop and 1 muslin cloth.
What Does Odacite Green Ceremony Cleanser Claim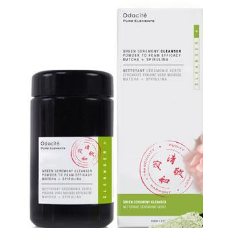 According to the manufacturer, this product has been specially formulated to deliver the following health and beauty benefits for your skin:
Purify your face by exfoliating away toughened debris lying on the surface of your skin that includes dirt, dead skin, and excess oils, while simultaneously drawing out impurities stuck in your pores
Re-energize your skin to bring back the life to your dull, lifeless, fatigued skin
Detoxify your skin to restore its healthy texture and structure
Help reverse free radical damage
Odacite Green Ceremony Cleanser Manufacturer's Detail
This product has been formulated and is manufactured by Odacité, a skincare brand that is founded on the therapeutic power of essential oils. Established in 2009, the brand started out as the vision of a breast cancer survivor, Valérie Gradury, who became committed to change her lifestyle. From home concocted oil preparations that suit her personal needs, she soon began preparing formulations for her friends and, as more people sought her handcrafted preparations, Odacité was born.
Working of Odacite Green Ceremony Cleanser
This product works by combining naturally-derived ingredients with well-known skin revitalizing and cleansing properties to help promote skin clarity, purity, and energy while doing away with toxic ingredients that are often infused in similar products that are commercially distributed.
Odacite Green Ceremony Cleanser Ingredients
Honey: Helps purify your skin with its natural antiseptic properties while boosting skin moisture and facilitating the restoration of your skin's optimal hydration functions
Sodium Bicarbonate: Also baking soda, this ingredient has the power to soothe and calm skin irritations, and it is also capable of promoting lighter and brighter skin complexion
Matcha: Loaded with antioxidants, it penetrates deep into your pores to deliver both purifying and reinvigorating action that awakens the life in your lifeless skin
Coconut Oil: Delivers ideal moisture to your skin, it also has natural antimicrobial properties that helps purify your skin to keep it clear and radiant
Concentrated Aloe Vera: Provides healing to damaged and aging skin, it also soothes inflamed skin which, in turn, results to a calmer, more even toned skin
Spirulina: Improve collagen and elastin production to help your skin better cope with day-to-day repairs
Odacite Green Ceremony Cleanser Pros
This product does not contain GMOs.
The formula consists of 1oo per cent natural ingredients only, with an overall formula best suited for mature, dry, normal and combination skin.
Odacite Green Ceremony Cleanser Cons
This product may be 100 per cent made of natural ingredients but, never take natural to mean that it is completely safe as some ingredients can be harmful to skin prone to allergies, depending on your history of allergic reactions.
As this product has just been launched, market presence and distribution may be limited, and may have yet to be made available in some territories.
Odacite Green Ceremony Cleanser Side Effects
Based on this product's composition, skin irritations and allergic reactions due to botanical ingredients are a possibility, depending on your allergy history.
Directions
Odacite Green Ceremony Cleanser must be incorporated as part of your daily daytime and nighttime skincare routine.
Final Verdict
Odacite Green Ceremony Cleanser is a cleansing product that can inspire you to spend peaceful brief moments in the morning and in the evening to calm down. While it may be a de-stressing experience, this cleanser may not be sufficient for people with special skin conditions that call for more help like acne-prone skin or reactive skin.
Below you'll find some of the most effective Facial Cleansers formulations on the market in our opinion:
Our Top Facial Cleansers
**This is a subjective assessment based on the strength of the available information and our estimation of efficacy.
*Results may vary. The information contained in this website is provided for general informational purposes only. No medical claims are implied in this content, and the information herein is not intended be used for self diagnosis or self trealment of any condition.
Disclosure of Material Connection: Some of the links in the post above are "associate sales links." This means if you click on the link and purchase an item, we will receive a commission Regardless, we only recommend products or services which we use personally and/or believe will add value to our readers. We are disclosing this in accordance with the Federal Trade Commission's 16 CFR, Part 255: "Guides Concerning the Use of Endorsements and Testimonials."