Olay Regenerist Anti Aging Eye Roller Review : Ingredients, Side Effects, Detailed Review And More
Advertising Disclosure

?
What Is Olay Regenerist Anti Aging Eye Roller?
As per the manufacturer, Olay Regenerist Anti-Aging Eye Roller, US $26.99, a product committed to deliver the following benefits:
It depuffs and reinvigorates skin around your delicate eye area
Eliminate fluid build-up that causes your eyes to bulge and possibly pigmented when fluid dries out. Although it may not be suitable for all skin types.
Protects your eye area from leaked fluids by enhancing blood flow
Delivers anti-aging ingredients that brightens and restores your eye health and youthful appearance
This product is formulated by Procter & Gamble.
What Are The Ingredients In Olay Regenerist Anti Aging Eye Roller?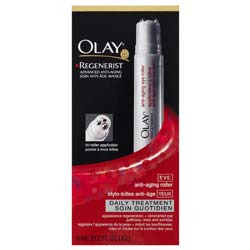 Peptides: Amino acids that help enhance communication and coordination between and among your skin cells, facilitating faster and better skin repair and rejuvenation mechanisms
Glycerin: A powerful emollient that attracts moisture to your skin and, like a magnet, holds on to it for a prolonged number of hours.
Niacinamide: This ingredient is used to hydrate the skin as well as reduce redness in the skin. However it might cause mild burning, itching, or redness.
Panthenol: Also known as pro-Vitamin B5, this nutrient facilitates better skin synthesis that results to a smoother, tighter and more resilient skin finish
How To Apply Olay Regenerist Anti Aging Eye Roller
For best results the manufacturer suggest:
Begin application of Olay Regenerist Anti-Aging Eye Roller by clicking the pen a few times to release the formula to the tips.
Swipe in circular motion on skin around your eyes to enhance circulation then, allow the formula to sink deep into your skin before layering with another product.
Keep product in the fridge to cool it which adds de-puffing power.
Benefits Of Olay Regenerist Anti Aging Eye Roller
Product is packaged in an easy to control package with a well-designed tip that massages your skin to help improve microcirculation and nutrient distribution.
Formulated with Niacinamide, one of the most useful and helpful ingredients for your skin that can be derived from skin care products which delivers antioxidant protection, improved micro-circulation, and enhanced skin cell energy levels all at the same time. Although many user reviews say it isn't very effective.
Overall, this product offers the most basic combination of ingredients that can deliver improvement to your eye skin and also improve its future health.
Disadvantages Of Olay Regenerist Anti Aging Eye Roller
Product contains polythylene glycols (PEG), toxic compounds that can easily combine with a,4 dioxane, a well-recognized carcinogen
Product contains phenoxyethanol, a neurotoxin that can cause irregularities to your health, particularly causing problems in your brain and nerve functions when toxic levels are reached
Product contains 1,2-Hexanediol, a synthetic humectant which helps moisturize your skin but, which has been reported to cause severe skin irritations.
This product may not be suitable for sensitive skin.
Final Verdict: Olay Regenerist Anti Aging Eye Roller
Olay Regenerist Anti-Aging Eye Roller gives you fast and longer-term use benefits. The only other thing that matters is how your skin will react to its formula.
The most common eye area issues are puffiness, dark circles, wrinkles and crow's feet, and loss of hydration. There are countless eye creams available on the market today, making it seem nearly impossible to find the "right one" that meets our specific under eye needs. It is imperative to find a product that has been formulated to address a variety of complex eye area problems.
Below you'll find some of the most effective eye cream formulations on the market today, in our opinion.
Our Top Eye Creams
Also Remember These Dermatologist Recommended Important Tips:
Age has nothing to do with the lines that appear on the corners of your eyes... it's a combination of heredity and careless abuse of the area.
Skin is skin... it all needs to be cared for in one way or another. For my younger readers, this means not pulling on the skin when removing eye makeup.
The eye area is prone to fine lines and wrinkles, so it is really important not over-work the area, squint, and stay away from smokey rooms. Your eyes won't like that either.
One of the best ways to protect this area of your face is to put on a pair of sunglasses every single time you go outside spring, summer, fall and winter.
There are very few oil glands in the eye area, so it can dry out very quickly, especially if you spend a great deal of time out of doors.
When you chose an eye cream, be sure to choose one that is especially formulated for this delicate skin. Don't use a day cream that could be full of ingredients that will irritate this area. Too rich a cream can cause as many problems as ignoring the area.
**This is a subjective assessment based on the strength of the available information and our estimation of efficacy.
*Results may vary. The information contained in this website is provided for general informational purposes only. No medical claims are implied in this content, and the information herein is not intended be used for self diagnosis or self trealment of any condition.
Disclosure of Material Connection: Some of the links in the post above are "associate sales links." This means if you click on the link and purchase an item, we will receive a commission Regardless, we only recommend products or services which we use personally and/or believe will add value to our readers. We are disclosing this in accordance with the Federal Trade Commission's 16 CFR, Part 255: "Guides Concerning the Use of Endorsements and Testimonials."