Olay Regenerist Instant Fix Wrinkle Reviews – Should You Trust This Product?
Advertising Disclosure

?
Olay Regenerist Instant Fix Wrinkle Description
Olay Regenerist Instant Fix Wrinkle Revolution Complex, US $26.99 for 50 ml, gives the skin an instantly healthy and glowing complexion that minimizes the visibility of wrinkles, fine lines and other signs of skin aging and other imperfections. This product easily absorbs into skin, giving it a silky soft feel that works perfectly with any makeup application technique.
Olay Regenerist Instant Fix Wrinkle Revolution Complex works out skin benefits in two steps. First, it evens out lines and creases to give your skin a smoother complexion, effectively blotting out signs of skin aging. Second, the formula's light-diffusing particles reflects back light that gives the illusion of a more youthful complexion.
Other than giving you instant cosmetic benefits, this product also provides lasting skin improvements. Antioxidants infused in the formula protects skin from further damage as skin cells are revitalized. Deep nourishing ingredients, including Vitamin E and ProVitamin B5 and collagen production enhancing peptides make your skin firmer and more supple to the touch.
Olay Regenerist Instant Fix Wrinkle Ingredients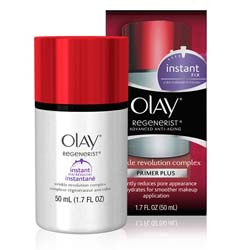 Vitamin B3 (Niacinamide): Helps restore the skin's energy and good microcirculation of nutrients and oxygen
Palmitoyl Pentapeptide 4: A proprietary skincare ingredient complex owned by Sederma, consists of a chain of amino acids that have the ability to drive up collagen and elastin production
ProVitamin B5: Also, Panthenol, helps restore skin moisture while its anti-inflammatory properties relieves irritated skin
Tocopheryl Acetate and Vitamin E: Deeply moisturize skin and improves its ability to better hold on to moisture
Camellia Sinensis Leaf Extract: Also, green tea extract, contains very high levels of the powerful antioxidant, epigallocatechin-3-gallate (EGCG), a polyphenol that protects skin from free radicals as well as UV
Olay Regenerist Instant Fix Wrinkle Directions to use
Olay Regenerist Instant Fix Wrinkle Revolution Complex must only be used on face and neck during the day and under makeup.
Apply product only on well cleansed and toned skin.
Allow product to absorb and seep deeply into skin before putting on your makeup.
Concentrate on areas of the skin that are wrinkled.
Remove product thoroughly from skin at the end of the day.
Olay Regenerist Instant Fix Wrinkle Advantages
Silky and lightweight
Makes for a good primer that makes makeup glide
Light particles make skin look instantly brighter and younger
Smoothens out skin by filling it burrows and creases
Improves microcirculation to support healthier skin
Contains antioxidants that protect skin
Contains peptides that help improve collagen and elastin production
Fast absorbing
Non-greasy
Olay Regenerist Instant Fix Wrinkle Disadvantages
Contains fragrance which is one of top three most irritating ingredients commonly infused in beauty and personal care products
Contains PEGs, which are highly toxic, and have huge potential of becoming contaminated with carcinogenic chemicals
CONCLUSION
Olay Regenerist Instant Fix Wrinkle Revolution Complex gives your skin a brighter and younger look. However, this product contains artificial fragrance that irritates the skin. Not only does it contain irritating ingredients it also has a highly toxic substance that are carcinogenic. There are similar products that don't have side effects but gives you the same outcome.
As we age the composition, texture and appearance of our skin changes. Signs of skin aging include wrinkles, fine lines, loss of moisture, uneven tone, and dull, tired-looking skin. There are countless anti-wrinkle creams on the market promising to make skin look and feel younger. Many anti-wrinkle creams promise everything short of a facelift or to provide the much sought after "fountain of youth". In reality most are just moisturizers marketed as anti-aging products.
Below you'll find some of the most effective wrinkle cream formulations on the market today, in our opinion.
Our Top Wrinkle Creams
Dermatologist Recommendations for Maintaining Younger, Healthier, Vibrant Looking Skin:
Be certain to consistently apply the product(s) you choose in accordance with its directions for use;
Pay special attention to your neck and hands while applying the product(s) you choose, as these areas reflect your age;
Always use sunscreen with a Sun Protection Factor (SPF) of at least 15;
Drink at least eight glasses of water a day to stay well hydrated;
Avoid excessive intake of caffeinated and alcoholic beverages, as they may contribute to dehydration and exacerbate the appearance of fine lines and wrinkles; and
Be sure to get adequate rest every day.
**This is a subjective assessment based on the strength of the available information and our estimation of efficacy.
*Results may vary. The information contained in this website is provided for general informational purposes only. No medical claims are implied in this content, and the information herein is not intended be used for self diagnosis or self trealment of any condition.
Disclosure of Material Connection: Some of the links in the post above are "associate sales links." This means if you click on the link and purchase an item, we will receive a commission Regardless, we only recommend products or services which we use personally and/or believe will add value to our readers. We are disclosing this in accordance with the Federal Trade Commission's 16 CFR, Part 255: "Guides Concerning the Use of Endorsements and Testimonials."