Olay Regenerist Miracle Boost Reviews – Should You Trust This Product?
Advertising Disclosure

?
What Is Olay Regenerist Miracle Boost?
Olay Regenerist Miracle Boost Concentrate, US $112, is an anti-aging booster that prepares your skin to receive and make best use of the beneficial ingredients that can be obtained from other creams and serums in your routine.
Olay Regenerist is a full line of anti-aging products formulated specifically to fade the appearance of fine lines and wrinkles by plumping the skin from within. Key ingredients include niacinamide, amino peptides, and olive oil extract. This is one of several product lines developed by Olay, managed by P&G, over the years to segment its growing markets of generation after generation of women and men subscribing to the brand's promise of restoring youth ever since 1949 when the original "Oil of Olay" was first formulated.
This product harnesses the power of peptides to help speed up and improve skin regeneration. This function is augmented with the addition of moisturizers and other ingredients that help enhance your skin's health and overall appearance.
Olay Regenerist Miracle Boost: Does It Really Work?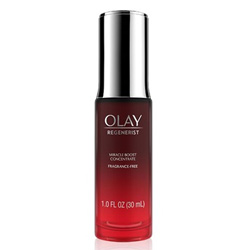 The manufacturer claims that this product has been specially formulated to deliver the following improvements to your aging skin:
Prep your skin to improve better absorption of nutrients and other benefits that can be derived from other products in your routine by up to 60 per cent more than when you apply these without this booster.
Dramatically re-moisturizes your skin and improves its hydration functions.
Enhance the efficiency of skin cell regeneration and turnover to improve the appearance of fine lines and wrinkles
What Are The Ingredients In Olay Regenerist Miracle Boost?
Amino Peptide Complex II: Amino acids that benefit your skin by enhancing natural repair and renewal processes so that your youthful skin is revealed sooner.
Hyaluronic Acid: One of the most popular ingredients in skin care today, it plumps up skin by boosting its moisture content. However, if you are allergic to hyaluronic acid, your face and throat areas will become swollen after exposure to this ingredient.
Niacinamide (Vitamin B3): Other than providing antioxidant functions, it also re-energizes your skin cells, promotes better fluid and nutrient circulation, and supports the restoration of optimal hydration functions.
Panthenol: Enhances your skin's protection, moisture and healing by leaving a thin film that serves to keep moisture in as well as to better protect your skin.
How To Apply Olay Regenerist Miracle Boost
As, per the suggested guidelines from the manufacturers of Olay Regenerist Miracle Boost Concentrate must be incorporated in your morning and evening skin care rituals.
Applying the product generously after cleansing and toning your skin.
Include neck and chest for better absorption of serums and moisturizers in these areas too
Benefits of Olay Regenerist Miracle Boost
The formula is feather lite and easily absorbent, allowing you to almost immediately follow through with the other creams and serums in your regimen.
This product is fragrance-free which eliminates one of the top 3 allergens that can cause skin irritations.
Olay Regenerist Miracle Boost Concentrate reviews posted by satisfied users reveal that this product delivers on its anti-aging promises with regular use.
Disadvantages of Olay Regenerist Miracle Boost
Even without the fragrance in the formulation, there remains to be several ingredients, including artificial colorants, that can cause your skin to become irritated.
This product misses out on several other ingredients that would have helped amp up your wrinkle care strategy.
Does Olay Regenerist Miracle Boost Concentrate Have Any Side Effects?
Based on this product's composition, the following side effects may be experienced:
Skin irritations and allergic reactions due to artificial colorants.
Increased risk to neurotoxicity due to phenoxyethanol.
Final Verdict: Olay Regenerist Miracle Boost Concentrate
Olay Regenerist Miracle Boost Concentrate is a fairly formulated booster, a new category of in anti-aging skin care that is only just beginning to take off and, which generally function to prep your skin for succeeding products. It fulfills its primary responsibility of prepping your skin but, as far as delivering anti-aging benefits directly, this product will have several limitations that you don't have to make your skin put up with.
Below you'll find some of the most effective Rejuvenating Serums formulations on the market in our opinion:
Our Rejuvenating Serums
**This is a subjective assessment based on the strength of the available information and our estimation of efficacy.
*Results may vary. The information contained in this website is provided for general informational purposes only. No medical claims are implied in this content, and the information herein is not intended be used for self diagnosis or self trealment of any condition.
Disclosure of Material Connection: Some of the links in the post above are "associate sales links." This means if you click on the link and purchase an item, we will receive a commission Regardless, we only recommend products or services which we use personally and/or believe will add value to our readers. We are disclosing this in accordance with the Federal Trade Commission's 16 CFR, Part 255: "Guides Concerning the Use of Endorsements and Testimonials."