Ole Henriksen Nurture Me
By
Advertising Disclosure

?
Ole Henriksen Nurture Me Overview
Ole Henriksen Nurture Me is a moisturizing cream designed for rosacea and sensitive skin, skin types often overlooked in the skin care market. Ole Henriksen Nurture Me's only synthetic active ingredient is Dimethicone; the rest are a variety of botanical extracts and vitamins. Results are expected immediately: skin should be smoother, more evenly toned and hydrated.
The official site for Ole Henriksen Nurture Me is succinct but to the point, with a brief overview of the cream's benefits, some discussion of the active ingredients and directions for use. There is unfortunately neither any information on clinical trials, nor any before/after photos (important in terms of rosacea treatment) or testimonials.
The rest of the site lists the company's products arranged by body part (lips, eyes etc), and there is an option to register an account with the site. There is also some background information on the founder, Ole Henriksen himself, who is based in Denmark, and the company can be contacted by email and phone only.
Ole Henriksen Nurture Me – Product Description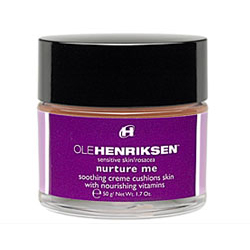 The main active ingredient in Ole Henriksen Nurture Me is Dimethicone, a humectant that acts as a barrier, drawing moisture to the skin and retaining it to hydrate the skin. Rose hips oil and its carrier oil, Evening Primrose oil, have proven emollient, strengthening and healing properties. Wheat Germ oil moisturizes the skin and protects against free radical damage. Vitamins A, C and K all have regenerative, anti-oxidant, astringent and pore-tightening qualities.
Combined, these ingredients pack a powerful punch, and luckily Ole Henriksen Nurture Me is paraben-free (parabens have recently been linked to cancer). Ole Henriksen Nurture Me can be used twice daily, but has to be massaged into the skin in a circular motion so the formula can penetrate deeply. Ole Henriksen Nurture Me is designed for the face and neck area only.
A single 1.7oz jar of Ole Henriksen Nurture Me costs $40, and can be bought from the official site, but the returns policy will only accept jars that are at least half-full within 10 days. It can be bought from retailer such as Sephora.com, however, which do offer varying returns policy (Sephora offers 60 days).
Ole Henriksen Nurture Me Advantage
Good mix of synthetic ingredients and natural, botanical extracts; suitable for sensitive skin
Paraben-free
Relatively low price
Positive reviews
Ole Henriksen Nurture Me – Drawbacks
No before/after photos or testimonials
No returns policy stated on the site
Ole Henriksen Nurture Me – The Bottomline
As Ole Henriksen Nurture Me mostly contains botanical extracts, it's less necessary to want to see some clinical trial info, but some testimonials or before/after photos would have surely highlighted the effect Ole Henriksen Nurture Me claims to have on rosacea, given that it is such a prominent skin problem; an after photo would have made for an effective sales pitch. While there are some good reviews online of Ole Henriksen Nurture Me, there are not many, so it might be a better option to find an offline store at which to sample Ole Henriksen Nurture Me, since the official site is slightly restrictive with their returns policy.
Facial moisturizing products are in no short supply today, and this large selection might make the process of choosing the best moisturizer for your personal needs to seem a bit overwhelming. Fortunately, we've taken the time to research each of the top facial moisturizers on how they rate in several different key categories. More specifically, we believe that every quality moisturizer should provide the basic benefit of improving overall facial skin appearance, including both skin tone and skin texture. Additionally, a quality moisturizer should contain compounds that are capable of binding to collagen fibres in order to provide the most long term results. Finally, facial moisturizers should ideally be able to deeply cleanse skin at the same time that they moisturize it. Below is a summary of our findings regarding the top facial moisturizers and these key considerations.
Below you'll find some of the most effective Moisturizers formulations on the market in our opinion:
Our Top Moisturizers Products
**This is a subjective assessment based on the strength of the available information and our estimation of efficacy.
*Results may vary. The information contained in this website is provided for general informational purposes only. No medical claims are implied in this content, and the information herein is not intended be used for self diagnosis or self trealment of any condition.
Disclosure of Material Connection: Some of the links in the post above are "associate sales links." This means if you click on the link and purchase an item, we will receive a commission Regardless, we only recommend products or services which we use personally and/or believe will add value to our readers. We are disclosing this in accordance with the Federal Trade Commission's 16 CFR, Part 255: "Guides Concerning the Use of Endorsements and Testimonials."