Oligo.Dx Gel Review: Does It Really Work?
By
Oligo.Dx Gel Review: Does It Really Work?
This is an exclusive review of Oligo.Dx Gel, know complete information pros and cons about Oligo.Dx Gel on the beauty insiders
Advertising Disclosure

?
Oligo.Dx Gel – At A Glance
Oligo.Dx, a serious-sounding cellulite treatment, is developed and manufactured by DS Laboratories, a cosmeceutical developer of skincare, soaps, hair loss, acne and wrinkle treatments. The company credits years of research and involvement with some of the most brilliant minds in biochemistry, with the success of their breakthrough "intelligent cosmetics," engages in philanthropic endeavors, and adheres to GMP guidelines in the production of its products.
Oligo.Dx an over the counter treatment that has all the hallmarks of a prescription medication, makes use of organic micros-spheres to deliver its active ingredients straight into the subcutaneous tissue. Unlike other cellulite reducing products which need to be used indefinitely to maintain positive results, Oligo.Dx needs only be used 2-3 times per year for 30-day periods to achieve the desired results and its application requires no massaging to increase effectiveness.
Oligo.Dx Gel – Facts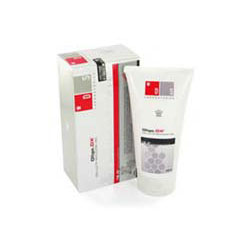 As a cellulite application, Oligo.Dx is different from many other over the counter treatments for the spongy, rippled effect found on the stomach, thighs and hips of both men and women. Using Nanosome technology to deliver the products active ingredients of Centella Asiatica, Caffeine, Ivy and Marine Algae through the outer layers of skin and into the deeper layers of skin where the fat cells reside. Stating that users will need to urinate more frequently and that the urine will be dark colored, the makers of Oligo.Dx claim this side effect is evidence that toxins and stored fat cells are being eliminated. This may be alarming to some users, or it may act as proof of effectiveness to others.
Complete product ingredients, with their concentrations are listed on the manufacturer website.
Oligo.Dx Gel – Positive Features
Proven clinical results with study details listed on official website.
Believable before and after photos.
Product ingredients and their concentrations included on official website.
Affordably priced at $38.
No massaging necessary.
Only necessary to use the product 2-3 times per year at one month intervals.
Official website offers a Result Tracker devise to chart personal results.
Manufacturing plants are Good Manufacturing Practice (GMP) compliant.
5% of DS Laboratory profits are donated to the Natural Resources Defense Council.
Oligo.Dx Gel – Negative Features
Product warning of increased urination and dark-colored urine may dissuade some potential users.
The need to avoid the use of all moisturizers and moisturizing soap during treatment may be inconvenient for some users.
No free product sample is offered.
Contains parabens which can be irritating to the skin.
Size of bottle is not indicated.
Oligo.Dx Gel – Conclusion
DS Laboratories' Oligo.Dx Gel appears to be a unique anti-cellulite treatment. While its ingredients are similar to those of over the counter cellulite reducing applications, DS Labs claims that their product does not have to be used continuously to be effective. Literature about all DS Lab products has a decided medical and scientific air about it, which may be appealing to those who find the more cosmetic approach to cellulite frivolous.
Cellulite can affect people of all ages and body types and can be notoriously difficult to get rid of. While there are certainly no miracle cures, using specially formulated creams and treatments along with a healthy diet and exercise plan can reduce the appearance of the dimpled skin affected by cellulite. Creams and lotions that contain stimulating ingredients such as caffeine are particularly beneficial as they help move toxins out the body while other natural ingredients are used to condition the skin, giving it a firmer, tighter appearance which further reduces the look of the affected area.
Top Cellulite Creams Product