One-Minute Beauty Hacks Every Girl Must Know
Whether you're chronically late for work in the morning because of all the makeup rituals you do before you leave home or, the diligent one who makes sure to get up hours before you hit the road for work, you'll find these 10 beauty hacks not just useful but even essential to saving you plenty of time doing yourself up. It gets so much better because these 10 hacks are bound to give you more from your beauty prep too!
10 beauty hacks you should be practicing now
Stop struggling with your lipstick or blush or hair! Pull yourself together and get the benefits from these Top 10 beauty hacks that will change your daily life forever!
1. Use a nude or white lip pencil or a concealer to line the outer side of your lips to keep your lip shape perfect and prevent your lipstick from smudging outside of the lines.
2. Are you aiming for a matte lip finish? Simply put on your silk textured lip color and top off with baby powder using your broad makeup blush. Stay on. No smudge. Matte. No sweat!
3. Having trouble with eye shadow color ending up all over your face and missing the spot where you put them? Your moisturizer, anti-wrinkle serum and foundation may be making your eyelids too oily for your eye shadow products to stay on. Gently pat away the excess oil then use a concealer to prime your eyelids. The matte texture of your concealer will help your eye products stay right on the spot from sunrise to the following dawn.
4. Mascaras are always challenging products to apply and to carry around comfortably all day. Mascaras will start to clamp up and become powdery by midday. Avoid clamped eyelashes by combing your eyelashes first. Next, start off with an eyelash primer. Then, use a fine bristled eyelash brush to get your mascara on. Minimize the number of coats. Tag along your eyelash primer and use this to freshen up your mascara throughout the day. Make sure your primer is fine bristled too.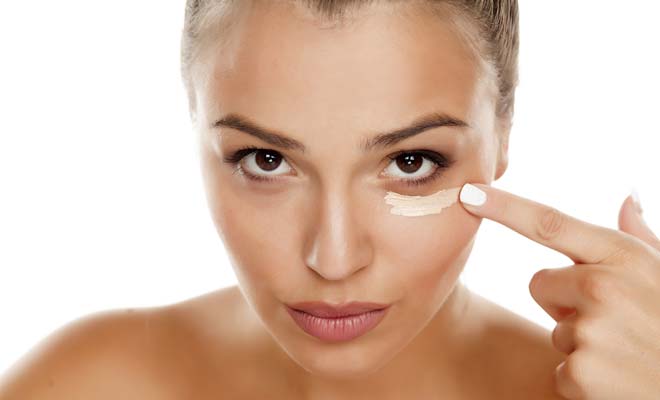 5. If you think that you have too many products on your skin already, you're probably right. So, if you have some color correcting to do, you won't even need a CC cream if you have your concealer with you. Use a concealer that's two shades darker than your skin to cover up dark blemishes or patches of pigmented skin. Buff into your skin using a concealer brush. Then, use a concealer in your skin color to blend in the color correcting with your natural skin color.
6. If you have pimple marks, you cannot just hide it with an ordinary concealer in your skin color. Instead, use a green colored concealer to hide your acne and red blemishes. Surround with concealer in your skin color. Buff and blend well into skin. Glide your brush and don't press in.
7. Get those lashes curling flirtier and much faster! Use your hair dryer to warm your eyelash curler. Then, press your eyelashes with the curler. Oomph! You see the results right away! Remember to use a primer before putting on your mascara.
8. Want a fast curl for your hair too? Simply pull up your hair into a high, tight pony. Take small sections of your hair and twist it around your hot iron rod curler, in the diameter that you prefer. Hold your hair to style for a few minutes. When you start to feel the top side of the curled hair to become warm, let go of the bunch then take up another small section of your hair. Repeat the same process until all sections have been curled to your liking. Your hair should be done in under 10 minutes.
9. If you're the type of girl who matches her nails with her outfit every time then, drying up your nails could be your perennial problem. Skip the oily, quick dry solution. Dry your manicure and pedicure in an instant by spritzing hair spray on your fresh lacquer. Dry nail paint minus the grease and the bubbles.
10. Use broad, oval brushes to blend in your foundation, concealer, blush and bronzer within minutes without at all ending up looking rushed and hurried. These new oval brushes are made with uber soft bristles that are tightly packed and allow product to be blended in more easily than with traditional makeup brushes. Oval brushes also come with a slightly flexible handle that gives you more precision and control while also allowing a gliding application to achieve that seemingly no makeup look we all try to achieve for our daily up-dos.
Conclusion
Hacks can literally take you places if only you can cut more time from your daily routine and make room to do more things than stare at yourself in the mirror, trying to get made for hours! As soon as you can put these beauty hacks into practice, you will wish you had known these extremely helpful tips long before. No worries. At least now, you can start enjoying your prep time every time!