Oscar 2017: "Moonlight" Wins Best Film After Host Reads Wrong Name
Mixed Emotions

Best Director

Best Song: "City of Stars"

Best Original Score: Justin Hurwitz

Best Cinematography: Linus Sandgren
First there was that infamous wrong announcement made by Steve Harvey regarding the Winner of the 2005 Miss Universe Pageant, and now the Oscars has imprinted the same sorry moment in its history too. On Sunday, Best Picture presenters, Faye Dunaway and Warren Beatty, announced that the Oscar was won by "La La Land" when in fact, it was "Moonlight" that won. "Personally, I blame Steve Harvey for this," Oscar host Jimmy Kimmel would later say.
Mixed Emotions
While the cast and crew were in the middle of their acceptance speeches, Jordan Horowitz, the Musical Producer of "La La Land," revealed that it was, in fact, "Moonlight" that won Best Picture. "They read the wrong thing," he said. Horowitz added, "This is not a joke. 'Moonlight' has won Best Picture". Then, he showed what's written in the envelope for the audience to see, at the same moment that Beatty reappeared on stage bearing the correct envelope.
Everyone at the Dolby Theatre located in Hollywood were up on their feet, not sure how to react to what was unfolding on the stage. Even the cast and crew of "Moonlight" hesitated to come up the stage for a while.
"Moonlight" is a story about a young black man who was raised by people he knew and by strangers he met along the way. Eventually, the once little boy grows up and finds his own corner of happiness in the world, as a gay black man. The movie was produced by Adeke Romanski, Dede Gardner and Jeremy Kleiner, and was top billed by Mahershala Ali, Naomie Harris, Janelle Monáe and Trevante Rhodes.
"Moonlight" Director, Barry Jenkins, once on stage, exclaimed, "Very clearly, even in my dreams this could not be true!" Then says, "Oh my goodness." "Moonlight" also bagged the Oscars for Best Supporting Actor for Mahershala Ali, and Best Adapted Screenplay.
Related: Kylie Jenner Expands Her New Official Fashion Shop With "Thick" Apparel
"La La Land" Still Dominated The Oscars
According to Beatty, he was handed an envelope that read: "Emma Stone, 'La La Land'". "That is why I took such a long look at Faye and at you," he explained in a trembling voice. It may have been indeed the wrong envelope he was holding as Stone was actually called up as this year's Best Actress.
Other awards collected by the film on Sunday include:
Best Director
Damien Chazelle, who also made a record breaking win as the youngest director to ever win the award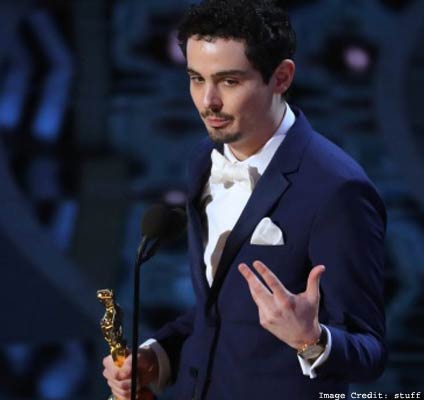 Best Song: "City of Stars"
Best Original Score: Justin Hurwitz
Best Cinematography: Linus Sandgren
Best Production Design: David Wasco and Sandy Reynolds-Wasco
Prior to the Oscars, "La La Land" won the Golden Globe Best Picture in the Musical or Comedy category, the BAFTA Award for Best Film, and several other top awards from critics' circles.
Related: Unicorn Brushes Is The Ultimate Kit Which Will Speak To Your Heart
CONCLUSION
In the aftermath of all the confusion at the Oscars, we turn to Steve Harvey for a grain of wisdom, "I don't feel sorry for me. I don't feel sorry for the pageant, the pageant will now be bigger than it's ever been." Perhaps, Beatty just made Oscars more popular.
Like this post? There's more. Get tons of beauty tips, tutorials, and news on the thebeautyinsiders Facebook & Twitter page. Like us on Facebook – we'll see you there!