Oscars 2012: Celebrity Makeup Looks
The Oscar Awards are usually the grandest events in the movie industry. Every year they set the trends in makeup, hairstyles and mostly in fashion. Celebrities on the red carpet during the ceremony usually wear the perfect celebrity makeup that helps them to accentuate their beautiful features as they sport the most gorgeous dresses matched by their hairstyles.
This year, Halle Berry was among the many celebrities spotted on the Oscars 2012 red carpet. She had a very feminine but dramatic look with her fashionable smoky eyes and nude colored Marchesa dress. Her makeup was perfect with peach shades of blush, peach tone lip-gloss, brown eye pencil that gave her the smoky eyes look. Anne Hathaway was quite an attraction and managed to get everybody's attention. She had a vintage dress from Valentino that matched perfectly with her beauty look that was composed of red lips and a classic chignon look. She had accentuated her big eyes with black eyeliner beautifully and advantageously but remained unobtrusive.
Natalie Portman, who won an Oscar for her brilliant role in Black Swan, had chosen to go soft on her makeup to accentuate her features delicately. She had a pink shade on her lips and some glitter in her eyes. Brooklyn Decker who was also present at the red carpet wore a lavender dress from Joy Cioci. She had perfectly paired it with a very romantic look composed of romantic hair curls, nude palette lip color and natural sparkling makeup.
The 83rd Annual Academy presenter, Sandra Bullock was quite elegant and graceful with her classic makeup. Her look, inspired by glamour from old Hollywood, was elegant and simple. Nicole Kidman on the other hand looked quite sexy and playful with her polished and unique look at the red carpet. Her lip makeup was glowing while her cheeks were all rosy.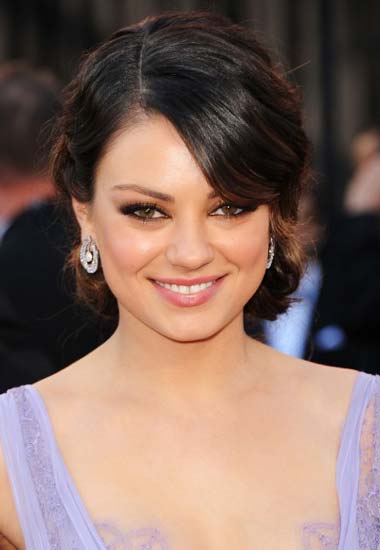 Among the best-dressed girls was Mila who was spotted wearing lace lavender dress that made her look gorgeous. She had her makeup mixed simply with luscious lips and dramatic eyes. Scarlett Johansson made heads turn as she walked on the red carpet with her sultry eye makeup that caught everyone's eyes.