Osmotics Necollete Age Reversal Reviews – Should You Trust This Product?
Advertising Disclosure

?
Osmotics Necollete Age Reversal for Neck and Chest Introduction
Osmotics Necollete Age Reversal for Neck and Chest, US $75 for 1.7 oz., is a moisture boosting formulation combined with restorative ingredients specially formulated to correct and rejuvenate skin damages while also preventing these in the future.
What Does Osmotics Necollete Age Reversal for Neck and Chest Claim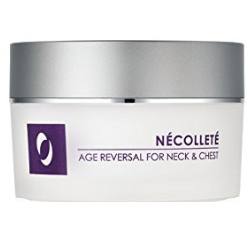 This product is design1ed to deliver the following benefits for your skin:
Restores your skin's elasticity to restore the firmness and volume of your skin
Improves the appearance of your crepey skin to smoothen out and soften its overall complexion
Relieve your skin of irritation and other signs of inflammation to give you a more even toned skin surface
Improves skin synthesis and tightens the bond of skin fibers to give you skin that is more resilient to signs of damage and aging
Boosts your skin's hydration levels with a longer-lasting moisturizing complex to comfort your skin over several hours
Osmotics Necollete Age Reversal for Neck and Chest Manufacturer's Detail
Founded in 1993, Osmotics Corporation, the company behind the formulation of this product, set out on a mission to discover and formulate cutting-edge innovations to improve hair care and skin care technologies. The company has worked with leading scientists and institutions in the field to harness the latest scientific breakthroughs in the area of personal care, lock these in a bottle, and make sure it reaches its clients in their freshest, most potent state to help heal and rejuvenate the skin.
Working of Osmotics Necollete Age Reversal for Neck and Chest
This product works by flooding your skin with ingredients that help restore your skin's healthy texture and structure. It rehydrates your skin and heals your skin's surface layer at the same time to keep moisture in and prevent it from evaporating into thin air.
Osmotics Necollete Age Reversal for Neck and Chest Ingredients
Shea Butter: Enriched with lipids, it helps restructure and re-texturize your skin, making it better nourished while also supporting the restoration of normal skin functions
Squalane: Deeply nourishing, this ingredient also enhances your skin's antioxidant content and amps up UV protection as it simultaneously supports skin renewal
Calcium Hydroxymethionine: Helps restore the thickness and volume in aging skin to help make it appear firmer, denser, and smoother, as well as make it more resilient to damage and creasing
Retinyl Palmitate: A Vitamin A derivative, it has anti-aging properties that functions by speeding up skin turnover and regeneration
Vitamin C: Helps reawaken your skin cells to enhance mechanisms involved in cellular repair and renewal
Osmotics Necollete Age Reversal for Neck and Chest Pros
This product does not contain artificial colors and synthetic fragrances, two of the most common allergens often found in skin care products.
This product, as does all products formulated by Osmotics, are never tested on animals.
The formula has also been guaranteed to be gluten-free.
Osmotics Necollete Age Reversal for Neck and Chest Cons
The formula contains several ingredients that can be potentially irritating to your skin.
Osmotics Necollete Age Reversal for Neck and Chest reviews indicate that the formula can cause irritation on some people.
Osmotics Necollete Age Reversal for Neck and Chest Side Effects
Based on this product's composition, the following side effects may be experienced:
Skin irritations and allergic reactions due to several ingredients, including retinyl palmitate
Increased risk for cancers due to PEGs and Diazolidinyl Urea
Directions
Osmotics Necollete Age Reversal for Neck and Chest must be applied on skin day and night, following a fresh cleansing and toning.
Final Verdict
Osmotics Necollete Age Reversal for Neck and Chest contains an uncommon combination of ingredients but, one that seems to have a good potential for delivering on its claims. This product, however, lacks more well-recognized ingredients will well-established anti-aging functions.
As we age the composition, texture and appearance of our skin changes. Signs of skin aging include wrinkles, fine lines, loss of moisture, uneven tone, and dull, tired-looking skin. There are countless anti-wrinkle creams on the market promising to make skin look and feel younger. Many anti-wrinkle creams promise everything short of a facelift or to provide the much sought after "fountain of youth". In reality most are just moisturizers marketed as anti-aging products.
Below you'll find some of the most effective wrinkle serum formulations on the market today, in our opinion.
Our Top Anti Aging Products
**This is a subjective assessment based on the strength of the available information and our estimation of efficacy.
*Results may vary. The information contained in this website is provided for general informational purposes only. No medical claims are implied in this content, and the information herein is not intended be used for self diagnosis or self trealment of any condition.
Disclosure of Material Connection: Some of the links in the post above are "associate sales links." This means if you click on the link and purchase an item, we will receive a commission Regardless, we only recommend products or services which we use personally and/or believe will add value to our readers. We are disclosing this in accordance with the Federal Trade Commission's 16 CFR, Part 255: "Guides Concerning the Use of Endorsements and Testimonials."