Oxygenius Serum Review: Ingredients, Side Effects, Customer Reviews And More.
By
Oxygenius Serum
Oxygenius Serum: Does this product really work? Is this serum safe & effective? Check Customer Reviews, ingredients, benefits, side-effects and more.
Advertising Disclosure

?
Oxygenius Overview:
Oxygenius Serum, cheapest at US $47 on major reseller sites, is an age-defying face serum that promises to boost your skin's health and youthful appearance. This product is also available by signing up for a limited time free trial offer where you pay only for a minimal fee to cover for shipment and handling costs with an option to cancel your order and not get charged if you return the product within the trial period.
About Oxygenius — Does It Really Work?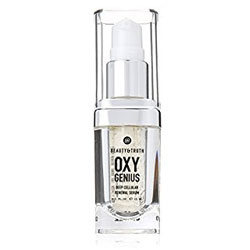 This product is brought to you by Beauty and Truth, a skin care company which appears to be based in Las Vegas, Nevada in the USA. The company declares on its website, "We believe that true beauty comes from within." The manufacturer states that all of its products are formulated to work deeply into the skin, particularly enhancing your skin's mechanisms for protection and recovery from damage and stress caused by multiple external factors that damage the skin. All products come with the manufacturer's commitment to using only all-natural formulations in all of the products it manufactures and distributes.
Based on claims made by the manufacturer, this product has been formulated to deliver for you the following benefits:
Restore your skin's optimal moisture levels.
Replenish lost nutrients.
Fade the appearance of wrinkles, fine lines, and age spots.
Tighten your pores for a smoother skin surface.
What Are The Ingredients In Oxygenius?
Marine Collagen and Marine Elastin: Improve your skin's nutrient and moisture content to support the faster delivery of mechanisms that repair, rejuvenate and renew your skin.
Chamomilla Recutita (Matricaria) Flower Extract: It has anti-inflammatory properties that relieve your skin of blotchiness and redness caused by skin irritation.
Glycoproteins: Enhance skin synthesis and strengthens skin fibers.
Peptides: Improve skin cell communication to enhance the delivery of repair and renewal functions.
Panthenol: Leaves your skin better conditioned, it also coats each skin fiber to help keep moisture in as well as protect it from damaging environmental factors that can damage your skin.
Sodium Hyaluronate: It helps restore your skin's ideal hydration functions.
Directions To Use:
Apply Oxygenius up to twice daily on freshly cleansed and toned skin of face, neck and chest. Always layer under the thicker creams in your regimen.
Benefits:
Oxygenius has been guaranteed by its makers to be safe and suitable for use on all skin types.
This product, just like any other product from Beauty and Truth, is free from parabens and has been guaranteed never to have been tested on animals.
Disadvantages:
This product is no longer mentioned in the company's official website, as indicated on product labels, which may indicate that this product has been discontinued by the manufacturer.
Oxygenius reviews
Does Oxygenius Have Any Side Effects?
Based on the ingredients and reviews, the following side effects may be experienced when using Oxygenius Serum:
Skin irritation and allergic reactions due to several ingredients, including butylene glycol, triethanolamine, and fragrance ingredients, all of which have the potential to permanently damage the skin due to
repeated application over a long period of time.
Increased risk for diseases of the reproductive organs due to EDTA.
Increased risk for nerve damage and brain-related dysfunctions due to phenoxyethanol, a neurotoxin.
Final Verdict:
Oxygenius has a good intention of rejuvenating your skin everyday to help it better cope from damages incurred daily. However, there does not seem to be a way to access this product. Besides, there are also more negative than positive user reviews of this product at the time of writing.
As we age the composition, texture and appearance of our skin changes. Signs of skin aging include wrinkles, fine lines, loss of moisture, uneven tone, and dull, tired-looking skin. There are countless anti-wrinkle creams on the market promising to make skin look and feel younger. Many anti-wrinkle creams promise everything short of a facelift or to provide the much sought after "fountain of youth". In reality most are just moisturizers marketed as anti-aging products.
Below you'll find some of the most effective wrinkle serum/cream formulations on the market today, in our opinion.
Our Top Wrinkle Serums
Dermatologist Recommendations for Maintaining Younger, Healthier, Vibrant Looking Skin:
Be certain to consistently apply the product(s) you choose in accordance with its directions for use;
Pay special attention to your neck and hands while applying the product(s) you choose, as these areas reflect your age;
Always use sunscreen with a Sun Protection Factor (SPF) of at least 15;
Drink at least eight glasses of water a day to stay well hydrated;
Avoid excessive intake of caffeinated and alcoholic beverages, as they may contribute to dehydration and exacerbate the appearance of fine lines and wrinkles; and
Be sure to get adequate rest every day.