Paula's Choice Resist Hyaluronic Acid Booster Reviews
Advertising Disclosure

?
Product Description
Paula's Choice RESIST Hyaluronic Acid Booster smoothes the skin and fights signs of aging such as wrinkles and fine line by infusing the skin with hyaluronic acid. The serum is sold and manufactured by Paula's Choice Skincare, which offers refunds for up to 60 days on all products, and store credit for products returned from 61-180 days. The product is sold in vials of 0.67 fluid oz for $46.
PAULA'S CHOICE – RESIST Hyaluronic Acid Booster Ingredients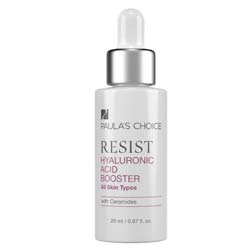 Adenosine: Derived from yeast. Restores skin.
Glycerin: All-natural ingredient that can be recreated in a lab. Increases moisture levels in skin, balances hydration.
Sodium Hyaluronate: Salt form of hyaluronic acid, which is more easily absorbed in the skin this way. Can replace water lost in skin and fight wrinkles.
Hyaluronic Acid: Naturally found in the body, and used to treat wounds, burns, and skin injuries. Occasionally used as a filler.
Panthenol: Vitamin B5. Used to treat insect stings, bites, reactions to poison ivy, and adverse skin reactions caused by chemotherapy.
Butylene Glycol: Petroleum product used as a preservative that resists humidity.
Ceramide AP: Replenishes skin.
Carbomer: Thickener that changes viscosity in products. Can absorb and retain water.
Directions
Apply one or two times per day onto clean skin, preferably after exfoliating and toning. Use SPF 30 or higher afterward when using during the day. Add 2-3 drops of the serum onto your hand and massage until fully absorbed.
PAULA'S CHOICE – RESIST Hyaluronic Acid Booster Advantages
Moisturizes skin and promotes improved skin texture.
All ingredients are reported online.
Paula's Choice RESIST Hyaluronic Acid Booster can be returned for up to 60 days for a full refund, or between 61-180 days for store credit.
Customers who choose the auto-refill feature can receive discounts of up to 10%.
PAULA'S CHOICE – RESIST Hyaluronic Acid Booster Disadvantages
The manufacturer provides a list of studies that helped formulate the product, but there are no links to these that customers could read if they would like to.
At $48 for less than one ounce of the serum, the cost may seem too high for certain people.
Amounts and/or concentration of ingredients are not online.
Most of the ingredients in the product are synthetic, which may not attract people interested in using natural products in their skin.
Conclusion
Paula's Choice RESIST Hyaluronic Acid Booster is a serum that infuses the skin with hyaluronic acid and decreases signs of aging such as wrinkles, fine lines, and crow's feet. The serum is sold by Paula's Choice known for educating consumers about ingredients in their make-up and skincare products. All ingredients used in the serum are online At $48 for 0.67 fluid oz, the cost of the serum is in keeping with that of other high-end anti-aging products. The studies listed on the product's page don't include links with the results of their findings, thus one cannot be assured of its safety and effectiveness.
As skin ages, it is more likely to become dry, rough and prone to developing lines and wrinkles. Using a regular skin moisturizer is not always the solution as mature skin requires a more intense treatment. Applying specially formulated creams and serums which are designed to penetrate deep down to the cells is key in keeping the skin fully hydrated and moisturized. Treatments which actually encourage the production of the skin's own natural oils are most beneficial as are those which form a protective barrier on the skin surface to lock in moisture for long lasting hydration. Using products like this ensure the skin looks plumper, with a smoother, line-free surface.
Below you'll find some of the most effective Hyaluronic Acid Serum formulations on the market in our opinion:
Hyaluronic Acid Serum
**This is a subjective assessment based on the strength of the available information and our estimation of efficacy.
*Results may vary. The information contained in this website is provided for general informational purposes only. No medical claims are implied in this content, and the information herein is not intended be used for self diagnosis or self trealment of any condition.
Disclosure of Material Connection: Some of the links in the post above are "associate sales links." This means if you click on the link and purchase an item, we will receive a commission Regardless, we only recommend products or services which we use personally and/or believe will add value to our readers. We are disclosing this in accordance with the Federal Trade Commission's 16 CFR, Part 255: "Guides Concerning the Use of Endorsements and Testimonials."