Peter Thomas Roth Un-Wrinkle Turbo Serum Review: Is It Worth Buying?
By
Peter Thomas Roth Un-Wrinkle Turbo Serum helps to reduce the deep wrinkles. Does it really help to reduce the forehead wrinkles? Read the unbiased review.
Advertising Disclosure

?
Un-Wrinkle Turbo Serum Description
Peter Thomas Roth Un-Wrinkle Turbo Face Serum help decrease the appearance of wrinkles, fine lines, and crow's feet. It contains a variety of peptides that can improve the skin's health and appearance. The product's manufacturer, Peter Thomas Roth Labs LLC., has a great reputation and sells a variety of skin and hair products. The serum is sold in bottles of 1 fluid oz. at the price of $150. There is a 30-day return period for products purchased from the official website. Customers who purchase Peter Thomas Roth products from other vendors must ask them for their return policy.
Un-Wrinkle Turbo Serum Ingredients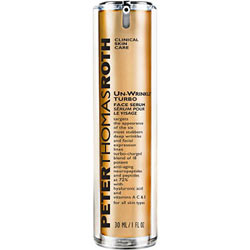 Syn-Ake (4%): neuropeptide modeled after snake venom that helps smooth wrinkles and fine lines. It was made to help relax muscles.
Snap-8 (10%): decreases the appearance of wrinkles on the forehead and surrounding the eyes.
Matrixyl 3000 (3%): helps skin look young and provides dual protection against aging.
Inyline (5%): decreases wrinkles caused by repetitive muscle movements.
Trylagen (5%): improves the skin's appearance.
Argireline (5%): contains peptides that diminish the appearance of wrinkles and fine lines. Made of similar compounds as Botox. Safe for use in concentrations of up to 20%.
Leuphasyl (5%): decrease the width and depth of wrinkles.
Squalene: an effective skin conditioner.
Vitamin C: helps boost the skin's healing response. Protects the skin from damage due to sun exposure and pollution. Increases protection from sunscreen.
Un-Wrinkle Turbo Serum Directions
Clean skin. Apply twice daily for desired results.
Un-Wrinkle Turbo Serum Advantages
Many ingredients used in the product's formula have been known to target specific problem areas in the skin.
The manufacturer has a good reputation and specializes in skin and hair products.
The serum is backed by a 30-day return policy.
Customers can also find this product in authorized dealers across the country.
A full list of ingredients is provided and the concentrations of neuropeptides is also disclosed.
Un-Wrinkle Turbo Serum Disadvantages
At $150 per bottle, the cost of the product is too high to be used consistently or in the long term.
Even though the product was studied, the sample size was only 33 women. It is also unclear if the study was conducted by the manufacturer or an independent group.
Peter Thomas Roth Un-Wrinkle Turbo Face Serum ingredient amounts are not disclosed.
Un-Wrinkle Turbo Serum Customer Review
Applying it for three weeks so far wrinkles still prominent. The eye depuffer cream is the best.-By Kate Oliver
I have been using this for a while now and really like it. I think it softens the lines on the face and keeps your skin in good shape.-By Dana Ellen
Conclusion:
Peter Thomas Roth Un-Wrinkle Turbo Face Serum is sold by a manufacturer with a stellar reputation as well as respected beauty counters across the country.However, the sample size—33 women—is a bit small considering that the market for anti-aging products is quite large. At a cost of $150 per bottle, the price of the product is too high for consistent use. Products that have had larger samples to study from may be able to better benefit some potential customers.
The cosmetic industry currently offers a variety of wrinkle creams from a number of brands. To make the process of selecting a wrinkle cream as simple as possible, we've evaluated each cream on its ability to fulfill our requirements for a quality wrinkle cream. To be specific, we believe that a wrinkle cream should include ingredients that offer antioxidant protection for skin, in order to delay the onset of noticeable aging. At the same time, wrinkle creams should be able to renew skin, typically by containing compounds with collagen-stimulating properties. Additionally, such a cream should improve both the texture and appearance of skin by offering both long term anti-wrinkle benefits and hydrating agents to create smooth, firm skin. Listed below are our top wrinkle creams, according to these important characteristics.
Below you'll find some of the most effective Serums formulations on the market in our opinion:
Our Top Serums
Dermatologist Recommendations for Maintaining Younger, Healthier, Vibrant Looking Skin:
Be certain to consistently apply the product(s) you choose in accordance with its directions for use;
Pay special attention to your neck and hands while applying the product(s) you choose, as these areas reflect your age;
Always use sunscreen with a Sun Protection Factor (SPF) of at least 15;
Drink at least eight glasses of water a day to stay well hydrated;
Avoid excessive intake of caffeinated and alcoholic beverages, as they may contribute to dehydration and exacerbate the appearance of fine lines and wrinkles; and
Be sure to get adequate rest every day.