30 Cool Polka Dot Nail Art You Must Try To Style To Your Nails
Single nail art is a thing of the past.While, sure, this style remains to be a classic, most people are into beautiful nail art patterns, nowadays. Current fashion and trends paved the way for many women to decorate their nails in different styles and designs. Many of these women gets their confidence boosted when they feel like princesses with their beautified nails. Imagine looking down on your hand and seeing just how beautiful and dainty your hands look.
Unfortunately, going to a nail salon regularly is such an expensive vice and not everyone is creative enough to go DIY on nail art. Well, good news, there is one specific nail art even a newbie can pull off – the Polka Dot Nail Art!
Related: Mirror Nail Art: 6 Easy Steps That will Help you Achieve the Look
How To Make Polka Dots On Nails?
One easy polka dot nail art tutorial is the basic. You start by painting the base, now it is time for the dots you can place anywhere (so long as there are plenty of space). Just be sure to place a singular spot in the middle area of your nail.
But, how can you come up with the Perfect Polka Dot Nails? Is there a magic trick or something? Well, no, there is no magic trick, just one of the easiest Techniques For Successful Nail Art you can definitely do without the hassle.
First, choose two to three nail colors, one for the base and two for the polka dots. You can add more if you wish. Apply a base coat for your nails. Let it dry. Next, get a toothpick. Remove the pointy edge by breaking it. You can grind it in a flat and hard surface or cut it with scissors. If you do not have any home, you can use the end of a bobby pin. Place an estimated amount of the paint in a paper or a ceramic dish. Dip the toothpick on a blob and apply the dot on the base you have painted. You can alternate dotting different colors if you like. Let it dry and apply an overcoat to seal in your cute manicure. This is the simplest method of how to paint polka dots on nails.
Polka Dot Nail Art for Beginners
There are numerous nail art designs for beginners that you can try. Take care of yourself and feel more confident while saving some cash for yourself! Here are a few amazing polka dot nail art tutorials you can try.
One simple polka dot nail design is the French Manicure with a twist. You just do the regular classy French tip. Near the end (by the white manicured tip), dot on some whites. You can go for one to two layers of dots depending on your preference.
For a fun polka dot nail art that will not cause you any distress, try painting your nails of different pastel shades like canary yellow, mint green, light pink or salmon, and light purple, one block shade for each nail. When you are done, use the remaining shades as the "polka dots". For example in my forefinger nail, I will use canary yellow as the base, I will then use the rest of the pastel shades as the polka dots on that finger. Quite simple, but very stylish, right?
Another DIY Polka Dot Nail Art Design is to simply create a twist to the regular polka dot nail design. Place the base color on your nail. Once it dries, dot on white circles all over the painted nails. Let it dry once again. Once you are set, dot on smaller circles of different colors to make it appear more interesting.

If you are not a fan of too much fuss and style, paint your nails in a beautiful solid color and choose one nail as an accent. This is the only one with the polka dot design.

Last but never the least of the Polka Dot Nail Art Ideas for beginners is the Domino nail. Simply choose black and white nail polish. You probably already have these, anyway. Paint your nail a solid black shade then dot on the whites uniformly. Et voila, you have one of the classic and most loved polka dot nail designs.
Related: The New Trend in Nail Art: Marble Nail Art
Simple Polka Dot Toe Nail Art Designs
If you want to do pedis with these designs, you are free to do so. Here are a few more of polka dot toe nail art you can try:
This design is just too cute to look at, don you agree? It surely reminds you of Minnie Mouse, so why not put a black bow on your large toenail to make it even more cuter?
A very carefree design is perfect for the coming summer! Look super flirty and fun on your bikini with the different shades painted on your nails. The white dots surely add an interesting twist.
Want to make things look fancier? This design idea is too wonderful to the eyes! A far cry from the usual polka dot nails. This is great when attending a slightly fancy event. The gems surely classes things up a bit
Unleash your inner gypsy in this Nail Art Polka Dot Design. The polka dotted design is a bit different from the typical design. It is quite more advanced, but come on, this is achievable. You just need to paint on just one toe, anyway.
What an interesting twist! You can do this with any colors, but this white and blue combination is simply the loveliest. Not to mention, it seems very easy to do.
Here are some cute ideas for those people who are not blessed with lengthy nails.
A mandala inspired nail art? Yes, please! Not exactly as detailed as a Mandala, but it sure as hell reminds you of one.
This mermaid-like combination is so feminine; you can't help but fall in love with it! Not only is it classy, but it is also a definite eye-catcher.
Easy floral nail arts also rave about these days. But, making flowers from polka dots is just a whole new level. It looks like something done by a pro. Although, it is actually an easier alternative.
This abstract design will make your nails look longer than they actually are. Just be sure to let each dab dry before proceeding onto the next to avoid smudges (and ruining your nail polish).
Looking for spring nail art ideas with an added edge? This nail idea is not only perfect for spring but for the summer, as well. The best part is it is not too girly, so you can really stand out. Not satisfied?
20 More Awesome Polka Dot Nail Art Design To Try
Here are some nail art designs that you should ask your nail artist to try. These are more advanced so that you know.
1. Pretty Pink Polka Dot Nail Art:
The white and pink combination is so delicate to look at. It reminds you of the stunning Elle Woods of Legally Blonde, does it not?
2. Polka Dot Nail Art In White And Blue:
The arranged dots made it look very classy, indeed.
3. Black With White Polka Dots And Red Hearts:
Well, Valentine's day is just around the corner. This cute nail idea is prettier than the classic red nails.
4. Glitter And Polka Dots Nail Art:
Is this not something you would want your nails to look like at your wedding?
5. Polka Dot Bow Nail Art:
What a unique nail art! There is something different in every nail.
6. Cute Polka Dot French Nail Art:
French nail art with a twist? Well, who will dare say no? You can use any shade other than red, if you want.
7. Colorful Polka Dot Nail Art:
Too pretty for words. Look summer-ready in no time!
8. Mermaid Polka Nails:
Look like something Ariel will choose, right?
9. Stripes and Dots:
If you want to explore something else other than dots, here is a friendly choice.
10. Blue Psychedelic Dots:
Fun, fun, fun! This nail is not too much, but it gives you that exciting vibe just by looking at it.
11. Beary Dotty Nails: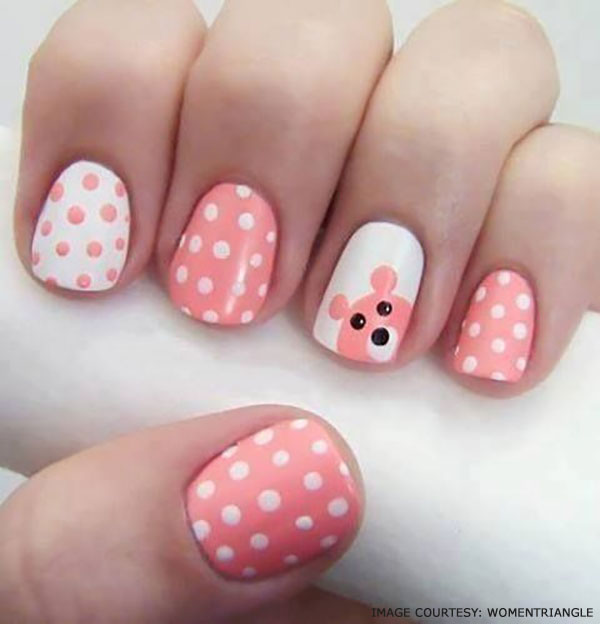 Look like a complete sweetheart with this choice of nail design.
12. Overlapped Polka Dots:
If one polka is not enough, layer it up
13. Gradient Polka Dots: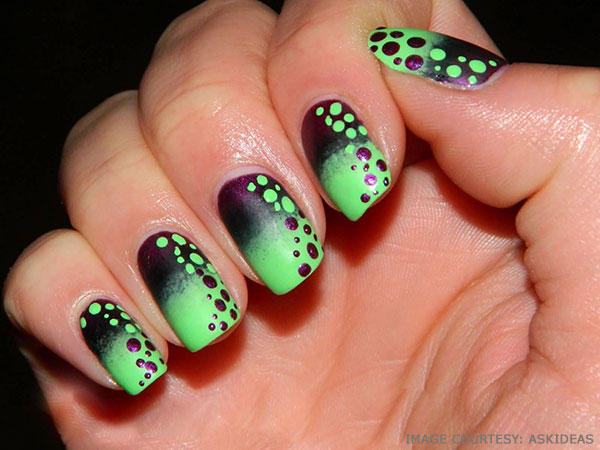 There is something about gradient designs that get you hypnotized.
14. Cute bows, hearts, and dots:
For the sweetie pie in you.
15. Hot Dots:
Unleash your fierceness with this nail design choice.
16. Metallic dots:
Metallic nail designs look really beautiful in dots.
17. Notes and Dots:
This certainly has an appeal for many music lovers out there
18. Creative polka dots design:
The design at the base is so beautifully done.
19. Nude and Dots:
Simple and elegant.
20. Meows in Polka:
Cat lovers will surely go gaga over this design.
Related: 15 Hilarious Nail Art Fails You Should Know Before Doing It Yourself
With all these wonderful choices, you may want to give everything a try. However, you need to enhance your nails health. This is the most important step. It does not matter how beautifully painted your nails are, if they crack easily, right? Be sure to research on some hacks for beautiful nails to make your nails look healthy and pretty at the same time.