Pond's Age Defying Complex Review : Ingredients, Side Effects, Detailed Review And More.
By
Advertising Disclosure

?
What Is Pond's Age Defying Complex?
Over a century ago Theron T. Pond, a Utica, New York pharmacist unveiled his witch-hazel based product, Pond's Golden Treasure. As the brand's foundational product grew successful, additional products entered the market to bolster Pond's mission to "deliver products that make a real difference to women's skin and the way they live their lives".  By the 1920's, Pond's gained increased staying power through endorsements from many of New York society's beautiful faces.
Dressed in Pond's iconic pink and white color scheme and featuring a product carousel, the Ponds.com website implies a true official Internet presence for a company with over 150 years in the industry. However, a few clicks delivers disappointment and a true lack of adaptation into the information age as the product, feature, glossary and contest links only provide very basic information. In fact, the products page doesn't address the three major product lines the company offers. Needless to say, the site doesn't provide clinical trial information, research or results photos. The history of neither the company nor the Pond's institute is available at the Pond's site. For a decent recount of the Pond's history, a visit to Unilever.com is required.
Pond's Age Defying Complex – Does It Really Work?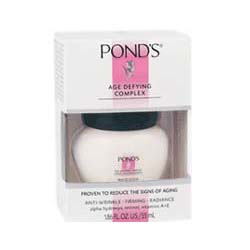 With basic skincare products such as cold creams, cleaning towelettes and pore strips offered from the Pond's website, a search into the Internet universe delivered a host of anti-aging products brandishing the Pond's label. Available Pond's brands included White Beauty, Age Miracle, Pond's Age Defying and Flawless White. In response to society's refusal to look its age, Pond's offers its Age Defying brand. Aging has entered into battle with Pond's Age Defying towelettes, creams and lotions. Its Age Defying Complex which appears to be on the discontinued list, is an oil-free cream that incorporates AHAs, a triple retinoid (Vitamin A) complex and Vitamin E to moisturize and smooth the look of wrinkles and fine lines.
Due to its discontinued status, in-depth product benefits were not readily available and reviews were scarce.
What Are The Ingredients In Pond's Age Defying Complex?
There is no information available about the ingredients of the product on the official website as on any other third party websites.
Benefits Of Pond's Age Defying Complex
Users deemed the Pond's Age Defying Complex highly effective with ratings between near perfect and perfect.
According to the manufacture this product shoes results in 2 weeks. Although there are no reviews backing this claims.
The product helps reduce fine lines.
Disadvantages Of Pond's Age Defying Complex
No research information is provided.
Pond's Age Defying Complex is currently discontinued with no mention of its replacement.
The Pond's website is extremely superficial.
No ingredients mentioned on any reputed websites.
Final Verdict : Pond's Age Defying Complex
In confronting the signs of aging, Pond's has advanced from its days as a witch hazel potion. While the Pond's website was disappointing and the website of its manufacturer, Unilever was only moderately better; third-party sites provided basic information regarding the Pond's Age Defying Complex. Hopefully, Pond's will introduce a replacement with a longer shelf-life.
Pond's Age Defying Complex
As we age the composition, texture and appearance of our skin changes. Signs of skin aging include wrinkles, fine lines, loss of moisture, uneven tone, and dull, tired-looking skin. There are countless anti-wrinkle creams on the market promising to make skin look and feel younger. Many anti-wrinkle creams promise everything short of a facelift or to provide the much sought after "fountain of youth". In reality most are just moisturizers marketed as anti-aging products.
Below you'll find some of the most effective wrinkle serum/cream formulations on the market today, in our opinion.
Our Top Wrinkle Creams
Dermatologist Recommendations for Maintaining Younger, Healthier, Vibrant Looking Skin:
Be certain to consistently apply the product(s) you choose in accordance with its directions for use;
Pay special attention to your neck and hands while applying the product(s) you choose, as these areas reflect your age;
Always use sunscreen with a Sun Protection Factor (SPF) of at least 15;
Drink at least eight glasses of water a day to stay well hydrated;
Avoid excessive intake of caffeinated and alcoholic beverages, as they may contribute to dehydration and exacerbate the appearance of fine lines and wrinkles; and
Be sure to get adequate rest every day.
**This is a subjective assessment based on the strength of the available information and our estimation of efficacy.
*Results may vary. The information contained in this website is provided for general informational purposes only. No medical claims are implied in this content, and the information herein is not intended be used for self diagnosis or self trealment of any condition.
Disclosure of Material Connection: Some of the links in the post above are "associate sales links." This means if you click on the link and purchase an item, we will receive a commission Regardless, we only recommend products or services which we use personally and/or believe will add value to our readers. We are disclosing this in accordance with the Federal Trade Commission's 16 CFR, Part 255: "Guides Concerning the Use of Endorsements and Testimonials."