Pregnancy Stretch Mark Cream
The moment you see that positive sign on the pregnancy test to the time before you give birth, your body goes through several changes. Not only will you see physical differences, but your hormones can and will go haywire. This is why pregnancy can sometimes be difficult on some women. While others revel in their condition, the unfortunate majority will feel quite uncomfortable.
Seeing weight change won't be easy, which is why doctors advice you to eat right. While you'll be craving for certain foods, you also need to know what needs to be taken in moderation. Otherwise, you'll gain more than the necessary amount of weight.
Why Stretch Marks Happen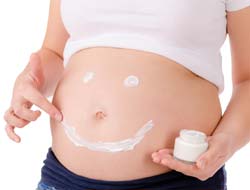 Underneath the dermis layer of your skin are elastic fibers called collagen and elastin. These often repair the tissue damage when you gain and lose weight. However, the changes that happen during pregnancy happen to quickly. These fibers are incapable of coping with the changes. Consequently, the connective tissue underneath breaks resulting in scars and ugly stripes, otherwise known as stretch marks.
You can help avoid stretch marks by using a pregnancy stretch mark cream. So, how does this work? The cream adds a protective layer on the dermis to stave off itching. The moisture seeps through the pores of your skin to help hold the fibers together and to help repair the damages that happen in the dermis layer.
How to Apply Cream
Some women prefer to apply the pregnancy stretch mark cream the moment they find out that they're expecting. Others, however, wait until the second or third trimester when the belly grows at a faster rate. Hence, it's really all up to you. You can also talk to your doctor about it just to make sure. The most important thing to do here is to apply the cream religiously. You can do it before going to bed or when you wake up. If the itching persists, you can even do this more than once a day.
As for the pregnancy stretch mark cream that you buy, you'll find a variety of brands available. You can opt for the trial and error method to see which one works. On the other hand, some women strongly suggest that you go for the brands that contain natural ingredients such as shea or cocoa butter and aloe vera. These are known to be gentler and safer on your skin. Plus, you won't be using products that contain chemicals that may be too harsh for your baby.