Pro Lash Eyelash Conditioner
By
Pro Lash Eyelash Conditioner
Pro Lash Eyelash Conditioner is a potent formulation that is clinically proven to be safe and effective.
Advertising Disclosure

?
Pro Lash Conditioner – Overview
If you are among the millions who have tried false eyelashes or lash extensions you should be aware that this can damage your natural eyelashes. You could even end up losing most of your natural lashes. This is because the extension or false lashes are attached to the natural eyelashes using glue. No matter how "gentle" the glue claims to be, there is some kind of damage on the natural lashes. There are also many other adverse effects that can occur like eye irritation or hypersensitivity. This is why it would be best to choose eyelash conditioners or growth serums instead of false lashes or extensions.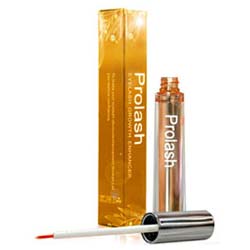 There are hundreds of eyelash conditioners or growth serums available on the market. This makes it very challenging to choose one that is both effective and safe. In this article, we will take a closer look at one such product called Pro Lash. It is essentially a conditioner that strengthens the eyelashes allowing it to grow longer and thicker.
The active ingredients of Pro Lash Eyelash Conditioner include the enzyme "EPM", wool bursa growth genes, ethyl amide MEA, toumingzhsuan, hydrolysed keratin, propylene glycol, collagen sodium, wheat germ. Sorbitol, linoleic acid, nettle extract, chitosan glycosaminoglycan, bitter orange flower oil, vitamin E, vitamin C, panthenol, allantoin, Yankees extract and natural cellulosic A. There is no information on how each ingredient works on the product's website.
Pro Lash Conditioner – Product Description
Pro Lash Eyelash Conditioner is a potent formulation that is clinically proven to be safe and effective. It works in extending the lashes using breakthrough technology with vitamins, plant extracts and peptides. One bottle lasts around a month but the formula is only active for 12 months upon opening the bottle. It is very easy to use and all you have to do is to apply a thin layer of the product to the area where the eyelashes meet the skin. It is just like applying eyeliner. It needs to be applied twice a day for optimum effectiveness. The eyelash conditioner claims to work within two to 10 weeks. When you are already satisfied with your eyelashes, you just have to use the product about three times a week to maintain results.
Pro Lash Conditioner – Advantages
There are clinical studies proving the effectiveness of most of the ingredients.
The product claims to be clinically proven to be effective.
Pro Lash Eyelash Conditioner promotes the natural growth of the eyelashes.
It can also be used on the eyebrows.
Dermatologically tested and approved.
Comes with a money-back guarantee.
Pro Lash Conditioner – Drawbacks
The product's formulation is not all-natural.
Pro Lash Eyelash Conditioner contains some ingredients that are not clinically proven.
There is no detailed information on the clinical test conducted on the product.
There are many negative reviews on this product saying it isn't very effective.
Pro Lash Conditioner – The Bottom Line
Overall, Pro Lash Eyelash Conditioner is just another eyelash enhancement product. There is nothing noteworthy about this product. The fact that there are many negative reviews is a clear sign that you should stay away from this product. There are many better products being sold on the market. A little research will help you find these products.
There are quite a few eyelash enhancing products on the market today, many of which appear to be capable of providing a few key benefits. Specifically, in addition to providing improvements in eyelash length, volume, and texture, an eyelash enhancer should also contain only quality ingredients. Furthermore, these ingredients must be able to nourish lashes so that they stay well conditioned and strengthened against premature breakage. Because of the importance of these characteristics of an ideal eyelash enhancer, along with the large number of eyelash products sold today, we've listed several of our top eyelash enhancers below.
Our Top Eylash Enhancing Products
During our research, the skin care specialists we consulted provided useful tips that contribute to achieving and maintaining beautiful, healthy eyelashes, including the following:
Be certain to consistently apply the product(s) you choose in accordance with its directions for use;
Pay special attention to removing any makeup that you have applied both mascara as well as eye shadow prior to bedtime;
Eating a healthy diet that contains milk and fish can help strenghten eyelashes;
Drink at least eight glasses of water a day to stay well hydrated;
Avoid excessive intake of caffeinated and alcoholic beverages, as they may contribute to dehydration and exacerbate the appearance of fine lines and wrinkles; and
Be sure to get adequate rest every day