Profile Anti-Cellulite Treatment Review
By
Advertising Disclosure

?
Profile Anti-Cellulite Treatment – At A Glance
Janson Beckett, a thirty-five year old New Jersey based cosmeceutical company researches, developes and directly manufacturers a comprehensive product skincare line designed to repair and rejuvenate aging or damaged skin. The company products are researched in association with Reviva Labs, an international importer of cosmeceuticals. Janson Beckett products are endorsed by Peter Rullan, M.D. a cosmetic dermatologic surgeon based in California and the official website provides extensive information about ingredients, formulations and philosophy of the company.Profile Anti-Celluilte Treatment is one among a long list of skincare products from Janson Beckett. The product's special formulation features the latest advances in body-slimming and enhancing cosmeceuticals with its signature REGU-SLIM formulation designed to stimulate fat burning and promote smoothing and increase circulation. Unfortunately, an explanation of REGU-SLIM is unavailable on the manufacturer's website.
Profile Anti-Cellulite Treatment – Facts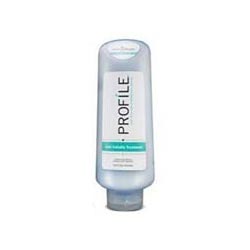 Profile Anti-Celluilte Treatment from Janson Beckett relies on several key ingredients to improve the appearance of cellulite. The trademarked REGU-SLIM formulation, though stated as stimulating fat-burning and promoting slimming and smoothing, is not explained in any of the literature. The ingredient list does indicate that REGU-SLIM contains Paulilina Cupana Extract and L-Carnatine which are known active agents against cellulite and Methyl Nicitinate to promote vasodilation, Caffeine Astringent for instant skin tightening and Essential Oils (rosemary, peppermint, spruce, grapefruit, orange, juniper) to detoxify and promote lymph drainage. A complete list of product ingredients is available on the manufacturer's website. Several ingredients are outlined in detail, although not all of the specified ingredients are specific to this product, but rather other Janson Beckett products.
Profile Anti-Cellulite Treatment – Positive Features
An established skincare company with a three decades history of quality products.
User testimonials are available on the manufacturer's website.
Clinical before and after photos are available on the manufacturer's website.
Doctor recommended product.
Several active ingredients including caffeine, L-Carnatine and essential oils have been proven to have a beneficial effect on the appearance of cellulite.
A complete list of ingredients is available on the manufacturer's website.
Products are manufactured in house in Janson Beckett, New Jersey based plants.
Available in two scents: original and orange crème.
Profile Anti-Cellulite Treatment – Negative Features
Limited ingredient information is explained clearly on the official website.
No free product sample is offered.
Product price may limit the availability to the general population.
No recommendations for how long the product should be used are given.
No indication as to how long it should take to see results is given.
Product contains parabens which have been linked to skin irritation.
Profile Anti-Cellulite Treatment – Conclusion
Janson Beckett Profile Anti-Cellulite Treatment offers proven cellulite fighting agents in an easy to apply, pleasant smelling application. The manufacturer does little to explain why some of the key ingredients are in the formulation or how they are supposed to work against the appearance of cellulite which is not a problem for those familiar with the active ingredients, but may be unacceptable to some users. The product is well presented and is backed by the company's research and development procedures. At a cost of $70 for a 12 ounce bottle, it is priced at the higher range of the cellulite cream scale. Given the ingredient list and the company's history, it may be worth trying for those who can afford the high price.
Profile Anti-Cellulite Treatment
Cellulite refers to fat deposits under the surface of the skin giving it a dimpled, irregular appearance. The vast majority of women have cellulite, some estimates are as high as 90 percent. Cellulite is routinely found in the thighs, hips, buttocks, and stomach. Unfortunately, maintaining an optimal body weight, eating healthy, staying active, and even regular exercise may not be enough to combat cellulite. 
Below you'll find some of the most effective cellulite cream formulations on the market today, in our opinion.
Our Top Cellulite Creams Product
**This is a subjective assessment based on the strength of the available information and our estimation of efficacy.
*Results may vary. The information contained in this website is provided for general informational purposes only. No medical claims are implied in this content, and the information herein is not intended be used for self diagnosis or self trealment of any condition.
Disclosure of Material Connection: Some of the links in the post above are "associate sales links." This means if you click on the link and purchase an item, we will receive a commission Regardless, we only recommend products or services which we use personally and/or believe will add value to our readers. We are disclosing this in accordance with the Federal Trade Commission's 16 CFR, Part 255: "Guides Concerning the Use of Endorsements and Testimonials."