Puria Serum Review: Does This Moisturizer Really Work?
By
Puria Serum
Puria Serum is said to Improve skin's elasticity and firmness, protects from uv rays. Read our expert review for ingredients, benefits, side-effects and more.
Advertising Disclosure

?
Puria Serum Overview
Puria Serum is an anti-aging moisturizer formulated with clinically verified ingredients known to help achieve younger-looking skin. It is intended to reduce the appearance of fine lines, wrinkles, discoloration, and sagging of all skin types.
This Puria Serum review will help you decide if this is the serum meant for you.
About Puria Serum – Does It Really Work?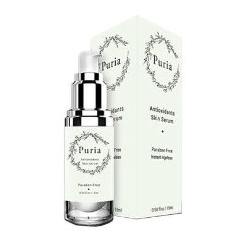 All that is known about the company that manufactures Puria Serum is that it is called Puria. Other than that, there is no available information about where it is based, its mission and vision, or how it came to be.
Despite all these, the manufacturer claims in multiple websites that this serum:
Features a revolutionary formula that firms and enhances the overall tone of the skin
Reduces the appearance of wrinkles, fine lines, and sagging skin
Corrects discoloration or pigmentation like dark spots and blemishes to improve your complexion
Suitable for all skin types
Improves skin's elasticity and firmness
Protects the skin from damage caused by UV rays, pollution, and other environmental stressors
Stimulates collagen production and gives the skin a youthful glow
Hydrates the skin and improves moisture retention
Protects the skin from itchiness, redness, and inflammation
What Are The Ingredients In Puria Serum
The Puria Serum ingredients include the following:
Skin firming peptides: These are the building blocks for collagen and elastin production for plumper, glowing skin with reduced appearance of wrinkles and dark circles. They penetrate deeply into the skin to target the root cause of aging signs. They help in repairing or removing damaged skin structure.
Antioxidants: These function in neutralizing the effects of free radicals due to exposure to sunlight and pollution. They fight against the dull and faded skin, redness, irritation, and inflammation.
Aloe vera: Promotes cellular growth, repairs skin damage, and rebuilds the facial structure.
Vitamin C: A powerful antioxidant known to reduce discoloration, blemishes, and wrinkles. It protects against further skin damage from UV rays exposure and harsh environment.
Other Vitamins: Naturally nourish the skin by providing essential nutrients.
Directions To Use
Wash your face with warm water and a gentle, mild cleanser. Rinse and pat dry. Apply a small pea-sized amount of the Puria Serum on the face and neck using your fingertips, going in the direction that smoothes wrinkles best. Massage gently and wait for a few minutes for the serum to absorb completely into the skin.
Benefits
Reduces discoloration, blemishes, and dark circles.
Makes the skin more supple and firm.
Hydrates and moisturizes the skin all day long, leaving it smooth and soft.
Maintains moisture-locking oils on the skin surface but also prevents clogging of the pores.
Protects from free radical and UV radiation damage.
Reduces the appearance of fine lines and wrinkles.
Tones the skin and makes it more elastic and firm.
Enhances the skin's complexion.
Disadvantages
There is not enough available information about the product and the company
There are only a few public feedback and customer reviews about the effectivity of the product.
Can only be bought online and not available from retail shops.
Does Puria Serum Have Any Side-Effects?
There are no available sources that specify any Puria Serum side-effects. The serum is said to contain no harmful preservatives and fillers but only clinically proven effective herbal extracts. However, there is still a possibility of experiencing dryness, itchiness, hives, or irritation due to allergic reactions to the active ingredients.
Final Verdict
In conclusion, Puria Serum does have clinically proven natural ingredients that will likely stay true its promises. However, the limited amount of information and reviews about the company and serum itself is probably enough reason to doubt its legitimacy and much more, its effectiveness.
Facial moisturizing products are in no short supply today, and this large selection might make the process of choosing the best moisturizer for your personal needs to seem a bit overwhelming. Fortunately, we've taken the time to research each of the top facial moisturizers on how they rate in several different key categories. More specifically, we believe that every quality moisturizer should provide the basic benefit of improving overall facial skin appearance, including both skin tone and skin texture. Additionally, a quality moisturizer should contain compounds that are capable of binding to collagen fibres in order to provide the most long term results. Finally, facial moisturizers should ideally be able to deeply cleanse skin at the same time that they moisturize it. Below is a summary of our findings regarding the top facial moisturizers and these key considerations.
Below you'll find some of the most effective Moisturizers formulations on the market in our opinion:
Our Top Moisturizers Products