Relaxaderm
By
Advertising Disclosure

?
Relaxaderm Overview
Relaxaderm is an anti-aging cream that claims to not only smooth existing fine lines and wrinkles in mature skin, but also to delay the onset of aging for younger skin. It works by using Argireline, a peptide complex that "relaxes" the skin's complexion.
The cream is manufactured by Skin Doctors, an Australia-based company, which has a UK site (with more info than the Australian one) but no US site. Across the two sites, the product information is essentially the same, but with a before/after photo on the UK one. This photo shows a dramatic improvement in skin texture and smoothness (absolutely no wrinkles or crow's feet), but it's not stated how soon after use these results were observed. Given that the site's copy state the cream is their "tried and tested injection-free facial relaxer", it could be safely assumed that the results are probably instantaneous.
The AU site offers some brief info on clinical trials, stating that after 30 days wrinkles and fine lines are reduced by up to 50%, with an average level of 30%. Aside from this, there are no real scientific facts on offer and most of the AU site's (very long) sales blurb just mentions basic info on skincare and what to do if you've used too much/too little/used it for too long (essentially telling you to do nothing).
Relaxaderm – Product Description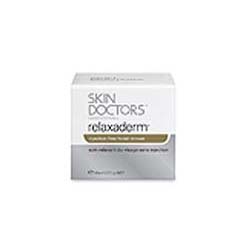 The cream's main active ingredient is Argireline, the common name for Acetyl Hexapeptide-3, a series of amino acids that inhibit facial muscle movements in the same way as surgical cosmetic injections. This reduces the depth of wrinkles by smoothing them out, and helps to temporarily prevent the appearance of new fine lines. The site states that after 30 days of use, fine lines are reduced on average by 30% (up to 50%), but clinical trials from the laboratory Advancell stated that wrinkles were reduced by 16% after 4 weeks, and 27% after 30 days.
There is a complete list of ingredients on the AU site, listing a series of peptides, dimethicone (a skin-smoothing silicone) and a lot of parabens, which are an unfashionable use of preservatives given recent research linking them to cancer.
A single 50ml jar costs approximately $65, but there appears to be no US-based sites selling it. You can buy from international sites, though, but for an increased shipping cost.
Relaxaderm Advantage
Cheaper alternative to Botox
Instant results
Moderate cost
Positive reviews
Relaxaderm – Drawbacks
Not available in the US
Conflicting clinical trial results
Little to no hard scientific facts to back up product claims
Excessive use of parabens
Relaxaderm – The Bottomline
While Relaxaderm appears to be a cheaper, safer alternative to anti-aging facial injections, its biggest problem is that it's not yet available worldwide, let alone in the US. As such, it's impossible to buy and/or try/return the cream without being stuck with losing $99 if it doesn't work. Yes, the cream does have mostly positive reviews, but there are only a handful of independent online reviews to begin with. The only selling point of Relaxaderm is that it is one of a small amount of creams that offer a surgical alternative using the same technology, but it's not enough to go out of your way to buy internationally when there are still some domestic alternatives available.
As we age the composition, texture and appearance of our skin changes. Signs of skin aging include wrinkles, fine lines, loss of moisture, uneven tone, and dull, tired-looking skin. There are countless anti-wrinkle creams on the market promising to make skin look and feel younger. Many anti-wrinkle creams promise everything short of a facelift or to provide the much sought after "fountain of youth". In reality most are just moisturizers marketed as anti-aging products.
Below you'll find some of the most effective wrinkle serum/cream formulations on the market today, in our opinion.
Our Top Wrinkle Creams
Dermatologist Recommendations for Maintaining Younger, Healthier, Vibrant Looking Skin:
Be certain to consistently apply the product(s) you choose in accordance with its directions for use;
Pay special attention to your neck and hands while applying the product(s) you choose, as these areas reflect your age;
Always use sunscreen with a Sun Protection Factor (SPF) of at least 15;
Drink at least eight glasses of water a day to stay well hydrated;
Avoid excessive intake of caffeinated and alcoholic beverages, as they may contribute to dehydration and exacerbate the appearance of fine lines and wrinkles; and
Be sure to get adequate rest every day.
**This is a subjective assessment based on the strength of the available information and our estimation of efficacy.
*Results may vary. The information contained in this website is provided for general informational purposes only. No medical claims are implied in this content, and the information herein is not intended be used for self diagnosis or self trealment of any condition.
Disclosure of Material Connection: Some of the links in the post above are "associate sales links." This means if you click on the link and purchase an item, we will receive a commission Regardless, we only recommend products or services which we use personally and/or believe will add value to our readers. We are disclosing this in accordance with the Federal Trade Commission's 16 CFR, Part 255: "Guides Concerning the Use of Endorsements and Testimonials."