Revitol Cellulite Solution Review
By
Revitol Cellulite Solution Review
This is a detailed review of Revitol Cellulite Solution, get complete information about Revitol Cellulite Solution here.
Advertising Disclosure

?
Revitol Cellulite Solution – At a Glance
Revitol is the brand name under which a wide variety of skincare and herbal supplements-from anti-aging and hair removal to acne and stretch mark treatments-are manufactured and distributed. The developer/manufacturer of the product claims stringent quality control protocols on all product analysis, raw materials, packaging and labeling, and production equipment to ensure the purity and safety of their many products. Among their products is Revitol's Cellulite Solution, an anti-cellulite cream for both men and women.
As a cellulite treatment product, Revitol Cellulite Solution relies upon marine ingredients, Caffeine and Retinol A to eliminate cellulite dimples, boost muscle tone and sculpt the body within three months of continued use. The manufacturer offers weight loss guidelines and assistance in the form of free e-literature and lifetime online membership to their weight loss, fitness program system.
Revitol Cellulite Solution – Facts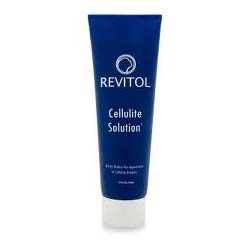 The primary active ingredients in Revitol Cellulite Solution are L-Carnitine, algae extract, Bladdewrack, Green Tea, Caffeine and Retinol A. The company does provide assurance of their quality control standards of their "safe natural ingredients," there are sufficient levels of the active ingredients. Several of the listed active ingredients have been shown to have a level of impact on the appearance cellulite which is the goal of the product.
A full list of product ingredients is offered on the manufacturer website.
Revitol Cellulite Solution – Positive Features
Product ingredient information is provided
Money back guarantee available with purchase
User testimonials are offered on the official product website
Before and after use photos are shown on the official product website
Two free bonuses-a lifetime online weight loss program membership and an E-book download "Proven Weight Loss Techniques" are included with product purchase
No tingling sensation is produced by the product, which may be a welcome change from other cellulite treatments by users who find the sensation bothersome
Revitol Cellulite Solution – Negative Features
Product must be applied 3-4 times per day which may be difficult for some users
No free product sample is offered
Revitol Cellulite Solution Customer Review
I don't see any results as of yet I only used one bottle so far and I'm on my second one now.-By Amazon Customer
It doesn't get rid of cellulite, but it does improve the appearance of it!-By Annette
Revitol Cellulite Solution – Conclusion
Revitol Cellulite Solution is as the literature claims, the only cellulite cream that works on several tissue levels, its listed active ingredients have been studied and found effective in improving the appearance of cellulite. It can be purchased easily on online retail sites.
Cellulite can affect people of all ages and body types and can be notoriously difficult to get rid of. While there are certainly no miracle cures, using specially formulated creams and treatments along with a healthy diet and exercise plan can reduce the appearance of the dimpled skin affected by cellulite. Creams and lotions that contain stimulating ingredients such as caffeine are particularly beneficial as they help move toxins out the body while other natural ingredients are used to condition the skin, giving it a firmer, tighter appearance which further reduces the look of the affected area.
Top Cellulite Creams Product