Reading Time:
3
minutes
What is Revoluxe 24K Gold Serum?
As per the manufacturer, Revoluxe 24K Gold Serum is an anti-aging product increases moisture levels in the skin. It is sold in bottles of 0.88 fluid oz and is sold solely online via a trial period of 14 days.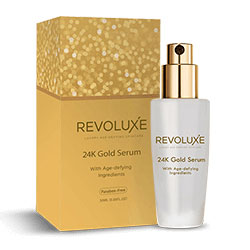 Customers are responsible for the full price of $159.98 if the product is not returned during the trial period. The company also enrolls customers in an automatic refill subscription. But this product do not offers money back guarantee.
Revoluxe 24K Gold Serum – Does It Really Work?
The product's manufacturer states that this serum will diminish signs of aging[1] such as fines lines, wrinkles, and dull skin texture. It may also relieve skin irritation in some people.
What are the Ingredients in Revoluxe 24K Gold Serum?
Simmondsia Chinensis (Jojoba) Seed Oil: a natural oil that mimics the skin's own oils, allowing for easier absorption. It is known for being able to hydrate even the driest skin.
Sodium Hydroxide: balances pH of the skin care product. However, concentrated Sodium Hydroxide is a strong irritant and corrosive to theskin[2], eyes, respiratory tract and gastrointestinal system if ingested.
Xanthan Gum: an emulsifier and thickening agent.
Camellia Sinensis Leaf Extract: green tea. It contains antioxidants that protect the skin from damage.
Aloe Barbadensis Leaf Extract: soothes burns and decreases the appearance of scars. Is also effective against acne.
Anthemis Nobilis Flower Extract: an extract that acts as an antioxidant.
How To Apply Revoluxe 24K Gold Serum
Directions for this product are not provided, but anti-aging creams are typically applied to clean skin and used morning and night. The cream can be used under make-up.
Benefits of Revoluxe 24K Gold Serum
A two-week trial is available for customers to test the product.
The serum moisturizes skin and decreases evidence of aging on the skin.
Safe for all skin types. However, according to customer reviews, it isn't very effective.
A complete ingredient list is published.
Disadvantages of Revoluxe 24K Gold Serum
The cost is higher than that of other serums.
A two week trial may not be long enough to test the product.
Evidence that the product works as stated is not mentioned.
Little information is available about the manufacturer.
Does Revoluxe 24K Gold Serum Have Any Side Effects?
Side effects have not yet been reported for this serum.
Final Verdict : Revoluxe 24K Gold Serum
Revoluxe 24K Gold Serum is said to contain actual gold. However, this may also be the reason why the cost of the product is much higher than other alternatives. Though the serum can be purchased via a two-week trial, customers do not have the option of purchasing it on its own.
A list of ingredients for the serum is available, but little research is cited that corroborates the claims made about the product's working process. It helps that the product can be purchased online, but is not yet sold through other beauty sites. The list of ingredients is thorough but does not mention amounts or concentrations of items in the serum. A money-back guarantee is also not mentioned.
Some customers may prefer this product because it seems new, but it's important to remember that little information is available about this product's manufacturer. Though the manufacturer claims that this product is suitable for all skin types, no citations to research are mentioned online, which means there is also little research that can back the claims made about its anti-aging properties. Even though this serum might do what it says, there are other products on the market that cost less and deliver similar results.