What Shades To Wear On Your Lips This Winter?
You've heard and seen it all before: rich, bold, matte color lipstick for autumn and winter – just as light, nude and shimmery lipstick is apt for spring and summer. Should it always have to be like that? Well, quite frankly, the monotone has some rationale behind it but, even fashion is no longer based on just one trend so, why keep to convention?
If there's one great thing about lipstick, it's that out of all the kinds of makeup you can put on your face (and body), lipsticks come in all shades, tints, shapes and sizes! There isn't any reason why you should stick to just one color throughout the season or throughout the year. If you're in the mood to experiment with makeup, make a big difference just by changing your lip color.
Dark Or Nude Or Metallic?
Nude shades…Dark shades…What does it matter? Both look great in any season of the year. Question is, does nude or dark better complement your skin complexion? As a matter of fact, both kinds should complement you, regardless if you have fair, pale, brown or dark skin. The more important question is, what are you most comfortable wearing?
Whatever skin color you have been gifted with, it's not the skin color but having a clear complexion that makes the difference. Nude colored lipsticks make your skin complexion stand out more. That's because by downplaying your lips, the attention is on the rest of your face so you have got to make sure you have a clear, flawless complexion whenever you decide to go nude. All skin colors benefit from the naturally beautiful looking finish which nude shades give anybody. Light tan, light peach and light pink lip shades will complement any skin color.
At the same time, any skin type will benefit from a bold pop of color this winter season — just go try it for a change! A bright orange, bright pink or fuschia will work great on either fair or dark skin. From the rich, deep shade end of the color palette, anybody should be able to sensuously wear dark plum. Perhaps the best example of shade that will work with everyone is extravagantly deep red lipstick —not only that, it's the shade you can never go wrong with!
As for the metallic lip colors, undoubtedly, these futuristic, unconventional foil shades are here to stay. But, they're not for the faint of heart. So, if you don't have the right attitude to carry a metallic lip color, don't even dare think about wearing it!
Read Also: Just These 10 Lipsticks Can Keep You Fashionable and Hydrated For the Whole Winter
Matte Or Shimmery?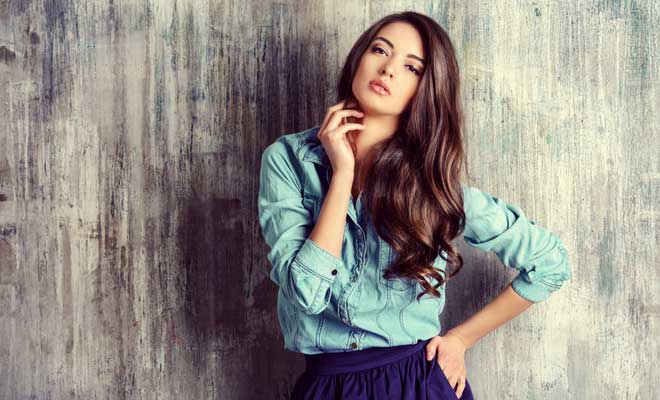 Really, your lipstick's finish matters more than the shade you're wearing — now you know!
As a general rule, never use shimmery lipstick as an office wear. On more regular, casual days, a shimmery almost no color lip balm should be fine but, if you're expecting to make a presentation or, need to power dress for an important board meeting, reach out for your matte lipstick. Matte just simply adds more credibility to your character so close that deal with a matte lipstick on.
This winter, it doesn't matter if you're trying to make an impression indoors or outdoors, because of the pale, white to grayish surroundings, a deep color in matte finish will definitely stand out.
Matte, however, leaves your lips dry and always longing for moisture. So, always massage in a small amount of lip balm to hydrate your lip and let your lips absorb it fully before applying your matte lipstick.
Reserve the matte for special occasions in winter. For casual dates and get-togethers, feel free and confident to put on your shimmery or silky lipstick so as not to dry out your lips.
Preparing Your Lips
No matter what shade or lip finish you're trying to achieve, your lips will always be short of stunning if you don't prep it right. Don't let your lipstick hang and float around and about your chapped lips. An uneven lip surface will not do your lipstick justice and will not do you any good. Poorly prepped lips will make lipstick color sink causing lip color to behave unpredictably.
Make your lip color stand out more by clearing your lips of dead skin cells. Exfoliate with unrefined sugar. Rub the granules against your lips using a gentle massaging action. Do this for a few minutes then, rinse with lukewarm water.
Always follow through exfoliation with a kiss of lip balm. To maintain lip health throughout winter, use a heavier lip moisturizer. Better yet, reach for shea butter or natural essential oils like coconut oil or olive oil so your lips stay deeply nourished and better able to cope with the drying effects of the cold and windy winter months.
Conclusion
Make any time of the year, including this winter season, the perfect time for you to experiment on your looks. It does pay to know what colors match your skin color and complexion well but, the colors that really flatter, they're not really picky with skin color. Instead, these lip colors call for your attitude and confidence. So, what color will keep you feeling nobody else but you this winter?