Shakira's Beauty Secrets: What Keeps Shakira Still So Young Even at 39
A Biggerts beauty secret of Shakira that make her looking stunning even at 39
The 39-year old undoubtedly has undoubtedly captured the hearts of millions of fans around the world with danceable hit singles such as "Whenever, Wherever," the hottest tune of 2002, and "Waka Waka (This Time for Africa), the most viewed and best remembered World Cup theme song of all time. This talented singer, songwriter, however, has much more to give, and the world now loves to watch her age with grace and yet seemingly as stunning and even looking much better than before.
What's Shakira's Biggest Beauty Secrets?
Good vibes and a bright smile, mostly, according to her.
Shakira still wears her signature wavy blonde hair but, she says she has cutback significantly when it comes to her makeup. She is known for doing her own makeup for concerts, red carpet and any other public appearances. On non-show or non-pictorial days, she's been spotted many times wearing just her clear, bare skin. She's been quoted many times saying how she thinks she looks much better now than way back when she used too much products for coverup.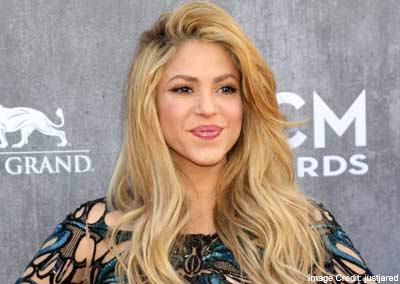 Read Also: Shakira's Perfect Abs Secrets
This mother of a toddler and a baby has been dating FC Barcelona's Gerard Piqué[1] since 2010 — three other reasons that are definitely bringing a smile on her face. Shakira is also hands on with many charities she helps fund, but one in particular, Pies Descalzos Foundation[2], which was named after her album released in 1995, holds a special place in her heart. The foundation is involved in setting up schools for less fortunate children living in Colombia.
The 5'2" Latina beauty also confesses to giving more priority to keeping her skin well nourished. She says she uses Vitamin C and Vitamin E capsules which she would often squeeze on her face straight from the drugstore. She never sleeps with makeup on too.
You May Also Like: Party Perfect Night Look Inspired by Kylie Jenner and Gigi Hadid
This gorgeous, hot mom also adheres to a strict sunscreen routine. Sunscreen remains to be a topnotch damage prevention routine that's perfect for anybody's daily skincare regimen.
When it comes to dressing up in style, Shakira loves the convenience and comfort of denims and tees. She often pairs these with pumps and a little teeny bit of heels to add height to her petite frame. Of course, Shakira's arabic dancing and high performance workouts also help keep her looking young and lean, giving her a naturally contoured face. She says she also watches her diet very closely.
Conclusion
One of Forbes 2014's Most Powerful Woman in the World, Shakira's talent never fades. Born with a face that does not age, fans all over the world will stay awed at the "Hips Don't Lie" singer's ageless face and body, and will be all ears to hear her most revealing spills on her best kept beauty secrets. This woman is fearless to be different and it's her substance that's keeping her real, grounded, and naturally stunning. Hers is a beauty secret you can't simply buy off the shelf of your favorite beauty bar.
Like this post? There's more. Get tons of beauty tips, tutorials, and news on the thebeautyinsiders Facebook & Twitter page. Like us on Facebook – we'll see you there!