Shiseido Ibuki Gentle Cleanser Review
By
Shiseido Ibuki Gentle Cleanser
Detailed Shiseido Ibuki Gentle Cleanser Review, cons and specifications from expert is all you need to know before buying Shiseido Ibuki Gentle Cleanser.
Advertising Disclosure

?
Shiseido Ibuki Gentle Cleanser Introduction
Shiseido Ibuki gentle cleanser, US $30 for 133 ml, is an ultra mild cleanser that loosens up the dirt from your skin and purifies it without the damaging effect of harsh ingredients.
What Does Shiseido Ibuki Gentle Cleanser Claim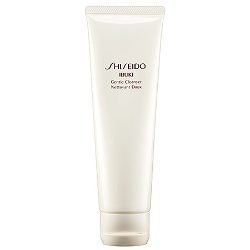 The manufacturer claims that this product has been formulated to deliver the following benefits for your skin:
Provide a deep cleansing alternative that won't irritate and dry out your skin like most other cleansers normally do
Strip off excess oils to help relieve your skin of over greasing, treat acne, and prevent future infections and breakouts
Refresh your skin and get the grime off to let it breathe
Lighten and fade acne marks and other dark spots to even out your skin tone
With regular use, reveal a clearer, brighter, and blemish-free complexion
Shiseido Ibuki Gentle Cleanser  Manufacturer's Detail
This product is manufactured and distributed by Shiseido, one of the oldest and most recognizable companies in the area of skin care. Drawing on its strong Japanese heritage since it was established in 1872, Shiseido is an innovative company right from the start of its long history. The company sold the first-ever whits cream that softened the skin — a product that eventually came to be known as, "lotion".
Working Of Shiseido Ibuki Gentle Cleanser 
This cleanser functions by drawing out impurities from your skin, collecting everything up into a ball where these are dissolved then, eliminates all in a rinse. It follows through with ingredients that purify your skin and restore lost moisture.
Shiseido Ibuki Gentle Cleanser Ingredients
Glycerin: keeps your skin well-moisturized
Lauric Acid: Has natural antiseptic properties that help fight acne-causing bacteria, this ingredient also provides significant amounts of plumping moisture for your skin
Cocamidopropyl Betaine: Gives this formula the ability to dissolve all kinds of impurities sitting on the surface of your skin and blocking your pores
Sodium Methyl Cocoyl Taurate: A foaming agent, it helps loosen toughened grime, including excess oils and makeup residues, to clear your skin of these impurities
Shiseido Ibuki Gentle Cleanser Pros
This product is so mildly formulated that it makes for a great daily companion for people with sensitive and problematic skin, according to manufacturer's claims.
This product is not formulated with parabens, estrogen-mimicking chemicals that get in the way of proper organ functioning, particularly those mechanisms or pathways that are switched on and off by estrogen.
Shiseido Ibuki gentle cleanser Cons
This product is formulated with ingredients that are well-known to have a reactive and irritating effect on skin, that includes Denatured Alcohol, which happens to be the worst ingredient that you can ever get into contact with when you have sensitive skin.
Several Shiseido Ibuki gentle cleanser reviews by users have criticized this product for its strong, overpowering scent.
Shiseido Ibuki gentle cleanser Side Effects
Based on this product's composition, the following side effects may be experienced:
Skin irritations and allergic reactions due to several ingredients, including butylene glycol, alcohol, and fragrance ingredients
Increased risk for skin corrosion and causing irreversible damage to the skin matrix due to potassium hydroxide
Increased risk for cancers due to PEGs, which can become easily contaminated with other chemicals, including 1,4 Dioxane, a confirmed carcinogen
Directions
Shiseido Ibuki gentle cleanser must be used as a regular, daily cleanser to be incorporated in both your day time and night time skin care regimens. Lather on skin and massage gently for a few seconds before rinsing off thoroughly.
Final Verdict
Shiseido Ibuki gentle cleanser, sadly, will irritate any kind of skin, running contrary to its claims of being extra gentle. The surfacing ingredients themselves are gentle enough. However, it is the additives, including fragrances and potassium hydroxide that are making this formula allegedly made for sensitive and problematic skin to be such a challenge to select over others. Make sure to know your options before you buy.
Below you'll find some of the most effective Facial Cleansers formulations on the market in our opinion:
Our Top Facial Cleansers