Simple and Stylish Celebrity Hairstyles for 2012
It can be challenging to find a hairstyle that is not only stylish but also flattering at the same time. However, with some help, you will be able to discover what look fits your perfectly. Get your inspiration with the following celebrity hairstyle trends so you can achieve the perfect stylish look.
There are so many options to styling hair that you can really do a lot with the hairstyle that you are used to. When it comes to looking beautiful and stylish, having versatile hair offers several benefits. So if you are thinking about updating your look get inspired with simple and stylish hairstyles below.
The task of searching for the right hairstyle for you may not be so easy because of all the different details that affect the final look. However, so long as you find good inspiration, you are sure to find the perfect hairstyle for you.
Women all over the world have always used celebrity hairstyles as a source of inspiration for their own hair. Using celebrity hairstyles for your next amazing look makes great sense seeing as celebrities are often praised for their perfect appearance from head to toe. Here are some of the latest hairstyles of celebrities that will make your choice easier.
Jennifer Hudson and Keri Hilson have been sporting an amazing straight sleek hairstyle that is an excellent choice for women who either have long or short hair. Hairstyles that are straight and sleek have always been popular especially since these styles exude both simplicity and elegance making it a flexible look that can go perfectly with formal and casual events.
You may want to go for a haircut like Jennifer which is blunter, or opt for a shiny, layered style as seen in Keri's hair. After having a haircut add some hair color to your hair so that you are sure to showcase your new hairstyle that definitely won't go unnoticed.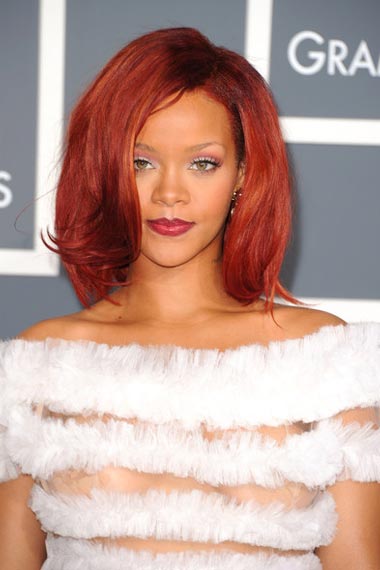 If you want to achieve a glamorous look, then you should opt for high volume hairstyles, which can be achieved with the newest hair styling products and tools. Be inspired by Beyonce and Rihanna's voluminous locks, which they wore to the 2012 Grammy Awards. This is a perfect example of hairstyles that you can do for special occasions.
In 2012, popular stylish hairstyle includes curls and waves, which are also great for adding volume to your hair. To achieve this kind of texture, blow out hair with a big brush to lift the roots, or use a medium sized curling iron. When done, make sure to use hairspray so that the look will stay throughout the night.
There are a lot of women who tend to lose themselves in casual-chic styles, often looking too casual. If you prefer a casual look, make sure to carry it in such a way that it still looks very chic.
Today, the casual look is quite popular, which has allowed hairstylists to create various 5-minute looks that are very low maintenance. This way, women can always look amazing even with a casual style.
The casual-chic look was perfectly executed by Julianne Hough and Jennifer Lopez at the 2012 Grammy Awards. They were able to carry this look well in a formal setting, which you can also easily achieve.
Photos via Getty Images