Själ Saphir Concentrate Reviews: Should You Trust This Product?
Advertising Disclosure

?
What is Själ Saphir Concentrate?
SJÄL SAPHIR CONCENTRATE Resurfacing Peel, US $175 for 30 ml, is an anti-aging product in a class of its own which, according to SJÄL itself is a "liquid silk treatment oil" that help correct visible signs of skin aging as it helps prevent the appearance of wrinkles, fine lines, and dull and saggy skin.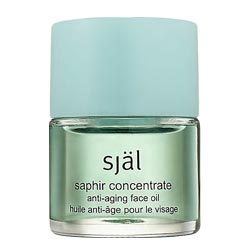 Själ Saphir Concentrate – Does it Really work?
This product provides multiple benefits for your aging skin, delivering a combination of protective, restorative, repair, and renewal functions that allow more of your youth to be recovered as compared to damage being done to it, round-the-clock, by a combination of several intrinsic and extrinsic factors that age your skin.
What are the Ingredients in Själ Saphir Concentrate
Clary Sage, Meadowfoam Seed Oil, Blue Chamomile, Blue Sapphire and Aquamarine Elixir: Have natural anti-inflammatory properties that relieves your skin of inflammation that causes redness, swelling and blotchiness to show on your outer skin layer
Meadowfoam Seed Oil Grape Seed Oil[1], and Vitamin E: work together to re-fortify your skin's surface layer as it supports your skin in revitalizing its natural ability to capture and keep moisture in
Bio-Marine Anti-Aging Complex: Help restore the ideal energy levels of your skin cells to better support the delivery of repair and rejuvenation functions at much faster rates to help your skin cope with the much-needed fixes your skin needs to get ahead of multiple signs of skin aging
Benefits of Själ Saphir Concentrate
All claims made about this product are supported by in vivo studies which should have been able to capture other physiological and environmental factors that can affect your skin health and this product's efficacy as an anti-aging formula.
This product has been specially formulated for people who have normal to dry skin types.
SJÄL SAPHIR CONCENTRATE reviews have praised this formula's rich and soothing texture that gives the user a multi-sensory experience, all of which contributes to experiencing well-being from product use.
Disadvantages of Själ Saphir Concentrate
This product offers a fresh, innovative take on anti-aging care formulation but, compared to other products in its league, this one carries a significantly more expensive price tag.
The formula may be too oily for combination to oily skin types.
There is no client satisfaction nor clinical product study that has been presented to support product claims.
How To apply Själ Saphir Concentrate
SJÄL SAPHIR CONCENTRATE is recommended for use as part of your regular morning and evening skin care regimens. Always cleanse and tone your skin before applying this oil using 2 to 3 drops each time.
Final Verdict: Själ Saphir Concentrate
SJÄL SAPHIR CONCENTRATE is, stripped down to the basics, a face oil that delivers anti-aging benefits to mature skin. Unfortunately, this one requires a fat budget to maintain although a single 30 ml bottle can go a long way to correct, protect and revive your skin and make it youthful once again.
As we age the composition, texture and appearance of our skin changes. Signs of skin aging include wrinkles, fine lines, loss of moisture, uneven tone, and dull, tired-looking skin. There are countless anti-wrinkle creams on the market promising to make skin look and feel younger. Many anti-wrinkle creams promise everything short of a facelift or to provide the much sought after "fountain of youth". In reality most are just moisturizers marketed as anti-aging products.
Below you'll find some of the most effective wrinkle serum formulations on the market today, in our opinion.
Our Top Wrinkle Serums
Dermatologist Recommendations for Maintaining Younger, Healthier, Vibrant Looking Skin:
Be certain to consistently apply the product(s) you choose in accordance with its directions for use;
Pay special attention to your neck and hands while applying the product(s) you choose, as these areas reflect your age;
Always use sunscreen with a Sun Protection Factor (SPF) of at least 15;
Drink at least eight glasses of water a day to stay well hydrated;
Avoid excessive intake of caffeinated and alcoholic beverages, as they may contribute to dehydration and exacerbate the appearance of fine lines and wrinkles; and
Be sure to get adequate rest every day.
**This is a subjective assessment based on the strength of the available information and our estimation of efficacy.
*Results may vary. The information contained in this website is provided for general informational purposes only. No medical claims are implied in this content, and the information herein is not intended be used for self diagnosis or self trealment of any condition.
Disclosure of Material Connection: Some of the links in the post above are "associate sales links." This means if you click on the link and purchase an item, we will receive a commission Regardless, we only recommend products or services which we use personally and/or believe will add value to our readers. We are disclosing this in accordance with the Federal Trade Commission's 16 CFR, Part 255: "Guides Concerning the Use of Endorsements and Testimonials."