SK-II Whitening Spots Specialist: Does SK-II Whitening Spots Specialist Work?
By
SK-II Whitening Spots Specialist
SK-II Whitening Spots Specialist can perform wonders on your dark spots much sooner.Read SK-II Whitening Spots Specialist review to know more about it.
Advertising Disclosure

?
The quest for radiant complexion, firm skin, wrinkle-resilient skin, flawless and smooth textured skin, and unspotted skin that can withstand the test of age and time never ends. When you do get to achieve one dimension, you fail in another. If you have finally achieved a smooth skin texture and fairer, more radiant skin complexion before but suddenly see a sun spot popping out of your cheeks, you know how it can feel like to be wearing an almost perfect skin.
With the robust line up of ingredients available at the drug store nearest you and even at your finger tips, there is quite no acceptable reason why you should settle for less than perfect skin.
About SK-II Whitening Spots Specialist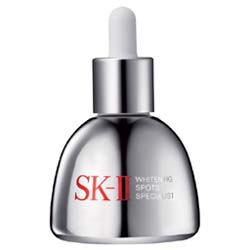 For $185(price may vary) for every 50 ml bottle, get rid of those pesky, unsightly dark spots that are ruining your otherwise blemish-free, bright complexioned skin, with SK-II Whitening Spots Specialist. This product is also available in single use ampoules.
The product formulation is creamy and yet very much lightweight that it can be easily absorbed by your skin, which is good so that it can perform wonders on your dark spots much sooner. The manufacturers behind this product knows that dark spots are signs of damaged skin cells, hindering cells underneath your skin to regenerate and repair the damage. The tricky part is that, dark spots can occur on persistently dark areas of your skin or still remains hidden and invisible underneath. The beauty of SK-II Whitening Spots Specialist is that it tackles both the dark spots that are already visible and those that have yet to make itself known.
This product is indicated for use in correcting the following skin issues:
uneven skin tone
hyperpigmentation
dull complexion
Visible results become evident in as short as 4 weeks. With SK-II Whitening Spots Specialist, you will never have to endure dark spots ever again.
Manufacturer information and its claims about SK-II Whitening Spots Specialist
SK-II products are made from a patented base ingredient called Pitera, a formulation that was developed by the company after a group of SK-II scientists identified that there was something in the fermented sake that kept the hands of sake brewers exceptionally youthful despite their age and despite their wrinkled faces. Years after, Pitera was formulated consisting of vitamins, amino acids, organic acids, minerals, over 50 other micronutrients and the yeast that was responsible for the sake brewers' youthful hands.
To this day, SK-II Whitening Spots Specialist, and other SK-II products continue to be formulated with Pitera and, combining this with more recent complexes which the company has deveoped following changes in skincare science, youthful, radiant, spotless skin has now become more accessible to anybody who desires ageless skin.
With SK-II Whitening Spots Specialist, SK-II promises to visibly lighten dark spots in just 4 weeks of continuous, nightly application.
How Does SK-II Whitening Spots Specialist Work?
SK-II Whitening Spots Specialist works two ways: by brightening and lightening dark spots, and by inhibiting melanin production so as to stop new dark spots from manifesting on your skin.
SK-II Whitening Spots Specialist Ingredients
Primary ingredients that deliver the results you seek are:
Pitera, patented ingredient that supplies your skin with a healthy complex of micronutrients to keep your skin well-nourished and able to jumpstart skin cell rejuvenation and repair processes
Niacinamide, a.k.a. Vitamin B3, inhibits melanin formation so you don't see anymore additional dark spots from surfacing
Dipotassium Glycyrrhizate, a.k.a. Licorice plant extract, also inhibits melanin formation, and has natural skin brightening and lightening properties to blot out that dark spot
The complete list of ingredients below:
Water, Galactomyces Ferment Filtrate, Niacinamide, Butylene Glycol, Pentylene Glycol, Polymethylsilsesquioxane, Inositol, Dimethicone, Isohexadecane, Phytosteryl/Octyldodecyl Lauroyl Glutamate, Acrylates/C10-30 Alkyl Acrylate Crosspolymer, PEG-20 Sorbitan Cocoate, Methylparaben, Aminomethyl Propanol, Benzyl Alcohol, Dimethiconol, Dipotassium Glycyrrhizate, Disodium EDTA, Xanthan Gum, Sodium Benzoate, Sodium Hyaluronate, Palmaria Palmata Extract, Ascorbyl Glucoside, Avena Sativa (Oat) Kernel Extract
SK-II Whitening Spots Specialist Benefits
Improves your skin tone
Brightens and lightens your dark spots to give you an overall spotless complexion
Inhibits the formation of new dark spots
SK-II Whitening Spots Specialist Drawbacks
This product is very expensive.
Instructions
After cleansing and toning, and before putting on your night cream or serum, apply SK-II Whitening Spots Specialist directly on your age spots. Do this regularly for the next four weeks before visible results can become evident. Continue long after to lighten spots even more.
Precautions
Use sunscreen during the full duration of product use.
SK-II Whitening Spots Specialist Side Effects
Product contains parabens which have the ability to disrupt normal bodily processes and functions
Product contains PEGs which are highly prone to contamination with toxic synthetics and carcinogenic chemicals
Who can use SK-II Whitening Spots Specialist
Women and men who have skin issues concerning dark spots may use this product.
Final Verdict
The science behind SK-II Whitening Spots Specialist seems sound, and though the product formulation may benefit from a facelift, it can still serve your purpose — that's if you have $185 to spend on a spot corrector.
Skin Brighteners aid in reducing post-inflammatory hyperpigmentation revealing even skin tone. Skin brighteners also can help revitalize tired and dull skin resulting in a youthful, healthy glow.
Below you'll find some of the most effective skin brightening products on the market today, in our opinion.
Our Top Skin Lightening Choices