Skin Pharmacy Facial Scrub Reviews – Should You Trust This Product?
Advertising Disclosure

?
What is Skin Pharmacy Facial Scrub?
CVS is a "pharmacy innovation company with a simple and clear purpose: Helping people on their path to better health." CVS is the largest pharmacy health care provider in the US with headquarters located in Rhode Island. The company also has operations in Puerto Rico and Brazil.
CVS Skin + Pharmacy Microdermabrasion Facial Scrub, US $15 for 12o ml tube, is an exfoliating treatment that also serves to brighten and rehydrate your skin
Skin Pharmacy Facial Scrub – Does it really work?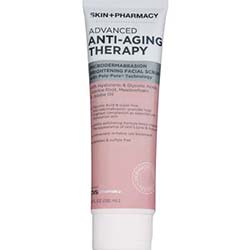 Based on claims made by the manufacturer, this product has been specially formulated to deliver the following health and beauty benefits for your skin:
Cleanse, clear and exfoliate your skin to rid it of impurities, including toughened grime deposited in your pores, and hard buildup of debris masking the top layer of your skin
Purify your skin and enhance the tone and brightness of your complexion
Improve the texture of your skin's surface layer, making it smoother and softer
This product exfoliates by combining physical and AHA grade exfoliation while brightening and rehydrating your skin.
What are the ingredients in Skin Pharmacy Facial Scrub
Glycolic Acid: This plant-derived acid is a proven exfoliator that removes dead skin cells while encouraging the production of new, healthy cells. It also helps unclog pores and by stimulating cellular turnover, it is an effective formula for improving the skin's texture and appearance. However, it may cause burning sensation to sensitive skin.
Super-fine Microdermabrasion Granules: Rub against your skin to loosen up the debris and facilitate the dissolution and flushing of impurities from your skin
Licorice Root extract: Brightens your overall skin complexion while also enhancing the moisture content of your skin
Meadowfoam Extract: Delivers high levels of antioxidants to revitalize your skin as well as protect it from future damage
Benefits of Skin Pharmacy Facial Scrub
This product does not contain parabens which can cause hormone fluctuations that can affect the proper functioning of the organs that these regulate.
The formula is free from sulfates, chemicals which at different forms can either cause organ toxicity, reproductive health problems, cancer, and neurotoxicity.
This scrub granules included in this product are polylactic acid beads which are safer and non-polluting than the polyethylene beads that have been traditionally added to cleansers and exfoliants.
Disadvantages of Skin Pharmacy Facial Scrub
This product appears to have a very limited availability with a limited distribution channel, and may not be easy to access in may geographies, not even online.
The glycolic acid, and other beneficial ingredients in this product are provided very limited time to act on your skin, and therefore deliver very limited benefits compared to when these are added to leave on products.
CVS Skin + Pharmacy Microdermabrasion Facial Scrub reviews posted by users are severely limited and will not provide sufficient information about how other people are responding to this product.
Does Skin Pharmacy Facial Scrub have any Side Effects?
Based on this product's composition, the following side effects may be experienced:
Skin irritations and allergic reactions due to several ingredients, including retinyl palmitate
Increased risk for neurotoxicity due to phenoxyethanol
Increased risk for permanent skin damage due to chlorphenesin
How to apply Skin Pharmacy Facial Scrub
Skin Pharmacy Facial Scrub must be applied on damp skin. Use only 2 to 3 times every week, depending on your skin's sensitivity, and how well you can tolerate this product. Massage in gently and leave on for up to 2 minutes only before thoroughly rinsing off the product from your skin.
Final Verdict: Skin Pharmacy Facial Scrub
Skin Pharmacy Facial Scrub is made up of a fairly powerful formula that delivers benefits beyond exfoliation. The benefits of these components, however, are best applied on your skin as part of leave-on products to prolong contact and impact on your skin.
Below you'll find some of the most effective Scrub Cleanser formulations on the market in our opinion:
Our Top Scrub Cleanser Choices
**This is a subjective assessment based on the strength of the available information and our estimation of efficacy.
*Results may vary. The information contained in this website is provided for general informational purposes only. No medical claims are implied in this content, and the information herein is not intended be used for self diagnosis or self trealment of any condition.
Disclosure of Material Connection: Some of the links in the post above are "associate sales links." This means if you click on the link and purchase an item, we will receive a commission Regardless, we only recommend products or services which we use personally and/or believe will add value to our readers. We are disclosing this in accordance with the Federal Trade Commission's 16 CFR, Part 255: "Guides Concerning the Use of Endorsements and Testimonials."