SkinMedica LYTERA Review – Should You Trust This Product?
Advertising Disclosure

?
As we age, our skin loses its over-all quality. It starts to look dull, saggy and dim. This makes us look really old than we really are. No wonder there are a lot of people who are willing to spend money just to find that solution that will give them their fountain of youth. In searching for products, for sure you might have come across the SkinMedica LYTERA Skin Brightening Complex. So, what makes this product different from others? Just before you spend anything, it is important that you know how it works and the benefits that you can get.
Overview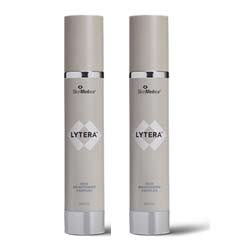 SkinMedica LYTERA Skin Brightening Complex is a skin-lightening product that is specifically created to treat spots, discolorations and other damages brought about by too much sun exposure. The product is a lotion and it has a lightweight formula that you can easily apply on your skin. With its powerful packed ingredients, you can now even out your skin tone without having to undergo costly procedures and treatments. You can bring back that perfect skin tone without sweat.
Features
The product makes use of various ingredients along with essential vitamins to help restore and repair damaged skin cells. The SkinMedica LYTERA Skin Brightening Complex is created to help you lighten dark spots. It also contains certain ingredients to fight skin discoloration. With the product containing various anti-oxidants, it can help repair the skin.
Ingredients of SkinMedica LYTERA Skin Brightening Complex
Just prior to finally using the product, it is essential that you know the complete list of ingredients that are used. Some users have allergies in certain ingredients. So make sure that you check the product label. The ingredients include the following: Water/Aqua/Eau, Niacinamide, Butylene Glycol, Tetrahexyldecyl Ascorbate, Polyacrylate-13, Caprylic/Capric Triglyceride, Tetrapeptide-30, Hexylresorcinol, 4-Ethoxybenzaldehyde, Retinol, Glycyrrhiza Glabra (Licorice) Root Extract, Ethyl Linoleate, Dunaliella Salina Extract, Tocopherol, Squalane, Cetyl Ethylhexanoate, Glycerin, Polyisobutene, Polysorbate 20, Phytic Acid, Disodium EDTA, Ethylhexylglycerin, Potassium Sorbate, Phenoxyethanol.
Benefits
With the price tag attached in buying the SkinMedica LYTERA Skin Brightening Complex, you need to know the different benefits of using the product. This lotion is proven to be highly effective in lightening the dark spots. If you are suffering from skin discoloration and skin damage, this is the product for you. What is nice with SkinMedica LYTERA Skin Brightening Complex is that it can work on all skin type. So whether you have dry or sensitive skin, you can use this product.
WHEN TO APPLY?
SkinMedica LYTERA Skin Brightening Complex is very easy to apply. You can use it in the morning as well as in the evening. After you clean your face, you can apply the lotion directly on your skin. Apply it all over your face or in other areas that are affected.
What It Claims
This product claims to have several benefits. Firstly, it claims that it can help you lighten skin discoloration. If you have damaged skin, the product can repair and restore the damaged cells. It can also control any further skin discoloration. In using the SkinMedica LYTERA Skin Brightening Complex, you can finally achieve that perfect skin tone that you have always wanted.
Warnings
The SkinMedica LYTERA Skin Brightening Complex works for all skin types. Anyone can use this product. But pregnant women as well as those who are breastfeeding their babies, they are now allowed to use the product. If you are unsure and if you have skin allergy, it is strongly recommended that you consult your doctor first.
Skin Brighteners aid in reducing post-inflammatory hyperpigmentation revealing even skin tone. Skin brighteners also can help revitalize tired and dull skin resulting in a youthful, healthy glow.
Below you'll find some of the most effective skin brightening products on the market today, in our opinion.
Our Top Skin Lightening Choices
**This is a subjective assessment based on the strength of the available information and our estimation of efficacy.
*Results may vary. The information contained in this website is provided for general informational purposes only. No medical claims are implied in this content, and the information herein is not intended be used for self diagnosis or self trealment of any condition.
Disclosure of Material Connection: Some of the links in the post above are "associate sales links." This means if you click on the link and purchase an item, we will receive a commission Regardless, we only recommend products or services which we use personally and/or believe will add value to our readers. We are disclosing this in accordance with the Federal Trade Commission's 16 CFR, Part 255: "Guides Concerning the Use of Endorsements and Testimonials."