Skinmedica TNS Recovery Complex Review
By
Skinmedica TNS Recovery Complex
An exclusive review of Skinmedica TNS Recovery Complex Product, Know more about its pros & cons on the beauty insiders.
Advertising Disclosure

?
Skinmedica TNS Recovery Complex Overview
Skinmedica's TNS Recovery Complex is an anti-aging skin cream designed to mimic the body's skin regeneration processes. Its main active ingredient is NouriCel-MD, its patented complex of skin care factors used in the rest of its skincare range including its Illuminating Eye Cream. The formula contains a 93.6% concentration of NouriCel-MD.
The site's layout is simple to navigate, but provides only very basic information on the complex, its benefits and a simple FAQ. There are no product testimonials or before/after photos; there is also no information on clinical trials, or what kind of results to expect and when. In fact, there is hardly any scientific info on the site, which is very disappointing.
The product is only available through licensed physicians who would assess your skin care needs and prescribe a suitable, tailored regimen – the site offers a physician finder tool for this. The company can be contacted via mail, email or telephone. The site is also currently listing a contest for product giveaways, as well as an option to register an account on the site to keep abreast of special offers and advance product news.
Skinmedica TNS Recovery Comple – Product Description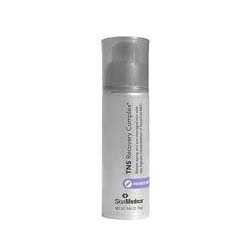 The aforementioned principal active ingredient is NouriCel-MD, a patented complex of naturally-occurring growth factors that rejuvenate the skin, soluble collagen, cytokines (which have an anti-inflammatory effect), collagen-stimulating matrix proteins and antioxidants, which neutralize skin-damaging free radicals.
Unfortunately there is no complete list of ingredients featured on the site, but a quick Google search elsewhere finds further extensive YouTube promo videos and before/after photos on vendor sites. The site www.consultingroomshop.com listed the 4 types of growth factor used, which stimulate skin cell growth, new blood vessel formation and collagen secretion. In addition, the site features a PDF file on clinical trials.
As the official site states that the product can only be bought via physicians, there is no price listing; however Amazon.com is currently selling a single tube for $141.55 (though it's not stated how much is contained). The complex can be applied daily and is suitable for all skin types; it's recommended to be used along with Dermal Repair, which also claims to fade the "citrus scent" of TNS Recovery Complex. The company does offer a money-back guarantee through their physicians, but not directly via their site.
Skinmedica TNS Recovery Complex Advantage
Powerful combination of proteins, growth factors and antioxidants
Money-back guarantee
Mostly positive online reviews
Skinmedica TNS Recovery Complex – Drawbacks
High price
Mostly only available through physicians
No info on clinical trials on the official site
Skinmedica TNS Recovery Complex – The Bottomline
TNS Recovery Complex has had a number of positive reviews online, but the Skinmedica's official site provides disappointingly little in the way of officially-sanctioned clinical trials and ingredient information. Where there are so many anti-aging and anti-wrinkle creams in the skin care marketplace today, it's important for a lesser-publicized company to provide as much information as possible, particularly in the way of visual information. Since the official site contains virtually none of that and no way to buy or even try the product online (and difficult to do so offline), there seems to be no other motivation to try it aside from a handful of mostly positive reviews.
The most common eye area issues are puffiness, dark circles, wrinkles and crow's feet, and loss of hydration. There are countless eye creams available on the market today, making it seem nearly impossible to find the "right one" that meets our specific under eye needs. It is imperative to find a product that has been formulated to address a variety of complex eye area problems.
Below you'll find some of the most effective eye cream formulations on the market today, in our opinion.
Our Top Eye Creams
Also Remember These Dermatologist Recommended Important Tips:
Age has nothing to do with the lines that appear on the corners of your eyes... it's a combination of heredity and careless abuse of the area.
Skin is skin... it all needs to be cared for in one way or another. For my younger readers, this means not pulling on the skin when removing eye makeup.
The eye area is prone to fine lines and wrinkles, so it is really important not over-work the area, squint, and stay away from smokey rooms. Your eyes won't like that either.
One of the best ways to protect this area of your face is to put on a pair of sunglasses every single time you go outside spring, summer, fall and winter.
There are very few oil glands in the eye area, so it can dry out very quickly, especially if you spend a great deal of time out of doors.
When you chose an eye cream, be sure to choose one that is especially formulated for this delicate skin. Don't use a day cream that could be full of ingredients that will irritate this area. Too rich a cream can cause as many problems as ignoring the area.