9 Skinny Jeans Mistakes That Are Ruining Your Style
Mistakes that are commonly done by you with your jeans
With the steady infusion of hip hop and rap culture into popular culture, street style fashion has become more popular than ever. From classic it-girls like Alexa Chung and Cara Delevingne, to social media influencers Kendall and Kylie Jenner, anyone who's anyone is experimenting with denim jeans. Style icons everywhere can't get enough of this wardrobe staple, and neither can we!
While this versatile tried-and-true denim is a must-have in every girl's wardrobe, skinny jeans can be tricky to style just right. Worn correctly, their form-fitting design accentuates your shape, lifting and smoothing your figure to give a sleek silhouette. Worn incorrectly… at best, they cling uncomfortably to your skin. At worst, not only are they skin tight to the point of cutting off blood circulation, but they also ride up and bunch up at your thighs and ankles, leaving a stiff and unflattering profile.
That being said, the common mistakes women make when styling skinny jeans are easily corrected[1]. As long as you keep a few key styling tips in mind, you'll never commit another fashion faux pas again.
Related: 5 Unique Ways to Style Your Look With Trench Coats This Fall Season
1. Picking the wrong size when you're in-between sizes.
Being exactly between two sizes is the worst feeling ever when you're shopping. Not knowing whether that cute pair of jeans will shrink or grow with wear can cause some anxiety.
If you're going for a fitted look, choose the smaller pair. It'll stretch to hug your natural curves with wear. Always take a look at the material tag: if it's made of a cotton or polyester blend, or incorporates a small amount of elastane, the material has some natural stretch. If it's made of stiffer, thicker denim, you might want to size up – pro tip: throw these bad boys in the dryer on the hottest cycle and they'll shrink down a little. Pay attention to the quality of the denim: the lighter and thinner, the more it'll stretch. The heavier and thicker, the more it'll shrink.
2. Experimenting with different fits.
A lot of people stick to the classic mid-rise skinny jean fit. And that's okay, but playing around with few different fits in your closet will open up a whole new world of styling options.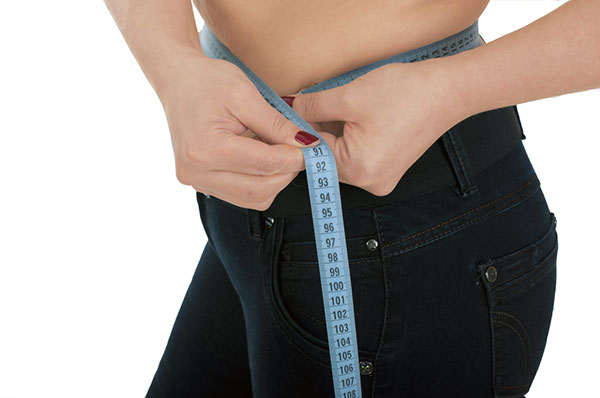 How to style different skinny jean fits?
Try ultra low-rise denim: this has been spotted making a comeback on high fashion runways for the 2017 autumn/winter collection. These low-rise trousers were styled as one of the many ways to wear off-the-shoulder tops, the "it" trend of 2017. In every case, they were paired with miniature crop tops to really accentuate some sexy midriff.
3. Going too far with distressed denim.
Distressed denim is without a doubt one of the most popular fashion statements when it comes to this beloved denim. Known for its artistically intentional frays, rips, and heavily worn areas of denim, it's a stylish and edgy spin on traditional denim jeans. However, you should be cautious when picking out a pair – too many rips and too much distressing actually hurts your style.
How to pull off skinny ripped jeans?
If your jeans look worn out to the point where they won't survive another wash in the laundry, you should choose a different pair. Ripped skinny jeans make a statement, as long as they still look like actual jeans.
4. Choosing the wrong type of pockets.
The size and shape of your pockets can seriously change the way your jeans look, and by extension, how your butt looks from behind. That's why Khloe Kardashian's new denim line follows this golden rule.
How to choose pockets for skinny jeans?
Look for back pockets are placed high and slant outwards to to emphasize and lift your booty. Deeper pockets that fit your phone also help accentuate the curve of your butt. Avoid pockets that are positioned lower than the bottom curve of your butt – those will give you a saggy behind.
Bonus: pockets with details such as distressing, rivets, or a unique hem instantly upgrade your outfit.
Related: Latest Fashion Trends You Would Love To Follow in 2018
5. Not styling proportions correctly.
A lot of women fall victim to awkward, clunky looking outfits when wearing the beloved skinny jean. Mix and match tops with different rise skinny jeans to pull off countless ensembles.
How to incorporate different proportions with skinny jeans?
For a tall and lean look, pair super skinny high-rise denim with a tucked-in blouse or crop top. Go everyday casual by styling mid-rise jeans with a t-shirt, jacket, and high top sneakers. Match low-rise jeans with statement jewelry to emphasize your favorite oversized sweater.
6. Choosing the wrong color denim.
Sometimes it's easy to forget that the most popular denim style is no longer limited to the indigo blue we all know and love. They now come in just about every color possible, but black, white, charcoal, and blue remain the top choices.
How to choose the right denim wash?
Don't be afraid to experiment with new looks every now and then, but keep in mind that dark washes, charcoal, and black are most suitable for fall and winter, while light washes and white are practically made for summer and spring. And of course, the classic denim blue is perfect year round.
Bonus: darker washes pair perfectly with trench coats for this fall season, while the occasional pop of color in summer or spring can really make a statement by bringing your outfit to life.
7. Not experimenting with denim-on-denim.
Denim-on-denim is the modern twist on the timeless staple, and one of the most popular looks in street style fashion. The key is to mix and match different washes. It may seem intimidating, but there's looks anyone can pull off.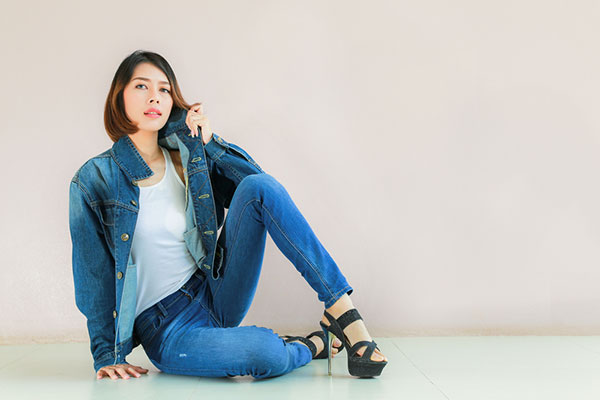 How to style denim-on-denim?
Pair dark-washed jeans with a white pocket tee, and a light-wash denim jacket. If you want to take a page from off-duty New York Fashion Week supermodels, pin your hair into a quick chignon bun, slip on a pair of statement oversized sunglasses, and apply a bold lipstick. You'll look effortlessly chic.
8. Making sloppy cuffs.
Cuffed denim always screams "stylish street style," and instantly upgrade your look. Cuffs are a quick and timeless way to change up your denim game. Experiment with different cuff lengths, thickness, and folds to create your own style.
How to make stylish cuffs?
Try the classic one-inch cuff folded into a thick two-inch cuff. For a bolder look, consider no-fuss cuffs folded with uneven widths, scrunched for texture then rolled down.
9. Not taking care of your jeans properly.
Fashionistas and experts alike know that you shouldn't wash your jeans each time you wear them. Each time you wash your jeans, the fibers in your jeans break down a little more.
How to prolong the life of my jeans?
Get at least two to three wears out of your jeans each wash, or only wash them when needed. And always pay attention to the material care tag.
Related: Is Ultra Low Rise Denim More Comfortable Than Low Rise Denim?
Conclusion:
While every girl has their favorite pair of go-to skinny jeans, it's important to mix it up if you want to stay stylish. Try one of our styling tips to bring a whole new look to the neglected skinny jeans in the back of your closet, or simply to experiment with your next outfit.