What is so Special About Olivia Palermo's Latest Outfit?
Who is she? If you haven't already heard about her, Olivia Palermo is the epitome of what it is to be a social media sensation. Even those who have heard of her may not still know that this style star was on TV, featured as a socialite on the reality show, "The City". Since then, she has taken her brand – her own name and reputation for fashion – all the way to becoming one of the most followed, most watched style stars on the Internet and on Instagram.
Here are 5 of the latest, most stylish posts of OP on IG and recent snaps of her that we love to love – and have!
1. Black and off-the-shoulder
Based on OP's IG post, it cannot be ascertained whether she was wearing a dress or a blouse. In any case, the top cut will look great either way. With OP's hair twisted in tied up, the dress highlighted her sexy, slender shoulders. The dress was accented with gold accessories, deep-set eyelids and long, fluttery eyelashes.
2. Turtle neck, Cropped Pants and Good Ole' Sneakers
OP was shown with a huge umbrella, walking comfortably in the rain with a pair of white sneakers that had tiny prints on them. She wore a black, turtle neck inner blouse topped with a white, assymetrically cut collared jacket, and a grey pair of trousers with accents on it.
Read Also: 5 Unique Ways to Style Your Look With Trench Coats This Fall Season
3. Flowy, Floral Dress
Covered from the collars, down to her wrists, all the way to her ankles, OP was gorgeous in a dainty, floral printed dress. Although the photo was taken in time for Easter, the dress will perfectly suit your Fall and Winter styling. Complete the look with a pair of all-weather boots and tread your way into the snowy grounds.
4. From the Olivia Palermo x Chelsea collection: We love the laid back looks
– from the matching slacks and blazers to the sleeveless, vest coats – and the pumps and sandal boots that OP wore with each of the outfits. There is also a tan, sleeveless coat that you can simply slip into over your slip dress and still look like you spent hours fixing up yourself. We absolutely loved the navy inspired, striped topped which OP wore with a calf-length, A-line cut denim, a scarf belt and a pair of red, suede boots.
You May Also Like: Know Kylie Jenner's Trick to Make Lipstick Last Throughout the Day
5. All Black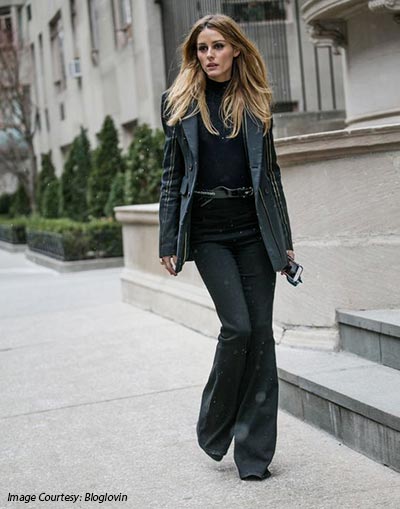 OP was snapped wearing an all-black ensemble at the Tommy Hilfiger Fall 2016 fashion show. She had a closed neck inner blouse, a tailored coat with gold linings, and high-waisted, square denims on. The look was accented with a buckled and metal accented black leather belt.
Conclusion
There's a lot that you're missing if you're not already following the street smart takes of this fashion icon. Find your ultimate must-haves that you will certainly never run out of hacks to update nor practical uses to wear for. OP offers you the ultimate street style fashion – the kind most of us need anyways!
Like this post? There's more. Get tons of beauty tips, tutorials, and news on the thebeautyinsiders Facebook & Twitter page. Like us on Facebook – we'll see you there!