Spring Hairstyles 2017: 8 Best Hairstyles for Every Length and Texture
1. Wet And Sleek

"Happiness is a good hair day."

2. Bangs With Curls

"Curly hair is not a trend, its a lifestyle."

3. Japanese Assymetrical Cuts

"A woman with Asymmetrical hair, is about to change her life."

4. Shoulder Length, Straight Chop

"Love your hair when it is perfectly straight."

5. Middle Length Side Layer

"Remember that pop culture is most beautiful & iconic women had short hair."

6. Beach Waves

"I am just a spring kinda girl."

7. Layered Fringe

"Life is'nt perfect but your hair can be."

8. Assymetrical Bob

"Hairstyle is a way to say who you are without having to speak."
"My look is attainable. Women can look like Audrey Hepburn by flipping out their hair, buying the large sunglasses, and the little sleeveless dresses," Audrey Hepburn said so herself. That's what fashion and styling really is composed of, isn't it? The hair will always be part of it.
Rather than copy Audrey Hepburn this season though, we are copying the tresses that are trending and hot off the runways of the three most fashionable capitals of the world: New York, Milan and London:
1. Wet And Sleek
Gigi Hadid popularized the sleek bob last year. This year, we still saw her wearing a wet look, side parted 'do on the Balmain runway. Achieve this look by drying your hair with a blower. Apply mousse. Iron. Put oil or cream then hairspray into place to hold that style. If you are feeling a bit edgier, do what the models at Paco Rabanne were made to wear, that is, wear their slick tresses with edgy highlights of deep violet at the top.
2. Bangs With Curls
This style will remind you of full and sexy Latina hair. To achieve a soft, healthy curl, deep treat before using your hot iron rod. Twirl hair around the small barrel, section-by-section. End with a mousse and a light hold hairspray to keep your curls in place.
3. Japanese Assymetrical Cuts
Whether it's a bob or a sleek, short barber's cut, these Japanese cuts are cool and edgy, inspired by animé. Get edgy highlights like deep purple or deep burgundy shades for your hair to complete the look and feel.
4. Shoulder Length, Straight Chop
If you have thick and shiny, naturally beautiful hair that does not need much a-do like Kendall Jenner's, your best hairstyle is her hairstyle. Show off your beautiful tresses —no need to filter.
5. Middle Length Side Layer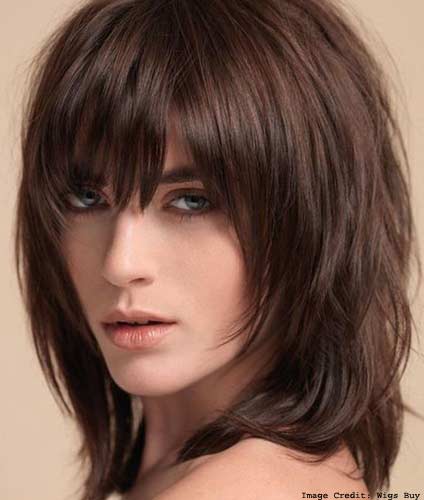 Put a little bit of body into that bob. If you crave a little volume, the flat straight out bob is not for you. This is the cut that will give you just the right air in your hair.
RELATED – Women's Shoes: Spring Shoes – Platform Heels, Booties & Pumps
6. Beach Waves
If only because it's beginning to rapidly feel like the sun, sand and beach already! Get them permanent or simply use your hot rod, salt spray and hairspray.
7. Layered Fringe
It matches the bow collared looks of the season, and even that white-collared topper from Michael Kors.
8. Assymetrical Bob
Too busy for styling? Like to keep it wash and dry every morning? This is the easiest haircut to maintain even if you have a bit of a spongy hair.
RELATED – 5 Best Haircuts for Women in Their 20's
CONCLUSION
You can have the most basic of outfits on but, when you have stylish, beautifully maintained hair, that knocks out your look. Keep in mind that the best way to get great tresses is to give your crown plenty of love and treatments now and throughout Spring.
Like this post? There's more. Get tons of beauty tips, tutorials, and news on the thebeautyinsiders Facebook & Twitter page. Like us on Facebook – we'll see you there!