Star inspired Prom makeup tips
Get ideas for the best prom makeup style. Regardless of whether your cosmetics style is striking or hardly there, the beauty insiders have just about all of the perfect celebrity motivated prom makeup tips for you.
If people tell you that the one of the best features of you are your eyes, then you should do them up for your prom night. Black eyeliner finished with white shiny shadow and very long faux eyelashes. Also, keep the rest of your makeup easy by sporting nude lipstick and smooth your hair back to form a bun for an extra special chic-look just like Kim Kardashian. If you want romantic look for prom night then best option for you is Rachel Bilson makeup. Here she has used peach color shade for lips and made her cheeks rosy.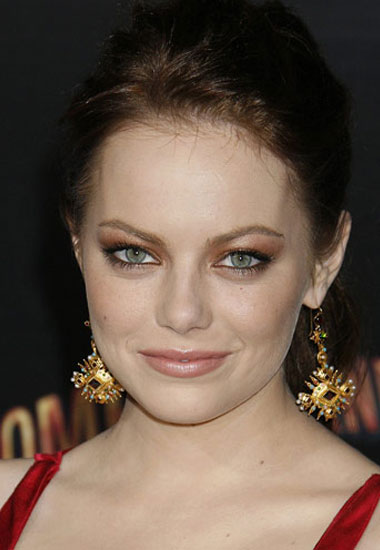 You can also try playing up on fair skin and red-colored hair like Emma by putting a touch of super-bronze on the eyes. You can then end the look with some black eyeliner, bare lips, and a smooth hair-do. Modern Heidi braid like Dianna, put together with a shiny blue-colored eyeliner creates the simply the best combination of edgy and light. With a look like the one in glee, you can be sure that you will be the coolest in the class.
If you are looking to really rock in a Beverly high style prom, then a lot of ideas can come from Jessica's look. This can be done by placing your bangs in the back with elegant flower pins. Adding some navy eyeliner can really accentuate a hazel-eye look, and good coral gloss can make the teeth look even whiter. A look like this is very girly, yet simple and easy to put together. Another type of star look i.e. of Lo's with a smooth ponytail, with nicely outlined eyes and glossy lips that are extremely gorgeous when polished.
If you are planning to kiss on prom night, then a nude look for the lips like Selena would be great. A neutral shade will make sure your eyes are the primary cosmetic focus, and you will not have to think about the dark lipstick smudging off. Forget about getting into catfights at the prom and instead go for the cat eyes. Here Kristin Cavallari has put good black smudging liner, a lot of mascara, and shimmering lips are all that you need to pull off a beautiful look and feel like a top lister.
Photo via seventeen