3 Simple Steps to Conceal Large Skin Pores with Everyday Makeup Look
Smooth skin is a top rank priority for flawlessly good-looking skin. While it may seem elementary, it isn't quite that easy to achieve, particularly if you have large pores getting in the way between your beautiful self and your silky skin.
When pores are proving to be your pain, here are just three simple tips to practically make your pores disappear in just under five minute:
Step 1: Cleanse and Tone Your Skin: Make sure to rid your pores of excess oil, dirt and other skin impurities before starting your daily makeup routine. Pick up products that do not contain harsh ingredients that will only drive your skin to break, blemish and irritate your pores. Inflamed pores appear larger, redder and much harder to conceal. Use only a soap-free cleanser and lukewarm water to wash your face with. Cold water or warm water will dry out your skin and prompt your skin to excrete more oil. Next, swipe an alcohol-free toner across your face.
Step 2: Treat Your Skin: To successfully hide and conceal skin imperfections, including enlarged pores, treating the skin is always a prerequisite to a good makeup cover up. Start with an essence to treat your entire skin with. Simply use your hand to tap and spread out your essence. Allow your skin a few minutes to absorb the product.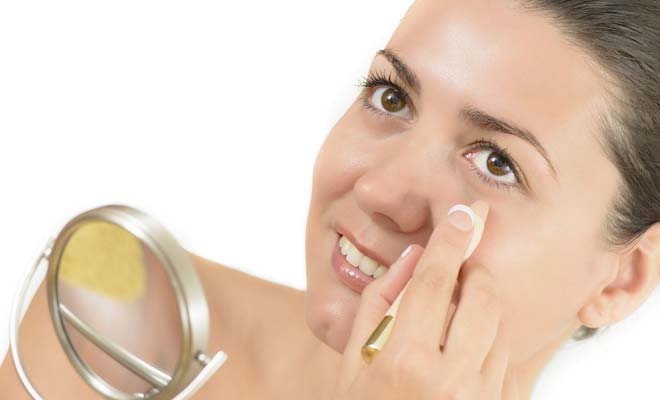 Next, apply a pore minimizer only where your pores seem to be larger than the rest of your face. Usually the areas on your t-zone — nose, chin and forehead — are the areas most affected by enlarged pores. Concentrate applying the product to these areas. Dot the product over a small area and press down gently to help push the product into your skin. Then, move on to the next area and keep doing the same technique.
You May Also Like: How to Minimize Enlarged Pores?
Step 3: Correct and Conceal: Successfully hiding and tucking away your pores requires a little bit of skillful product layering. First, use a matte stick foundation to cover up areas of your skin with large pores only. Simply dot one area with large pores first. Then, use your fingers to press down on the product to force it into your skin. Move on to the next area and do the same. Keep pressing until the product is fully integrated into your skin.
Next, pick up a BB Cream in your skin tone. Matte finish will tackle your large pores well. Dot then spread. Use your fingers but use a concealer brush for skin around your eyes to apply product on hard to reach areas. Apply concealer sparingly. Don't forget to top areas with concealer with another sheer layer of BB Cream. Set your makeup and you're ready to roll!
Conclusion
Everyday makeup does not have to be less than perfect, nor should it be complicated. Stop wasting hours on cover up. Three simple steps — it's all you need to keep those large pores out of sight.
Like this post? There's more. Get tons of beauty tips, tutorials, and news on the thebeautyinsiders Facebook & Twitter page. Like us on Facebook – we'll see you there!