Steps to Eliminate Upper Lip Wrinkles
Tips for reducing upper lips wrinkles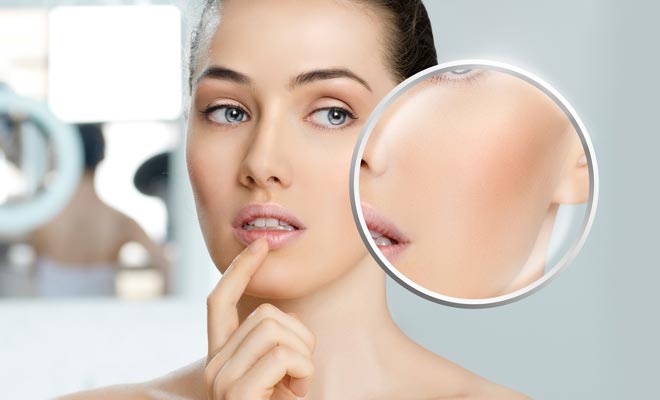 The appearance of your lips largely contributes to your sex appeal. Gorgeous looking, sensuous lips enhance your personality, while peeled, cracked and wrinkled lips add years to a person's appearance. Lip wrinkles, also referred to as perioral wrinkles appear above the top lip. Aging, genetics, smoking and repetitive facial expressions constitute the major reasons of lip wrinkling.
Nowadays, people are extremely conscious regarding the way they their lips appear, and therefore to overcome these wrinkles they depend upon various cosmetic procedures, that help in diminishing the presence of lip wrinkles. These chemical techniques mainly consist of laser skin resurfacing and collagen injections. These two techniques majorly contribute in repressing the appearance of lip wrinkles, but have a negative impact in the long run. Such techniques solely aim at curing the wrinkles no matter what consequences they bear in the future. Therefore many people these days look out for less evasive methods to diminish their lip wrinkles. Facial expressions and natural home remedies then come into play as they do not suffer from any such drawbacks and are completely safe and economical, and most of all can be performed in the comfort of your home.
Below are mentioned few simple techniques that would help you to get rid of your lip wrinkles naturally:
Combine together 2 tablespoons of uncooked oatmeal and small amount of honey to form a paste that has a thick consistency. Now apply the paste over your lips and massage it over the upper area.
Let the paste dry and soak into your skin and relax for 10 to 15 minutes, and then rinse it off with lukewarm water.
Now sit opposite a mirror, and open your mouth as if you were about to yawn, while holding your lips approximately 11 to 12 inches apart. Then gradually lower your upper lip down towards your lower lip.
Then try to hold the downward position of your upper lip for some time. Try elongating the middle part of your upper lip outwards, as though you are trying to smile.
Now slowly relax the upper lip's horizontal hold and take it back to its original position. Repeating this procedure continually everyday will greatly help you to reduce lip wrinkles.
With your thumbnails facing your gums, place both your thumbs inside your upper lips. Keep your thumbs at least one inch apart.
Then move the muscles of your upper lips in eight small motions towards your upper lips. Retain the position of your thumbs throughout the drill.
Try to return the upper lip muscles to their original position in eight moments.
General Tips
Before commencing the exercise, drink at least two glasses of water and make sure that your face is warm and hydrated, as warm skin is much more flexible than cold, dry skin.
Also post the exercising regime; apply petroleum jelly over your lips as soft, moisturised skin prevents the skin of the lips from getting dry and developing wrinkles.
Drink a lot of water every day to ensure that your lips as well as your body remains hydrated.
Avoid the licking and biting of your lips as this practice takes away the natural moisture of your lips and contribute in the development of wrinkles.
Also, avoid holding irregular facial positions for long time periods, as they may strain the muscles of your lips and jaw.
Avoid using cosmetics such as lip colours, lip pencils and lip liners as they also contribute in the aging of your lips and thereby develop wrinkles over its surface.
Apply olive oil over your lips frequently as it not only keeps your lips moisturised and soft, thereby avoiding loose skin and wrinkles, but also helps your lips to retain their natural pink colour.
Your eating habits also play a major role in the appearance of your lips thereby it is also strongly suggested to avoid food that is fried and oily, and adhere to fruits and vegetables. It will greatly contribute in keeping your lips healthy and beautiful.
The harmful habit of smoking also negatively affects your lips by changing their colouration as well as its texture. Therefore, quit smoking.

By following these few natural techniques and simple tips, you can be absolutely certain that you will be able to overcome the problem of perioral wrinkles which is a bad symptom of aging. These methods are completely free from side effects and help not only in overcoming various lip problems, but will also ensure you a healthy life in the long run. These methods are purely safe, economic and easy. By practicing these comfortable and simple techniques you can obtain beautiful and healthy lips for a lifetime without having to worry about any kinds of side effects or negative consequences. Thereby it is strongly recommended to develop a habit to practice these simple techniques and to follow these tips in order to obtain an attractive and pleasing appearance.