20 Genius Striped Shirt Dress Outfit Ideas you need to copy right now
Related:9 Workout Fashion Trends 2017 That Will Make You Want To Hit The Gym
Jumping on stage as one of the hottest fall trends this year are the comfy and light yet also stylish shirt dresses!
A shirt dress literally means what it sounds like. It has a length that's right between being a shirt or a dress. There are different types of shirt dresses, and you can buy one as an oversized shirt and wear it as a dress, or purchase something that's specifically designed to be a shirt dress.
The striped shirt dress outfit trend is now becoming more and more popular because of its simplicity and versatility. Check out the many different ways you can style one by reading the rest of this article!
Related:9 Corporate Outfit Ideas For Women That Are Fabulous & Trend Setter
21 Essential Tips on Styling a Striped Shirt Dress:
For the latest fashion ideas, we have consulted the experts and fashion leading ladies to give us some helpful tips to style a simple striped shirt dress.
1. Smart and Elegant:
The first of these brilliant striped outfit ideas can turn a simple shirt dress into a trendy and dapper outfit by adding a simple belt and wearing strappy sandals.
2. Friendly Office Girl: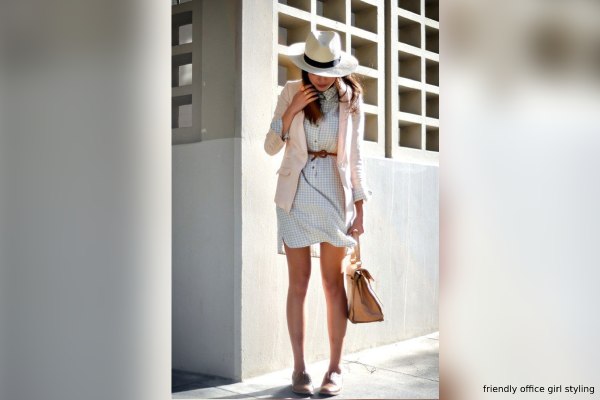 Throw on a formal open blazer on your shirt dress but avoid looking strict and stiff by balancing it out with a hat and some cute flats.
3. Adventurous and Daring:
If you're feeling confident and bold, try wearing a mini skirt over your shirt dress, and don't worry about the hems showing! This look is sure to work in whatever weather and is as quirky and fun as the deconstructed shirt trend.
4. Cool, confident chick:
Surprisingly enough gladiator sandals appear to pair remarkably well with an oversized shirt dress. It screams confident, unique, and cool! Who would have thought, right?
5. Pure and Fab:
One way to hide and protect your legs from the cold is by wearing leggings underneath your shirt dress for a look that's both stylish and practical.
6. Free Spirit :
Stay fancy but chill on a button-down shirt like a blazer over your shirtdress and accessorize with a long necklace and ballet flats. These are also great as black and white striped dress accessories.
7. Winter- Ready:
Protect yourself from the cold winter weather by slipping on a solid-colored crop top over your shirt dress. Complete the look with thigh-high boots and a large wool coat just to be sure.
8. Glamorous Chick:
Wear your shirt dress with low-heeled suede ankle boots and a metallic accent for a dash of sophisticated charm. This look is fit for strutting your stuff in the fall-winter fashion week.
9. Street Style Fashionista:
Stay toasty and stylish by layering on a sweater over your shirt dress to use it almost like a skirt. The use of primary colors and black is probably the Most Trending Color Combination and adds a happy, confident flair.
10. Casual Darling:
Keep your shirt dress casual and sweet by putting a denim jacket over it and wearing comfy sneakers to match.
11. Mix and Match:
Don several accessories like a straw hat, a pattern-printed bag, and a brightly colored scarf for a fun addition to your shirt dress. You can also decide freely on what shoes to wear with a shirt dress for a personal touch.
12. Vintage Lassie: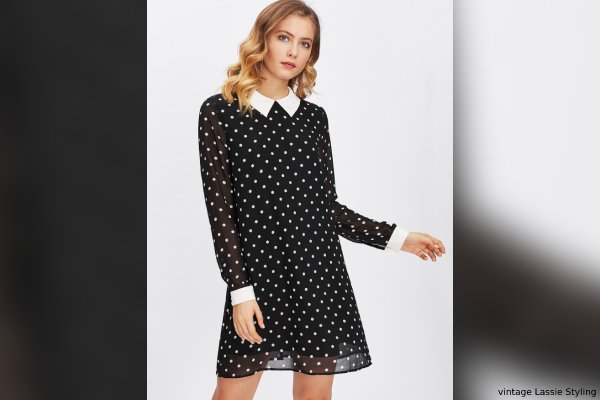 A cool and classic addition to a shirt dress is a slightly wide leather belt, flat Birkenstock sandals, and a brown leather bag for a serious 90's appeal.
13. Scarfed up:
For a fun and unique touch on your shirt dress, use a colorful scarf to hug around your waist instead of a belt.
14. Print on print:
Achieve this funky and bold style by putting a vibrantly patterned jacket over a simple striped dress shirt. This works best if there are similar colors.
15. Versatile Classic Look:
This modest and functional outfit is perfect for when you don't feel like showing off your legs. Wear skinny jeans underneath a shorter shirt dress and a pair of heels for a streamlined, traditional look.
16. Breezy, stylish Look:
This snug and modern take on the shirt dress will work with or without the stripes. Pair a short shirt dress with sheer leggings, combat boots, and a leather belt to conquer a cold day in style.
17. Tough Chick Next Door:
Toughen up a striped chambray shirt dress by donning a leather jacket. You can even choose a striped shirt dress with leather sleeves. Pair with a small matching sling bag and sneakers for comfort and practicality.
18. Tunic Sweater Shirt Dress:
Wondering how to wear a shirt dress in the fall? This look is both cozy and perfect for the season towards the chilly winter months. Just wear a striped tunic sweater underneath a short and cute low-cut sleeveless knitted dress, and you're good.
19. The Casual country look:
One of my favorite blue and white striped dress outfit ideas, this look is super simple with a slight touch of a country vibe. Complete your light striped shirt dress outfit paired with a hat, loafers, and a black handbag for a comfortable look suitable to wear to work on summer or fall.
20. Simple Casual Look:
This is another happy-go-lucky casual look you can wear for a stroll around the neighborhood or the mall. If you're not a loafers kind of gal, you can also pair your striped shirt dress with sneakers and a sling bag.
Related:5 Outfit That Makes a Women Incredibly Attractive & Fashionable
Conclusion:
With these styling tips for putting together a striped shirt dress outfit, you will sure look like a fashionista wherever you go! I don't think the French Fashion Secret is much of a secret anymore. Do you agree?