Stunning Resort 2012 Collection: By Lanvin
This year the famous designer brand Lanvin came up with all together diverse and interesting ideas in his resort collection for 2012.their was wide range of outfits there where lovely cocktail dresses, luxurious evening gown, jumpsuits with lots of cute ruffles on individuals ,classic and sporty wears , trench coats skirt and blouse assembled which were unique.
The creative director of the brand Albert Elbaz , revealed that the collection was inspired by Princes Harry and William and as well as by Madame Grès, Bette Davis. The cloths just make an impression of the personality of the wearer so we should choose the one which goes perfect with our persona and should make the sense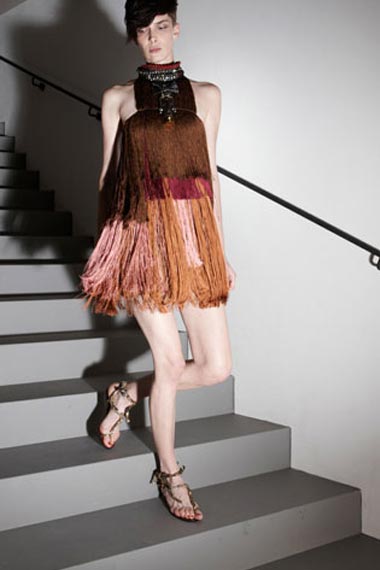 This time you will not find the much bright colors in the Lanvin Resort collection it was all about soft, eco friendly and cozy shades .This colors will seems just perfect for romantic dates.
This brand is always being prominent for making individuals statement pieces but this time they diverted their focus on frazzled tweed fedoras, smooth turbans, extra-large beads and paneled, chain-strap bags. Check out this collection.
Photos via millionlooks.com