Rimmel London Sweetie Heart Matte Pastel Nail Colors Review
By
Advertising Disclosure

?
Well-groomed nails always help you make a good impression. There's no doubt that people look at nails and draw up your personality based on them. More than impressing others, neat looking nails make you more confident knowing that you're presentable and neatly put together down to your pinkies.
About Rimmel London Sweetie Heart Matte Pastel Nail Colors
The Rimmel London Sweetie Heart Matte Pastel Nail Colors offers you 5 non-shiny, matte nail colors in pastel shades of pink, green, blue, yellow and peach. The collection offers you a timely and refreshing break from your usual dark and vamp colors, and a new take on your nude, lighter shades.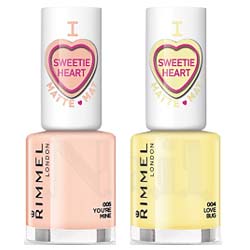 Detailed below is a description of the five hues included in this collection:
Cheeky Girl, is a cotton candy pink matte nail color, almost matte in nude shade. On very light, pale skin, it may not look so flattering as it makes it appear that you are missing your nails. This shade wil probably better fit those with darker skin.
Chase Me, in baby green pastel color is like having spring right at your fingertips. Chase Me, amazingly, blends in well with any color in your wardrobe. As it's very toned down, it really does not compete with the spotlight and takes on much lesser attention which makes it very wearable with any outfit.
Cheeky Chap, is in sky blue shade which some may find inviting but which others may find tacky and difficult to carry around or even mix and match with their outfits.
Love Bug, in summer yellow that is in a sunflower shade is bright and vibrant. It certainly will add more life and color to what otherwise will be a boring outfit or a sad mood. The color can be too loud though and will only fit certain clothes at certain times. But, if you're not exactly aiming for a sunny, pastel look, it may be difficult to carry around, most especially not with your everyday go-tos.
You're Mine, a debutant color in peach. Nothing can be girlier than this color! It's super cute and yet super versatile. It can fit every outfit and every mood you're in.
Ingredients in Rimmel London Sweetie Heart Matte Pastel Nail Colors
There are no ingredients indicated anywhere for this product.
About Rimmel London
Rimmel London claims to be the leading makeup brand in the UK when it comes to reflecting the latest trends in London styling. Among many, it values individuality and respect individual styles. Its products and shades reflect exactly these values and immediately, virtually transports you to London where fashion, individuality and style are always served flaming hot.
Combining this passion for fashion, Rimmel London is committed to keep their brand easily accessible for everyone. Their products are always wearable in the streets, perfectly manufactured for individual self-expression, and relatively affordable when compared with other beauty lines.
How is Rimmel London Sweetie Heart Matte Pastel Nail Colors used?
Use as with other nail lacquers. Clean fingernails first by pushing and brushing before applying Rimmel London Sweetie Heart Matte Pastel Nail Colors to ensure a smooth and flawless glide. Use a basecoat if desired. Due to its matte pastel colors, asll colors in this collection look too pale with one coat and thus look better with two coats. End with a top coat in matte or gloss finish to define the texture of your nails.
All shades in the Rimmel London Sweetie Heart Matte Pastel Nail Colors collection will in fact work better as base color for nail art. If you prefer to use these as base color, follow the same application procedures as above but try to keep both coats light and thin so that you have more room for depth to accommodate your design colors. Make sure to research the art or graphic you'd like to paint before you carry on.
The Price Range of Rimmel London Sweetie Heart Matte Pastel Nail Colors
Rimmel London Sweetie Heart Matte Pastel Nail Colors retails for $5 to $10 per bottle.
Is Rimmel London Sweetie Heart Matte Pastel Nail Colors safe?
It's hard to tell without a full disclosure of this product's full ingredients list.
Conclusion
The colors in this collection and the overall texture of the paint may best fit certain individuals only. The colors are a bit challenging to wear for some personality types and also best fit certain skin colors. The nail polish texture can be tacky and challenging to complement with other elements in your style, be it your dress or your hand bag or your shoes. The colors in this collection are not as versatile in completing your every mood and style, and rather seem like every color needs to be worn on very specific instances or occasions only. And yet, these colors are still worth having in your collection for those rare occasions when you need to be in a special color.
Rimmel London Sweetie Heart Matte Pastel Nail Colors