Syn-Ake Active Pure Peptide Review : Ingredients, Side Effects, Detailed Review And More.
By
Advertising Disclosure

?
What Is Syn-Ake Active Pure Peptide cream?
In a world where people, both women and men alike, are obsessed with youth and beauty, and industry investors on a frantic scramble to earn their own piece of a multi-billion dollar market that is projected to become a trillion dollar industry by 2025, you can expect to see and experience the even the most unexpected.
Syn-ake is a proprietary ingredient developed by Pentapharm, a Swiss-based supplier of proprietary, active ingredients that are infused in various pharmaceutical and cosmetic products. Syn-ake has gained popularity as an ingredient for anti-wrinkle creams. Well, truthfully, it first made waves because of its bizaare nature. What do we mean?
Syn-ake is a synthetic peptide that is designed after Waglerin-1, a natural peptide among many other peptides found in the venom of a Temple Viper Snake. Although snake venom has long been hailed to be the source of the next revolutionary cures and treatments, particularly diseases and injuries where pain is an issue, nobody thought before Syn-ake, that snake venom may in fact be used as an active ingredient for anti-wrinkle creams.
This active ingredient is hailed to be the natural, non-injectable counterpart of Botox injections. Syn-ake acts to relax the muscles underneath your wrinkles with just mere topical application — no need for painful and periodic Botox injections, nor an actual snake bite!
As your muscles relax, the surface of your skin relaxes too, pulling back the folds and creases caused by your facial expressions and getting them back to their expressionless state.
Get Syn-Ake from Syn-Ake Active Pure Peptide from the Dr. Platinum's Potions line. It contains 5% concentration of this anti-wrinkle peptide, and sold for just $38.
However there are many other well known brands in the market with similar effects and ingredients and they come in a affordable range.
What Are The Ingredients In Syn-Ake Active Pure Peptide cream?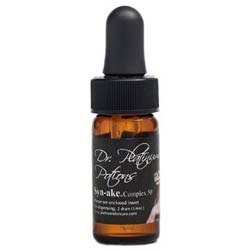 This product is made with the proprietary ingredient, Syn-ake, as its active ingredient. It relaxes facial muscles so that skin evens and smoothens out.
This product is also made with the following ingredients:
Deionized Water: helps in retaining the moisture of the skin making it moist and soft with a glowy effect.
Glycerine: This ingredient helps skin retain moisture while reducing inflammation but also can cause skin irritation to sensitive skin.
Ginseng Root Extract: This ingredient helps tone and brighten skin.
How To Apply Syn-Ake Active Pure Peptide cream
Cleanse your skin well with a gentle cleanser.
Tone to draw out impurities and excess oils from your pores. Apply day time and night time for best results.
Benefits Of Syn-Ake Active Pure Peptide cream
Waglerin-1, which Syn-ake is made up with, is a well-studied ingredient, although a dearth of studies on its long-term effects is called for.
This product helps reduce wrinkles.
This product is suitable for all skin types. Although many user reviews say it isn't very effective.
Disadvantages Of Syn-Ake Active Pure Peptide cream
This product may have limited accessibility.
There are very limited reviews online to mark the effectiveness of the product.
This product may not be suitable for sensitive skin.
This product is comparatively expensive.
Final Verdict: Syn-Ake Active Pure Peptide cream
Whether synthetic or natural, the skincare markets ballgame has quickly shifted from brand consciousness to ingredient wars. Makers and marketers are differentiating their products through what each is made of, and consumers have become smarter and more label conscious, so to speak. Well, are you? Then, you should be able to tell now if this product will bring you the anti-aging skin benefits you have been seeking or not.
Syn-Ake Active Pure Peptide
As we age the composition, texture and appearance of our skin changes. Signs of skin aging include wrinkles, fine lines, loss of moisture, uneven tone, and dull, tired-looking skin. There are countless anti-wrinkle creams on the market promising to make skin look and feel younger. Many anti-wrinkle creams promise everything short of a facelift or to provide the much sought after "fountain of youth". In reality most are just moisturizers marketed as anti-aging products.
Below you'll find some of the most effective wrinkle serum/cream formulations on the market today, in our opinion.
Our Top Wrinkle Creams
Dermatologist Recommendations for Maintaining Younger, Healthier, Vibrant Looking Skin:
Be certain to consistently apply the product(s) you choose in accordance with its directions for use;
Pay special attention to your neck and hands while applying the product(s) you choose, as these areas reflect your age;
Always use sunscreen with a Sun Protection Factor (SPF) of at least 15;
Drink at least eight glasses of water a day to stay well hydrated;
Avoid excessive intake of caffeinated and alcoholic beverages, as they may contribute to dehydration and exacerbate the appearance of fine lines and wrinkles; and
Be sure to get adequate rest every day.
**This is a subjective assessment based on the strength of the available information and our estimation of efficacy.
*Results may vary. The information contained in this website is provided for general informational purposes only. No medical claims are implied in this content, and the information herein is not intended be used for self diagnosis or self trealment of any condition.
Disclosure of Material Connection: Some of the links in the post above are "associate sales links." This means if you click on the link and purchase an item, we will receive a commission Regardless, we only recommend products or services which we use personally and/or believe will add value to our readers. We are disclosing this in accordance with the Federal Trade Commission's 16 CFR, Part 255: "Guides Concerning the Use of Endorsements and Testimonials."