5 Useful Tricks To Prevent Flaking and Caking of Makeup In The T-Zone
Makeup that stays in place all day and all night is a top objective when applying your makeup, other than making sure your pigments don't end up turning you into Joker or the crowd jester, that is. With constantly changing weather, the constantly moving indoors and outdoors, even changing moods and hormones, all converge to affect how your skin and your makeup behave.
Assuming that these factors were kept constant, there are 5 top tricks that you can do to increase your chances of keeping your makeup on without caking, flaking or slipping from your face, regardless as to whether you have dry, oily or combination skin type. Below are the 5 tricks you need to learn:
Trick No. 1: Prep your Skin right. Exfoliate regularly. If you are bound to a special affair and need heavier coverage, make sure you exfoliate first. At any given day, begin your skincare routine by cleansing and toning. Those dry and dead skin cells, excess oils, dirt and product residues sitting on the surface of your skin will hold back your makeup from clinging tightly to your skin. Failing to eliminate these first will cause your makeup to look flaky and floating on your skin.
Trick No. 2: Don't Forget to Treat your Skin
Do spend most of your time making up your complexion by flooding your skin with the nourishment it needs to plump up and appear healthier. Give yourself healthy skin, and you won't need too much makeup for a coverup. Moisturize even if you have oily or combination skin. Layer less and use only products that have a sheer and lightweight texture.
Read Also: 9 Foundation Hacks that Every Woman Should Know for a Flawless Makeup
Trick No. 3: Use proper Makeup application Methods. After treating, prime your skin, particularly your t-zone, lips and eyelids using your neutral concealer. Incorporate the concealer well into your skin with a concealer brush. Put on your makeup using the right, quality brushes to blend your colors well but also to prevent your makeup from falling off where it should be.
Trick No. 4: Set your Makeup. Once done, you should take your broad brush, tap out loose powder on the back of your hands. Blend with two swipes of the brush, just enough to warm and pick up the powder. Then, set on your t-zone and elsewhere on your face. Pick up a bottle of setting spray and mist around your face.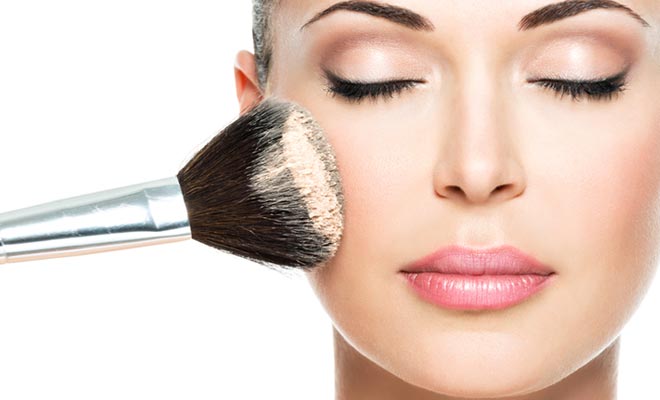 Trick No. 5: Try not to Sweat. Sounds like an unconventional trick to keep your makeup in place but, keep in mind that the surrounding environment and the way your skin behaves are major factors that cause your makeup to fade, cake or slip. So, as much as you can help it, try to stay indoors where you can control the temp.
You May Also Like: 5 Beautiful Makeup Ideas that's Suitable for Every Occasion and Outfit
Conclusion
Makeup can be your great companion to keep your skin looking beautiful and flawless but, don't forget that it's your real skin that truly makes a difference in your complexion.
Like this post? There's more. Get tons of beauty tips, tutorials, and news on the thebeautyinsiders Facebook & Twitter page. Like us on Facebook – we'll see you there!