The 7 Hottest Neon Nail Colors for Summer 2013
Do not bare your nails this season instead electrify them with brightest neon colors! The neon dreams ranges from pigment packed pinks to electric blues and also the megawatt hues to the ocean-like textures. Shown below are options to go bright and sunny this season with the neon's that are sure to make a splash!!
An Orange to Play with Fire & Purple That Packs a Punch:
Isn't this looking hotter than the sunny sun out there? This fiery orange-red shade has set that is stackable and this truly perks up your nails this summer. One swipe of sprightly color and there you're ready to take control of town.
Lime with a Kick & Blue making Waves:
Lively lime color can be applied by twisting off the cap. Ready for party in seconds and remember tequila is optional! Don't you recall all the long hours spent among the surfs and sand by this vivacious marine blue jelly?
Pink Beyond Hot & Teal That Tantalizes!
Really awestruck with the hot pink Pedi to enthrall your nails!!! Although this eye striking hue will make you come back for seconds not to forget caring for your nails. Are you totally flattened by the gritty texture and high-impact shininess of teal colored nails?
Traffic Stopping Yellow: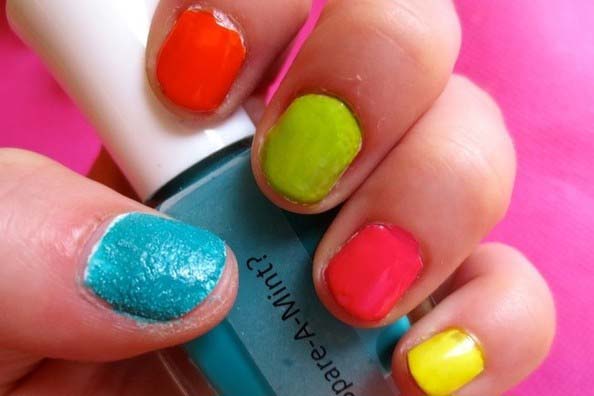 This spiked lemonade yellow pigment-drenched punch comes along with white base coat to bring out the oomph factor in you.
Photos via stylebistro.com