Fashion Alert: 90's Tinted Sunglasses Trend for Summer 2017
Who doesn't love a beautiful accessory and a current trending appearance to go with your current outfits and beautiful colour shades for the year? It is apparent that tinted shades are making a comeback from the 70's and the 90's. From the runways, current fashion magazines to our favourite celebrities, tinted glasses have taken root. We are not talking about the medical shaped glasses that people wear on a daily basis, hell no! We are talking about the different designer variations of tinted glasses that are gracing the year and being worn to rock the fashion world back on its feet. To keep up with this year trends and the beautiful summer fashion, it is about time to revisit our aunts and uncles days and wear those tinted glasses with style and elegance.
1. Latest Trends and Fashion On Tinted Glasses
Even as we revisit the 70's and 90's tinted sunglasses trend, it is significant that we identify with the advanced creativity levels and designer designs that are currently coming out. In addition, it is also essential to know what 2017 eyewear trends women's are bound to be more attracted to and what fashion shades 2017 are bound to hit the market with a wave. Expect to see hearts, rounds, squares and all other shapes and color combinations on the current sunglasses. Well to aid you out in deciding which is the most desired of them all, here are some of the current tinted sunglasses trends for women and men out there.
Related: Celebs Famous For Stylish Glasses
2. Miu Miu Detailed Sunglasses
These are some of the most interestingly designed summer 2017 sunglasses for women. As the name suggests they are highly detailed and indicate a fun personality especially with the hearts. If you love combining or blocking colors with your outfits' bold colors such as blue and yellow or green and lilac, this specific tinted summer 2017 sunglasses are definitely for you.
3. Christopher Kane Sky Blue Sunglasses
Thinking of going to the beach, or do you desire the all rock star musician look? With these fashion shades 2017 sunglasses, you are assured of achieving the look as desired with minimal help or assistance.
You can pair this specific sunglasses with street wear i.e. jeans and a simple top with a blazer on a top to match a hip pop or a guitarist look. You can also pair it with a form fitting and an elegantly flowing dress all the way to the floor in a colour of your choosing. However, sky blue goes well with black, red and other warmer colour choices.
4. Tom Ford's Yellow Sunglasses
Yellow is definitely the talk of the day. Yellow tinted lens sunglasses have been trending in the summer 2017 eyewear trends women's and can almost be described as the most fashionable sunglasses in 2017. To match the talk and the look, have a take and get these beautiful yellow sunglasses for your summer.
5. Square Frame Tinted Sunglasses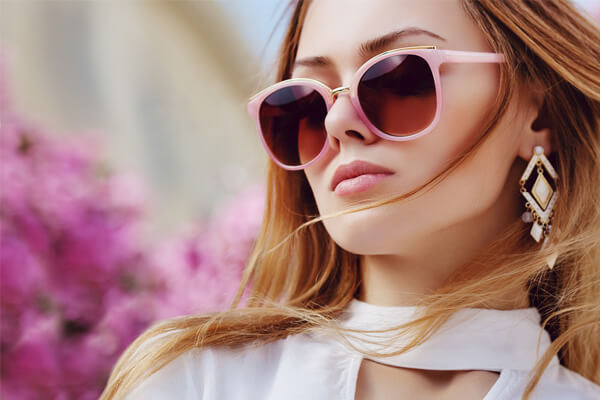 Versatility in your wardrobe is highly presented with these unique square framed tinted sunglasses. They can be acquired in the desired color shade that matches your tinted sunglasses trend. You can match it with a dress or a desired outfit with minimal assistance but with a high finesse that is attached to its general appearance.
6. ASOS Sunglasses
Summer 2017 eyeglasses are also gracing the fashion world. It doesn't matter how you wear them, what matters is; if they are the best aviator sunglasses face shape for you. This means that they complement your face and are a perfect fit ensuring that they complement and not engulf you.
You can also search for similar sunglasses but in vintage yellow sunglasses. These make a huge impact on your general appearance and if paired with the right outfit or dress, you definitely rock the look in general.
7. Topshop Round Sunglasses
These are the cutest sunglasses 2017 women's on the block for a pink girl or lady. They are a definite addition to your summer 2017 fashion additions. They are designed for people who love fun and are adventurous in nature. In addition, they require boldness and a personality as they might require colour blocking in order to pull off the final look and appearance.
8. Celebrities and Sunglasses
Well, not only have we been browsing the internet shopping for the most amazing sunglasses ever, we have also been eyeing who wears them best. Sunglasses 2017 women's have been catalogued and worn by many celebrities making it difficult to choose which one looks best.
Bella Hadid
However, no one can best the look that comes with Bella Hadid's yellow lens sunglasses aviator. She has been showing off her collection each single day as she walks to and from her gym in LA. On the street, she has been seen with red, yellow and other coloured tinted sunglasses. She is definitely a magnate when it comes to wearing polarized yellow lens sunglasses and wearing them well.
Here she appears in yellow lens sunglasses aviator achieving the desired look. She also rocks the fashion world with her black dress with a blue belt that seems to bring out the yellow lens colour in her sunglasses.
Rihanna
Rihanna is another celebrity that loves her sunglasses. In this, she wore round tinted sunglasses making it apparent that aviator sunglasses for women are still a thing and not a thing of the past but a current one. In addition, the tinted sunglasses trend has developed and advanced and shades can be paired up with a simple t-shirt and blazer and be worn for runs and when making simple statements in public.
Alexis Jane
It seems that yellow sunglasses for women in 2017 can be paired with a variety of colours. In this, they are worn by a lady with blond hair, a red scarf with patterns of white and black on it and a black coloured top or dress.
This is a definite trend in the 90's vintage yellow sunglasses and one that has awoken an interest in the people for differently colored sunglasses.
Like this post? There's more. Get tons of beauty tips, tutorials, and news on the thebeautyinsiders Facebook & Twitter page. Like us on Facebook – we'll see you there!