4 Tips on How to Get Thicker, Longer, Fuller Eyelashes without Spending Your Savings
By Sharon Collins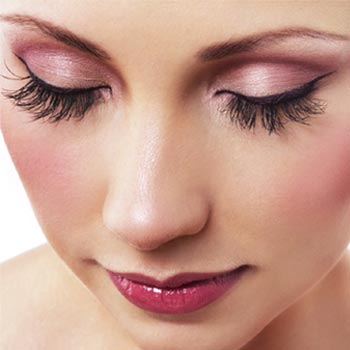 Most women are not fully satisfied when it comes to their eyelashes. So are you one of those girls who look in the mirror thinking you could be more beautiful and attractive if have longer, thicker and fuller lashes? It is quite amazing how a tiny feature can significantly enhance the face, isn't it? Although disappointing eyelash length and thickness are due mostly to genetics, some women can still get thicker, longer, fuller eyelashes just by doing a few things.
Moisturize
The most important tip to get thicker, longer, fuller eyelashes is to moisturize the eyelashes one to two times a day. First, remove makeup and wash the face. Make sure that the face is free from dirt. Then you can either use olive oil or Vaseline to moisturize your lashes. This will also strengthen the eyelashes and prevent breaking or falling off. Moisturizing can also be done to the eyebrows. Just use a small amount since over-application is unnecessary and useless.
Eat Fresh Fruits and Veggies
Another tip to get thicker, longer, fuller eyelashes is to eat fresh fruits and vegetables. The vitamin E, A and B in these foods are proven to help in growing thicker, longer and fuller eyelashes. Supplements can also be consumed if fruits and vegetables are not available.
Steer clear of Stress
Stress is another important factor when it comes to growing eyelashes. Several studies indicate that stress affects most parts of the body including hair growth. This is why people who have thinning hair are advised to reduce stress. Sleeping at least seven hours every night is a good way to control stress levels and let the body recover. Exercise is another way to reduce stress and improve body function.
Get a Good Eyelash Enhancer
If the tips stated above do not work, perhaps it is time to use a good eyelash enhancer. There are countless eyelash enhancers in the market so it is imperative to find one that is both safe and effective. Quality is the key when it comes to beauty products such as eyelash enhancers.
Do a little research about the best products offered in the market. This will ensure that hard-earned money is not wasted. Also, some products have adverse effects like skin and eye irritation. A good tip would be to check the reputation of the manufacturer. Check out product feedback and available on the internet.
Mascara, eyelash implants and fake lashes are not the only solutions when it comes to having long and beautiful eyelashes. The most important aspect of having beautiful eyelashes is to take care of them. Eyelash enhancers are available for optimum growth.
There are quite a few eyelash enhancing products on the market today, many of which appear to be capable of providing a few key benefits. Specifically, in addition to providing improvements in eyelash length, volume, and texture, an eyelash enhancer should also contain only quality ingredients. Furthermore, these ingredients must be able to nourish lashes so that they stay well conditioned and strengthened against premature breakage. Because of the importance of these characteristics of an ideal eyelash enhancer, along with the large number of eyelash products sold today, we've listed several of the top eyelash enhancers below.
Top Eylash Enhancing Products
During our research, the skin care specialists we consulted provided useful tips that contribute to achieving and maintaining beautiful, healthy eyelashes, including the following:
Be certain to consistently apply the product(s) you choose in accordance with its directions for use;
Pay special attention to removing any makeup that you have applied both mascara as well as eye shadow prior to bedtime;
Eating a healthy diet that contains milk and fish can help strenghten eyelashes;
Drink at least eight glasses of water a day to stay well hydrated;
Avoid excessive intake of caffeinated and alcoholic beverages, as they may contribute to dehydration and exacerbate the appearance of fine lines and wrinkles; and
Be sure to get adequate rest every day
**This is a subjective assessment based on the strength of the available information and our estimation of efficacy.
*Results may vary. The information contained in this website is provided for general informational purposes only. No medical claims are implied in this content, and the information herein is not intended be used for self diagnosis or self treatment of any condition.
Disclosure of Material Connection: Some of the links in the post above are "associate sales links." This means if you click on the link and purchase an item, we will receive a commission. Regardless, we only recommend products or services which we use personally and/or believe will add value to our readers. We are disclosing this in accordance with the Federal Trade Commission's 16 CFR, Part 255: "Guides Concerning the Use of Endorsements and Testimonials."